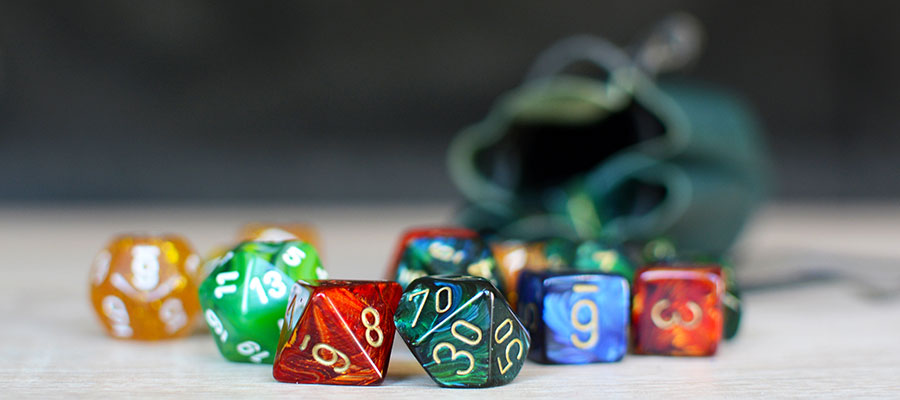 Tour Status:
NOW BOOKING - LIMITED SPACE
Destination(s):
Chicago and Lake Geneva, Illinois
Departure Date:
November 8, 2022 (Tuesday)
Return Date:
November 13, 2022 (Sunday)
Tour Limit:
15 Participants
Price:
Tour Price: $3,599.00 USD
Special Notice:
The "Classic RPG Retreat" Tour will have a maximum guest space of 15 passengers, so space is VERY limited. Book now to secure your spot.
About the Tour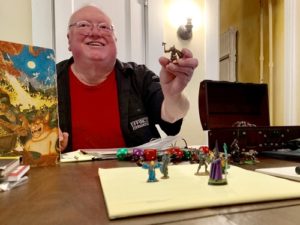 Hello all RPGers!  It looks like vaccines for Covid are continuing to be rolled out!  GNT is hopeful that we will be able to travel again safely in the Fall of 2022.  This tour is currently a go! So hop aboard and lets start dreaming about rolling some dice and adventuring together 🙂
Be well, healthy and happy and thank you for all your support!
Teras –  Geek Nation Tours 
A journey to mecca, and an adventure to the heart of the very creation of the game we all love – Dungeons and Dragons. We go not only to game and to seek out adventure, but also to discover its roots and reconnect with our own pasts. To roll dice and to take on roles of wizard, thief, cleric or warrior. To visit and make merry with a new band of adventurers, to meet elves, dwarves, halflings and orcs… To gain friends as well as gold. Come with us to adventure… come with us on a Geek Nation Tour of epic proportions where you will battle dragons, delve into the deepest dungeons, collect the treasure, meet at the tavern, visit sacred places of power, study ancient texts, listen to tales of lore from wise sages and forge your own path to destiny!
We will travel to Lake Geneva, Wisconsin, the birthplace of Dungeons & Dragons and all roleplaying games that have come in the time since. We will play Advanced Dungeons & Dragons (1st ed.) in the very house where it was first summoned, the immortal lair of Gary Gygax. We will be joined by Gary's son Ernie Gygax, who (along with his sister Elise) was one of the first two people to ever play D&D. Ernie was the wizard Tenser of "Tenser's Floating Disk" fame. What's more, Ernie will be behind the DM screen to run a very special "everybody in" massive group session of one of his father's best known (and most feared) modules…The Tomb of Horrors (module S1)! But that is not all, he will be sharing at least one module of his own creation – which will it be though? The Marmoreal Tomb, Dungeon Hobby Shop, Greyon or a favorite from last year – Bad Times for St. Cuthbert. Other former TSR creators will also be on hand running some of their own classic modules in Advanced Dungeons & Dragons, including Jeff Leason, who was the co-designer of The Hidden Shrine of Tamoachan (C1). Mr. Leason will also be running playtest games of a sequel to The Hidden Shrine of Tamoachan: C2 The Hauntings End! But that is not all! James M. Ward who worked on many things AD&D (Deities and Demigods to mention but one) and is the creator of Metamorphosis Alpha and Gamma World, will be running us through not only Metamorphosis Alpha and Gamma World, but also leading us into one of his new games Dragonscales or The Lost 77 Worlds. Mr. Ward will give us the chance to choose the game system but it is likely we will end up dead regardless – he claims that players kill players but we are not sure who the real culprit is…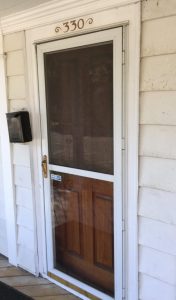 Everyone will have a chance to play with these legends throughout the tour and achieve the exalted status of a Gygax Number of 2! What's a Gygax Number you ask? Why, it's the degrees of separation between yourself and Gary Gygax. Since it is no longer possible to play with the father of RPGs himself (granting you a Gygax Number of 1), playing with those who have played alongside him (Ernie Gygax, for example) will earn you a Gygax Number of 2.
Speaking of cool things to collect… We will not only game at the refurbished The Dungeon Shop Museum but we will also be treated to a Silver Membership each… However, those returning tour vets will get an instant upgrade each time they return to the tour. More details in Day 2's description…
Kick back by the fire in the tavern and hear stories from the early days of Dungeons & Dragons and TSR from the people who were there. Be sure to bring your books and modules to have the creators make their mark upon them for all to see when you return home to regale your family, friends and fellow gamers with your tales of high adventure.
This tour will also feature trips to historical locations within the Lake Geneva area where Gary Gygax's imagination was fed by his childhood exploration. We will also visit the original home of GenCon, former TSR locations and the fountain where a memorial for Gary Gygax has become a sacred location and pilgrimage destination for gamers. Be sure to bring your favorite D20 to roll on the memorial and perhaps receive a blessing (or a curse depending on the roll)!
Day 1 - Chicago and Lake Geneva (Tuesday, Nov. 8, 2022) / Welcome and Character Generation Day at the Gary Gygax Home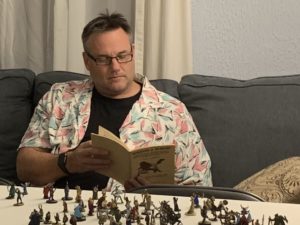 Today you will arrive from all over the map of the known world to Chicago, Illinois and meet the rest of the adventuring party and your Geek Nation Tours tour leader. Don't know how to get to Lake Geneva from O'Hare International Airport? Don't worry – we have you covered with Private Transfers, riding in style all the way to our lovely accommodations. (We've got you covered for the return to O'Hare as well, but there's much adventuring to do before you think about that). You will then make the journey to Lake Geneva where you will gather at the inn (staying in one of two houses next door and one block away from the Gygax house) for a Welcome Dinner of fine meats, greens, cheeses and ale.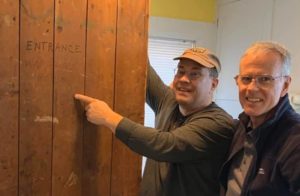 You will then visit the sacred temple of Gygax where you will explore its chambers of wonder, including the legendary basement where D&D sprang forth from the minds of the masters. The night will end with a gathering to build – right in the Gygax home – your characters for the coming adventures or to level up those characters that you may have brought with you from past adventuring. Please note though, your characters will be used no matter who you are gaming with so expect your alternate identities to be transported from the AD&D universe to the Metamorphosis Alpha universe and beyond…
Throughout the tour we will be will be staying in comfort right next door to the old Gygax home at the Center Street Loft and The Nautical bed and breakfasts.
Overnight Location: Lake Geneva
Day 2 - Lake Geneva (Wednesday, Nov. 9, 2022) / Tour #1 of Lake Geneva and Tomb of Horrors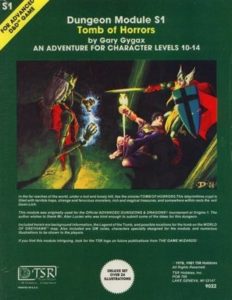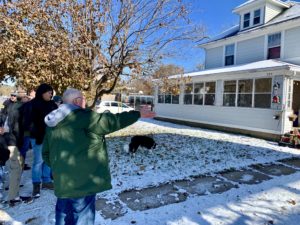 Today we will enjoy a hearty breakfast before setting out for a time travel adventure where you will journey back to the early days of yore when Dungeons & Dragons was new. We will be off as a group to take a walking tour of the Lake Geneva area, stopping at locations of great importance to the history of D&D and TSR. Ernie Gygax will be leading the way and regaling you with stories and insight into the history of D&D, TSR and more while we stop at such sights as the original offices, Don Kaye's house, the Gygax memorial at the Riviera Fountain and several other locations of note. Past tour participants were sure to bring their D20 to roll on the Gygax memorial to see who is blessed and cursed by the dice gods. You might even want to bring a bunch so you can share them with those back home or ditch those that don't come up a natural 20…
Our tour veterans that will be returning this year will have the option however, to sneak out from the walk for an early RPG session with none-other than James Ward. A (probable) quick death would allow them however, to join us for lunch...So vets beware James is likely to be hungry!!!
As all great adventures start at a tavern, we thought we would start ours off at one that was frequented by Gary Gygax. We will dine at the Next Door Pub and then, once refreshed, we will move onward to adventure at the The Dungeon (TSR's first gaming store). Or should we call it by its new name - The Dungeon Shop Museum - this newly renovated, shop, gaming area and museum is dedicated to preserving all things TSR. Geek Nation Tours is super excited to make the trek to this new D&D geek destination and to be among the first people to pass into its spaces as TSR enthusiasts in decades.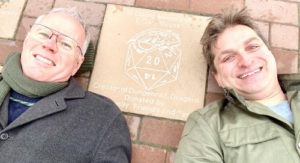 Here your characters will begin their adventures with the first RPG session of the tour as Ernie Gygax leads the way into his dad's equally lethal and famous Tomb of Horrors (module S1)! We will only break for dinner before getting right back into adventuring... Be cautious however, many have never returned from the Tomb and those that do rarely speak of its horrors …
As a special gift to us this year, Justin Lanasa owner of The Dungeon Shop Museum has offered each tour participant a Silver Membership in the Museum and Shop... However, those returning tour vets will get an instant upgrade each time they return to the tour. Travel with us from Silver, to Electrum to Gold and Platinum and eventually through to Mithril. Information on Benefits and Discounts to come!!!
Overnight Location: Lake Geneva
Day 3 - Lake Geneva (Thursday, Nov. 10, 2022) / Lake Geneva Tour #2 and the Horticultural Hall and of course more Adventuring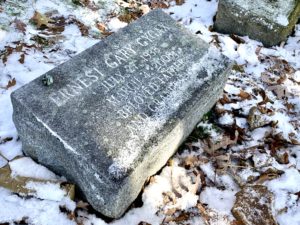 On this day after breakfast we will hire a local wagonmaster to carry the adventuring party to yet more locations of legendary importance. We will make a short stop at the Stone Manor to gaze into what was once the home of Gary Gygax at the height of his wizardly power… We will then visit the location of TSR's larger office buildings from the time when Dungeons & Dragons had grown from a fledgling drake to a strong and powerful force to be reckoned with. Also, on this day you will see the Oak Hill Cemetery, the final resting place for several people important in the creation of D&D and TSR as well as those closest to Gary Gygax. A memorial stone for Gary rests here as well, though he himself does not.
"Oak Hill Cemetery in the near distance. This was the final resting place of many of the most important people of his life: his father, Ernest; TSR co-founder Don Kaye; and most recently, his beloved mother, Posey."
— From Empire of Imagination by Michael Witwer
Again, our tour vets have the option not joining us on our journey through TSR's past and instead sleeping in or grabbing a quick D&D inspired Boardgame at our HQ Inn...
We will make a stop at the Nautical Inn for a lunch of sandwiches and snacks before starting our next set of adventures at the Horticultural Hall, home of the very first Gen Con gaming convention. Ernie will again be on hand to lead us through his The Marmoreal Tomb, Dungeon Hobby Shop, Greyon, Bad Times for St. Cuthbert depending on will of the adventurers. Meanwhile Jeff R. Leason will start us off down Memory Lane with The Hidden Shrine of Tamoachan! Also joining us tonight will be James M. Ward to run us through a Metamorphosis Alpha, Gamma World or one of his latest creations s Dragonscales, The Lost 77 Worlds or Giant Lands....
We will dine on the most revered of Adventurer meals - pizza - right in the great hall itself before again setting out on journeys of adventure...
Overnight Location: Lake Geneva
Day 4 - Lake Geneva (Friday, Nov. 11, 2022) / The Tour Participants Rebel and Take the Mantel of DM...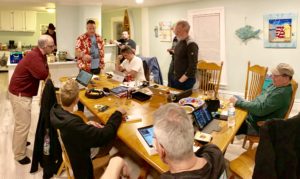 Today we will offer up a breakfast fit for a Halfling. We will meet at the Nautical Inn to dine on eggs and bacon and other breakfast goodness… Or if you are so inclined (and un-Halfling-like) you are free to sleep in and then explore the area. Perhaps enjoy the Lake Geneva beach or play some mini golf. Your Geek Nation Tours guide will be happy to help you find entertainment.
After brunch, though, the adventuring party will be invited to gather at one of the inns or at the Temple of Gygax itself where we will give you, the tour participants, a chance to become the Dungeon Master. We will offer up tables for those that want to lead the rest of us to adventure. Those that would rather do some D&D inspired boardgaming we will have some Tom Wham classics available as well as Betrayal at Baldur's Gate and Lords of Waterdeep. For those looking for some classic dungeon crawl goodness we will even include 1975 boardgame Dungeon!
Tonight, you will then enjoy dinner at one of Gary Gygax's favorite local restaurants, Anthony's Steakhouse and then from there it's back to the Temple of Gygax for an evening of open boardgaming or tour participant led adventuring...
Overnight Location: Lake Geneva
Day 5 - Lake Geneva (Saturday, Nov. 12, 2022) / More RPGing with Famous TSR Founding Fathers...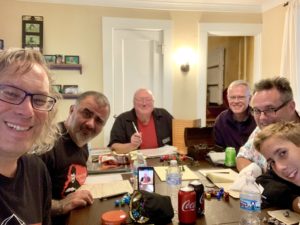 Enjoy a relaxing morning where you are free to adventure in the area on your own or stay close to base camp and get in even more gaming. The party will once again gather at the Temple of Gygax and the Nautical Inn following brunch for the last day of adventuring… We will be sure that everyone has played with each of our guest DMs. If time provides, we may well return to one or two of our favorite systems to give them another go.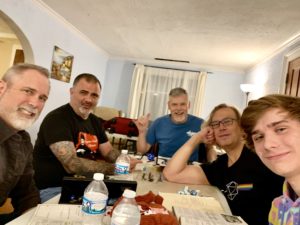 We will also gather once more at the Nautical Inn for our final big BBQ and Farewell Dinner… Be sure to bring a healthy appetite for our one last hurrah (as we have to finish off all the remaining food) and prepare to swap stories of heroics and hilarity from the tour.
But before the night's end we will get one more game in... So make sure those D20s are hot and ready to roll...
Overnight Location: Lake Geneva
Day 6 - Lake Geneva (Sunday, Nov. 13, 2022) / Departure Day but see you soon...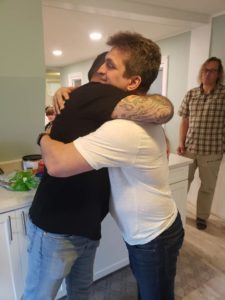 On this day the adventuring band will bid farewell to one another as you part company to return to your home villages and hamlets across the map. We've got your return to O'Hare International Airport covered with a private transfer as you once again ride in style. But fear not, the adventures you had, enemies you slew, treasures you won and above all the friendships you forged will live on with you through the echoes of time.
Tour Notes
Ernie Gygax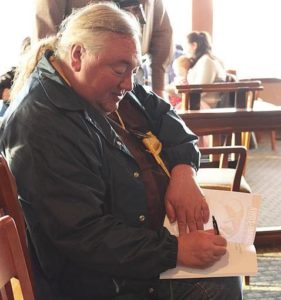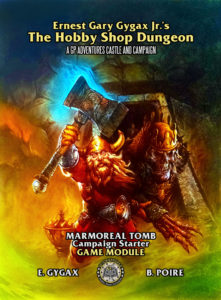 First son of E. Gary Gygax of Dungeons & Dragons fame, Ernie the Barbarian has been a gamer nearly as long as he lived. One of the very first players, along with Robert J. Kuntz and his sister Elise, of the Dungeons & Dragons role-playing game, Ernest is better known as the player behind the very first magic-user, Tenser. You can blame Ernie for such game features as: Cone of Cold being 5th, not 3rd level, Haste spells aging their targets, different hit dice for different character types and classes, as well as multiple attacks for fighters in order to keep Tenser focused on his proper spell-slinging role in the game.
Ernest Gary Gygax Jr. became part of the TSR company and wore many hats at there. Of late, along with his brother Lucion and David Moore, Ernie co-authored The Lost City of Gaxmoor, and more recently the Marmoreal Tomb of Garn Pat'uul. Ernie also gave his grandchildren a very special Christmas gift one year by writing them into a fantastical tale with a Samurai flavor entitled Sammi-Zowa versus the Dueling Dragons.  Currently, when not entertaining his Service Hound KC, Ernie can be found with his sweetheart Donna Jovani, running games at their respective homes or at major conventions.
Jeff R. Leason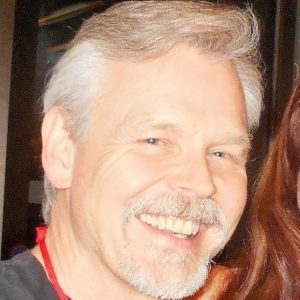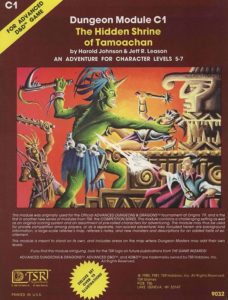 Jeff "Duck" Leason started playing Dungeons & Dragons in 1975 and bought his first copy of D&D right out of the Gygax family basement. Jeff worked in the shipping department at TSR after high school thanks to his friend Ernie G Gygax, Jr. Jeff would go on to write and edit for TSR, beginning with the "Gateway to Adventure" catalog. His most noted TSR product was as co-author (with Harold Johnson) on the legendary CI module "The Hidden Shrine of Tamoachan."
In 1986 Jeff joined Mayfair Games and advanced to Productline Coordinator for both the Role-Aids and Chill role-playing game lines. Jeff also worked with Grenadier Miniatures on projects with Mayfair. Jeff moved to Wisconsin and left the gaming industry behind, but continues to stay active at gaming conventions and is working on a project called "The Forgotten Dungeon" from Fireside Games as well as a future Kickstarter adventure "The Hauntings' End".
James M. Ward (on James M. Ward)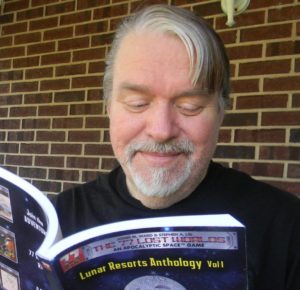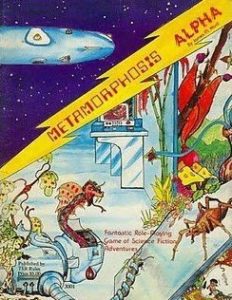 He married his high school sweetheart and she's put up with him for 48 years. He has three unusually charming sons, Breck, James, and Theon. They in turn have given him six startlingly charming grandchildren, Keely, Miriam, Sophia, Preston, Teagan, and Noah.
In that same stretch of time he managed to write the first science fiction role-playing game, Metamorphosis Alpha in 1975; the first apocalypse role-playing game in Gamma World in 1978; he worked for TSR for over 20 years and did lots of D&D and AD&D things; and designed the best selling Spellfire and Dragon Ball CCGs. Recently he has designed major products for Troll Lords, Goodman Games, and Fireside Creations, including: Of Gods and Monsters, Storyteller's Thesaurus, The Lost 77 Worlds & Dragonscales RPG games…
NOTE: Attendance of special guests and celebrities is subject to change due to scheduling conflicts and conflicting professional or personal obligations.
NOTE: COVID-19 has changed both our geek and our real worlds. Some things may never be the same and others may not be able to be offered on our tours or will have to be altered in a new post Covid world. With that said, please understand that GNT is moving forward as if the disease is already conquered, but all tours are now subject to change.
Gaming while on tour: Make sure you bring your lucky dice… the whole point of the tour is to game as much as possible…
What's Included
All accommodations, all transfers excluding transfers to and from airports, private tour costs, most breakfasts, tonnes of snacks, dinners, self built and guide built lunches, and more fun than you can shake a plus one sword at…
What's Not Included
Some small transfers and entrance fees will need to be paid for locally.
Tour Price
Tour Price:
$3,599.00 USD + $385.00 Taxes & Fees
Single-Occupancy Upgrade: $500.00 USD
Apartement Loft with own enterance, kitchen, private bath and queen and futon couch pull out.:
$500.00 USD
Final Payment Due:
July 1, 2022
Final Payment Note:
Bookings can be made up until the departure date; however, payment in full is required at booking if booking is made after July 1, 2022.
Note:
Rooms will be assigned on a first come first served basis.  We have limited space so please book soon…
Currently, we have the following options on bedding…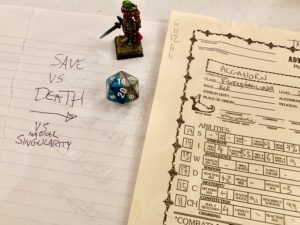 328 Center Street Loft
1 Queen Bedroom (upstairs)
1 Queen Bedroom (upstairs)
1 Queen Sofa (living area between the above)
1 Queen Sofa (living room main floor)
Nautical Inn
 1 Queen Bedroom (main floor)
1 Queen Bedroom (upstairs)
1 Queen plus 1 Twin Bedroom (upstairs) (This room will be reserved for two to three person bookings but can be waitlisted for Single occupants)
1 Queen plus 1 Twin Bedroom (upstairs) (This room will be reserved for two to three person bookings but can be waitlisted for Single occupants)
1 Trundle Bedroom (upstairs)
 Single Bed plus pull out Futon apartment with own entry, bath and kitchen (This room will be reserved for two to three person bookings but can be waitlisted for Single occupants) – Surcharge of $500.00). Note entrance is on back of main house up flight of stairs.
Additional Options: Want a few extra days in the United States to chill out? Geek Nation Tours will be more than happy to arrange it for you. Simply email us at headgeek@geeknationtours.com or put a quick note in the "Special Requests" box when you book.
Covid Pricing note: As we move into the post-Covid era there may well be price adjustments as we move forward. It has been postulated that the tourism industry as a whole will see many price increases. While GNT strives to give the best price along with the best service and experience we may be forced to increase tour pricing in the future.
Additional Options
Want a few extra days in the United States to chill out? Geek Nation Tours will be more than happy to arrange it for you. Simply email us at headgeek@geeknationtours.com or put a quick note in the "Special Requests" box when you book.
Non-Geek Spouse Argument
"We will be rolling dice right in the home of Gary Gygax where D&D was born…"