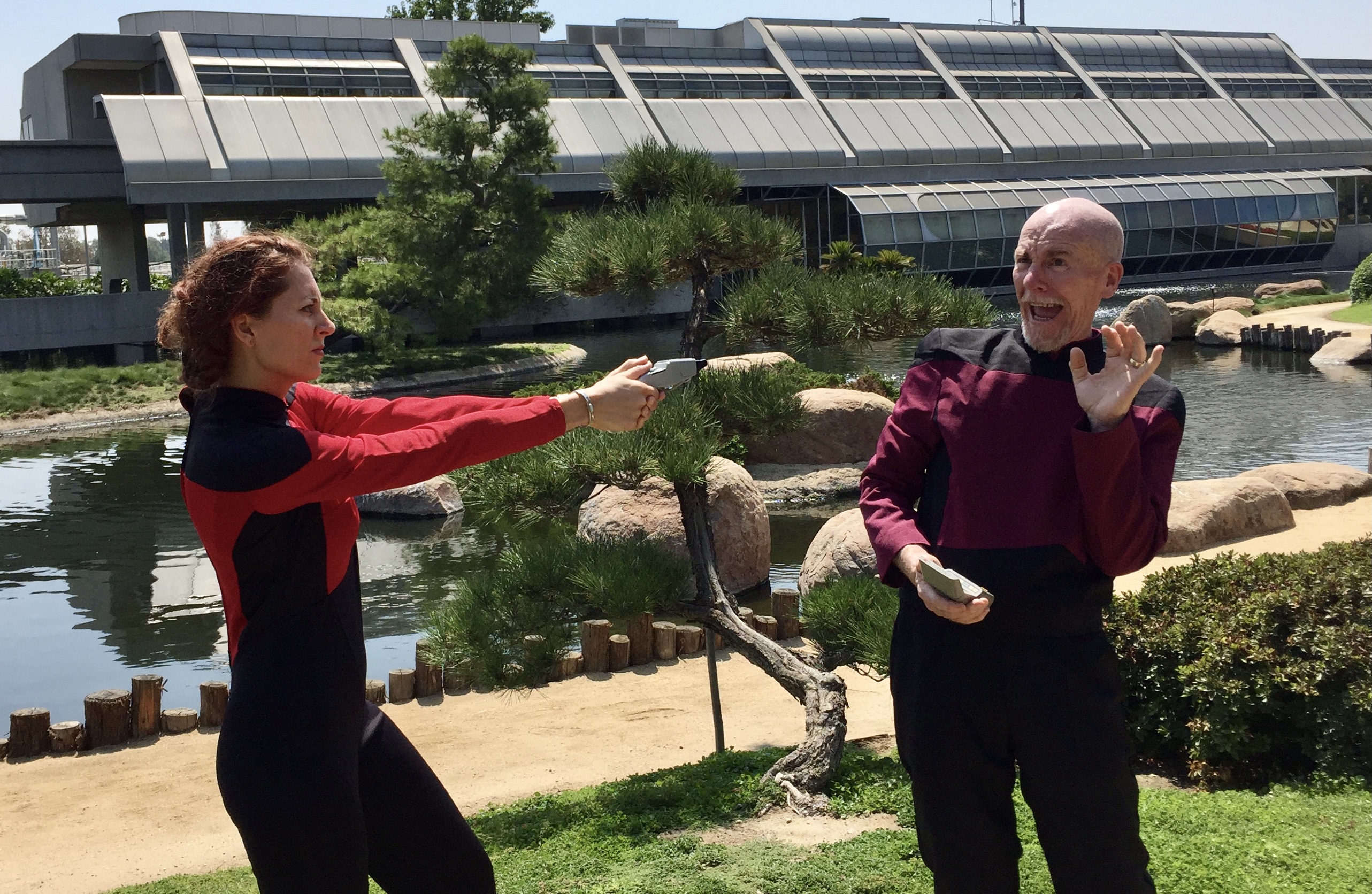 Tour Status:
PRE-REGISTRATION OPEN
Destination(s):
Los Angeles, California and Chicago, Illinois USA
Departure Date:
April 2, 2022 (Saturday)
Return Date:
April 11, 2022 (Monday)
Tour Limit:
20 Participants
Price:
Pricing info to follow.
About the Tour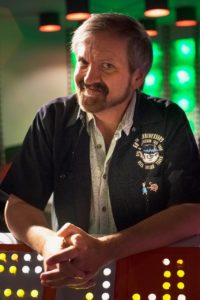 Hello all Star Trek Geeks! This tour is now open for Pre-Registration. GNT is currently pricing the tour, but if you would like to secure a spot while we work out the costs, please go ahead and book via the Booking Tab. 
This way you can have your spot guaranteed with no funds down with no obligation…  
Geek Nation Tours is proud to be a part of the positive vision of the Star Trek universe and adventures. "Exploring Trek Sites" will again be guest-led by "Dr Trek" Larry Nemecek —the noted Star Trek guru as a consultant, journalist, documentary producer and author of the Star Trek: The Next Generation Companion, often called upon for his vast knowledge of the Star Trek Universe and its business. He is currently researching Star Trek filming sites, and that is where you and Geek Nation Tours come in…Come along as Larry makes the pilgrimage to filming sites from The Original Series all the way through to 'Picard'. Some familiar, some obscure—but all iconic and ready for you to revisit, right on location. The journey will take us from Hollywood and surrounding Los Angeles up to Vasquez Rocks & the Mojave Desert and onward to our new final destination – Star Trek Mission Chicago.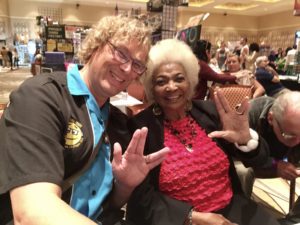 We are very excited about this 'Mission' and hope to add a bit of a "Piece of the Action" and Al Capone vibes to our journey, by way of Iotia II of course! Flights from L.A. to Chicago will be included in the price and thus we will all arrive together, ensuring we won't miss any part of the adventure. Imaging dining with Federation staff, running into Klingons in the hallway and bumping into Borg in the bathroom… all with the gangster backdrop of Chicago. You will be traveling with a group of like-minded people that want to celebrate all that geeks them out! Excited fans that not only want to revel in Star Trek, but to meet new friends, come home with a smile on their face, and forever treasure the unique memories from our mission … along with the odd Romulan ale or two.
GNT always makes sure that the journey is even more exciting by including some Star Trek celebrities along the way in "Hollywood, and beyond." As we get closer to the date we will update this space with who will be joining us on our adventure, so be sure to return often to see our lineup!
Day 1 - Los Angeles (Saturday, Apr. 2, 2022)
Tour members will be arriving throughout the day, and as you know there is tonnes to do in L.A., but be sure to get back to the hotel early enough to join our departure to "Lucy's El Adobe Café" and our Welcome Dinner. Gene Roddenberry himself use to frequent Lucy's as it is right across the street from Paramount Pictures, and I am sure Larry has a story or two about those days. Geek Nation Tours takes great pride in our evening meals and get-togethers. Past participants agree that our meet-ups are an important part of the tour experience – a time where you can get to know other Trek geeks and maybe hear a great suggestion or two on what to do in the following days. You can join us every night… right through the convention days in Chicago …. or escape to do your own thing.
Our Welcome Dinners traditionally involve at least one Star Trek related guest and we have one in mind that will help us experience the evenings adventures. More soon on that...
After our Welcome Dinner, we will board our private coach and head off to Griffith Observatory—a favorite of space geeks, and not just as the site of Paris and Tuvok's shootout in Voyager's "Future's End"! With a stunning view of Los Angeles by day or night, we will explore the many exhibits old and new—including the Leonard Nimoy Theatre and its namesake's welcome film, which takes on even more poignancy after his passing in 2015. If time permits, we'll take a look through a telescope or two, of course—and see the Griffith's famous Tesla Coil close-up in action.  After visiting the Griffith Observatory we will be transferred to our Hollywood hotel…
Attendance of special guests and celebrities is subject to change due to scheduling conflicts and professional obligations. 
Overnight Location: Los Angeles
Day 2 - Los Angeles (Sunday, Apr. 3, 2022)
Today we will have another long day of Trek goodness as we board our private coach that will "shuttle" us on our journey. Not only will we be free to relax and enjoy the views, but if you want a "refresh" about a particular filming area or episode we will have on-board screens to view a few clips of the places Larry will lead us to each day.
We will leave the rarefied L.A. city limits and venture off into Santa Ynez country to see Chateau Picard Vineyard as represented in 'Picard'... The villa we know so well now is not normally open to public tours, so our visit will be a rare treat indeed. We are very excited about this new addition to our tour, and we will make sure the drive out there is filled with Nemecek inspired trivial (and maybe a movie)...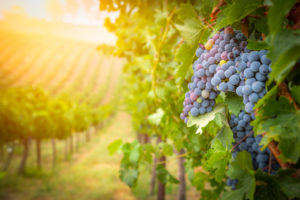 After our vineyard visit we will sneak off for a special evening meal at Musso & Franks.  This well-know Hollywood hot spot was often frequented by Gene Roddenberry, and Larry will help us with some of the memories stored in its walls… We may even have a few other guest joining us – more on that soon!  After that the evening will be yours to explore Hollywood.  Several of us, however, plan to be off to the American Legion Post Bar for a beverage or two – just down the street from our hotel and the site of punky Kirk's cadet bar brawl in JJ's 2009 movie.
Attendance of special guests and celebrities is subject to change due to scheduling conflicts and professional obligations. 
Overnight Location: Los Angeles
Day 3 - Los Angeles (Monday, Apr. 4, 2022)
Our morning departure takes us to the most iconic of Starfleet Academies: the Tillman Water Plant and Japanese Garden. Bring your uniforms for sure! Here we can explore and pose with what has become the most loved version of Starfleet Academy and HQ, as seen in many TV episodes from The Next Generation to Enterprise. Stroll through the gardens, but watch out for the Edo hedge mazes seen in "Justice" – we wouldn't want anyone zapped in a Punishment Zone!
That is just the beginning, as next we beam into the Klingon prison caves of Rura Penthe… or is it Picard and Dathon's "Darmok" moment… Ensign Ro's Bajoran refugee camp … or the Roman planet 892-IV of "Bread and Circuses"? You might be surprised to find all those worlds and more—even the 1960s Batcave entrance!—right in Los Angeles just three miles from Paramount in Griffith Park's Bronson Canyon. We'll see them all, and many more, in just one stop! Don't worry about lunch this day… Geek Nation Tours has you covered with a boxed lunch brought in by our bus driver.
From there we will be heading off to Paramount Studios itself, with Larry and a studio guide. Paramount is a real Star Trek time portal! From the Nazi headquarters of "Patterns of Force" in the 1960s, to the "blue sky" tank where the Bird of Prey crashed in Star Trek IV, to the New York streets of DS9's "Far Beyond the Stars" and all the stages that housed the starships … get ready for a front-row, hands-on look at your favorite iconic moments of Star Trek. And we'll visit and point out as many as we can, amid sound studios, backlot streets and sets where Hollywood magic comes to life. Longtime Star Trek insider/producer Dave Rossi will also join us to share even more stories from the stages and offices of TNG through Enterprise.
Tonight you will be treated to a free night to enjoy L.A. as you see fit. Watch out for the Ferengi though...they will try to take you for all your worth...
Overnight Location: Los Angeles
Day 4 - Los Angeles (Tuesday, Apr. 5, 2022)
Today we travel into the American "Undiscovered Country" – well, we will again venture outside the cityscape of L.A., anyway. We will be off via motor coach to perhaps Star Trek's most famous on-location site of all… Yes, we're talking about those tilted rocks at Vasquez Rocks County Park —and if that sight isn't enough to stir your memories of Kirk battling the Gorn Captain in "Arena"—what about meeting none other than the Gorn himself? How many get the treat of meeting Bobby Clark, the performer who wore the hot Gorn suit in 1966, and hearing his memories and taking their pictures with him right where it all began? Vasquez Rocks is the site of many more moments from every series but DS9, plus Star Trek IV and the 2009 Star Trek film—not to mention scores of westerns and other TV/film highlights.
But Larry has been doing some research since the last time we were on this tour and as such he has found the most elusive or things - a new Star Trek filming site to see.... Journey with us to see the very glade where several scenes of TOS's "Shore Leave" was filmed...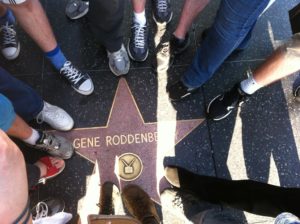 From here we head back to the Hollywood Walk of Fame along Hollywood Boulevard to see as many Star Trek related "stars" as possible.  We will also pass by Grauman's Chinese Theatre and its famed forecourt to view the concrete autographs of The Original Series cast. See if your handprint will be the same as Spock's or Scotty's! Take your time to look at other autographs in the cement – the cast of Star Wars, for instance, or a galaxy of famous stars from the past. Today's tour will end as we see our last Star Trek related star, but as always you will be able to head off on your own or join us for a beverage and something to eat.  We will most likely be headed off to Buffalo Wild Wings (right on Hollywood Boulevard) to eat and then maybe back to Grauman's to see a movie.
Attendance of special guests and celebrities is subject to change due to scheduling conflicts and professional obligations. 
Overnight Location: Los Angeles
Day 5 - Los Angeles (Wednesday, Apr. 6, 2022)
Today will be largely filled with our voyage to Chicago.  We will early depart our hotel as a group and make the voyage to the airport together. Further, air tickets are included with the tour, and as such we will board our plane to the Windy City together. We will arrive around dinner time and after we have a quick rest at our hotel, we will spend the evening dining at a gangster related restaurant. Should we go to the Twin Anchors Restaurant, which belonged to gangster Bugs Moran, Club Lucky where bullet holes can still be seen in the bar, or head out for some pizza-pie at the Chicago Pizza and Oven Grinder Co. were just across the street the notorious "St. Valentine's Day Massacre" took place..?
"You mind your place, mister, or you'll be wearing concrete galoshes."
Attendance of special guests and celebrities is subject to change due to scheduling conflicts and professional obligations. 
Overnight Location: Chicago
Day 6 - Chicago (Thursday, Apr. 7, 2022)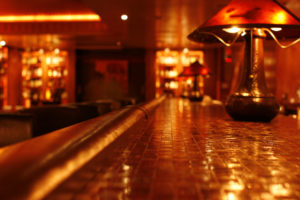 Today we will take the obligatory Chicago Gangster tour and be shuttled around the many sites of Chicago's underworld.  Our goal is to give you a bit of the "Piece of the Action" right front and center. After the tour we will spend the day going from Speak Easy to Speak Easy.  We will end the day, after dining on Chicago Style Pizza, at the Green Mill Cocktail Lounge were Al Capone himself frequented...
We hope to get you back to the hotel at a decent hour.  We want you rested up for the conventioneering the next day....
"The most co-operative man in this world is a dead man. And if you don't keep your mouth shut, you're going to be co-operating."
Attendance of special guests and celebrities is subject to change due to scheduling conflicts and professional obligations. 
Overnight Location: Chicago
Day 7 - Chicago (Friday, Apr. 8, 2022)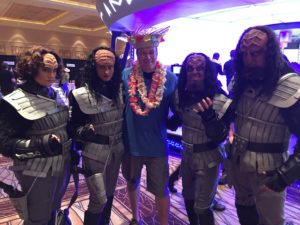 Finally, it's show time…you now have three days to completely Geek out! You'll be able to set your own schedule to experience Star Trek Mission Chicago itself. Lost with no one to hang with? Don't worry – you've just bonded with lots of great fans, and you need never be alone. Or you can always find your Geek Nation Tours representative to deal with any questions or concerns that you may have, just by texting.
See, the tour is not over yet! The convention days and nights are yours, but each night we will have an optional Star Trek tour get-together to regale our experiences, compare who we met and saw, and share other convention "war stories." We'll see Larry again, too, so join us every night or do your own thing! Geek Nation Tours wants you to have the freedom to "Geek Out" as much as possible.
And keep this channel open: Geek Nation Tours is also currently creating some further special events and nightly gatherings.  We are working on a special "Journey to Ten Forward" evening tour with special hosts… More details on that will be announced shortly.
At last, on Sunday night we will gather for one final dinner where we can all talk about our trip and make sure we exchange emails and phone numbers…
Overnight Location: Chicago
Day 8 - Chicago (Saturday, Apr. 9, 2022)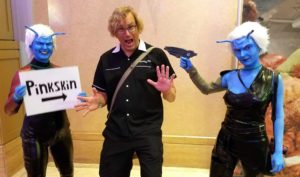 Star Trek Convention: See Day 7 for details.
Overnight Location: Chicago
Day 9 - Chicago (Sunday, Apr. 10, 2022)
Star Trek Convention: See Day 7 for details.  Tonight we will gather one last time for our official Farewell Dinner.  Be sure to have a final set of questions for Larry to answer prior to the end of the evening...
Overnight Location: Chicago
Day 10 - Chicago (Monday, Apr. 11, 2022)
All good things must end, of course, and today we return to the airport and depart for home from Chicago. The photos, memories and friends you picked up, even before hitting the convention, are yours to keep forever!
Tour Notes
NOTE: Attendance of special guests and celebrities is subject to change due to scheduling conflicts and professional obligations.
NOTE: COVID-19 has changed both our geek and our real worlds. Some things may never be the same and others may not be able to be offered on our tours or will have to be altered in a new post Covid world. With that said, please understand that GNT is moving forward as if the disease is already conquered, but all tours are now subject to change.
What's Included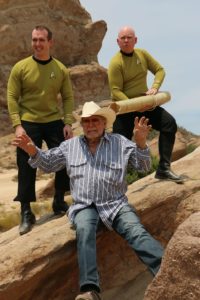 Star Trek Expertise and Access from Guest Host Larry Nemecek, All hotel nights, Motor coach transportation, Entrance fees to most venues, "How to get the best out of your tour" exclusive Welcome Dinner, All breakfasts while in Los Angeles, some lunches and most dinners on non-convention nights, Paramount Studio tour, Chicago Gangster Tour, airport transfers to and from the hotel(s), Air tickets for L.A. to Chicago, tour guide service, Commemorative (exclusive and stylish) of GNT tour shirt, hoodie, T-shirt or long sleeve T,  other co-sponsor gifts to be announced.
Hotel: GNT is currently working on hotel space linked directly to McCormick Place.
What's Not Included
Some local fees may not be included. Some local transfers are not included.  Air to L.A. and from Chicago to your home city. Note that we will be using taxies and uber while in Chicago. Some "on own" costs will incur, but these will be shared with fellow tour participants.
NOTE: In order to give Star Trek fans the access to Mission Chicago that they want TICKETS FOR THE CONVENTION ARE NOT INCLUDED.
Tour Price
Tour Price
Pricing info to follow.
Non-Geek Spouse Argument
Does your reluctant significant other need to hear, "But think of the shows and the night-life…The shopping or the museums"? Well, don't forget Geek Nation Tours "Parallel Universe" department: we can arrange a whole gambit of non-geek fun for those non-geek spouses that don't want to hang out with us when we Geek Out — There is loads to do in L.A. and Chicago both!