Tour Status:
NOW BOOKING - LIMITED SPACE
Destination(s):
Indianapolis, Indiana, USA
Departure Date:
August 4, 2021 (Wednesday)
Return Date:
August 9, 2021 (Monday)
Tour Limit:
15 Participants
Price:
Main Tour: $2,799.00 USD
About the Tour
Gen Con is dead! Long Live Gen Con!  May 19th 2020 saw the cancellation of Gen Con for the first time in its long history. While the sadness is still palpable we will carry on!  We will not give up our quests for geeky goodness and thus offer you up the Geek Nation Tours Gen Con 2021 tour…
Covid Pricing note: As we move into the post-Covid era there may well be price adjustments as we move forward. It has been postulated that the tourism industry as a whole will see many price increases. While GNT strives to give the best price along with the best service and experience we may be forced to increase tour pricing in the future. 
Be well, healthy and happy and thank you for all your support!
Teras –  Geek Nation Tours 
Want to jump into some serious (or maybe not so serious) gaming of almost every description? Or maybe do some shopping or see what's new in the gaming world? Are you interested in finding out about all the upcoming releases for the next year? Perhaps you would like to mingle with celebrities from the gaming world and see what they are working on. Maybe you want to pit your gaming skills against the best in the world or perhaps try out a few games that you have always wondered about. Gen Con is the best place in the world to do all these things and more.
Geek Nation Tours always makes sure there is plenty to do prior and during Gen Con, and 2021 will be no exception as we will continue to offer exclusive gaming opportunities.  Each year our tour participants get to game with the people that design, develop and produce the games they love.  In the past our tour participants have demanded "More Gaming" and this year we will supply just that! This year's theme will be Horror games! So stop screaming and get rolling dice – if you are a fan of all things horror this is the tour for you.
This year we are trying something new… We will be partnering up with Kingmakers Board Game Café to create a Geek Nation Tours Headquarters for the entirety of the trip. Geek Nation Tours has decided to focus deeply on why we go to Gen Con – to game! Therefore, each and every night we will have created dedicated gaming space, but also decided to bring the meals to us.   In this way there is no wasting valuable dice rolling or card flipping time at restaurants.  2021 will see us have buffet dinners for most nights (GNT couldn't help but revisit our traditional stop to the Fogo de Chao for our Farewell Dinner) for better ease of getting back to the hard work of gaming! Further, we get to take advantage of Kingmakers ample board game library to choose our nightly games from…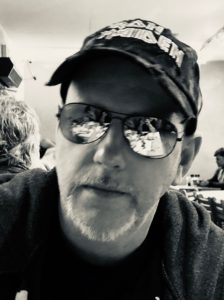 We have two other firsts this year, on Saturday night Geek Nation Tours and  Mantic Games will join forces to present a classic Gen Con event Mantic Open Night! Mantic Fans will join with GNT tour participants to play their games and mingle with their staff all night long. For years however, GNT tour participants have cried out for more RPGs during our Gen Con tour and this year you will have it in spades. Geek Nation Tours has invited the infamous scribe, world creator and novelist Graham McNeill aboard our 2021 tour and it so happens that Graham is a huge Cthulhu fan. Graham has promised "evenings of madness, death and horror and then afterwards we will play Call of Cthulhu." Each night participants will have the chance to become immersed into a world of darkness that pits them against horrors innumerable… Will you be able to turn the tide against the insane horrors of Cthulhu as they manifest themselves upon this earth …  or become one of the insane yourself?
Graham McNeill has written over thirty novels, including The Crimson King, Vengeful Spirit and his New York Times bestsellers A Thousand Sons and the novella The Reflection Crack'd for the Black Library. Empire, the second book in his Legend of Sigmar trilogy won the 2010 David Gemmell Legend Award. He has also written for Blizzard's Starcraft universe, and his Dark Waters trilogy for Fantasy Flight Games takes place in their Arkham Horror setting. A lifelong role-player, (GM/DM for life!) he loves nothing more than plunging his players into the madness of the Cthulhu mythos or sending them on cockamamie capers every which way in Serenity's 'verse.
Want more? GNT friends Anvil 8 Games has already confirmed their participation and will be bringing their Aetherium RPG for us to adventure in. For those that want more boardgaming action though, the Anvil 8 Games crew will bring along all their versions of  Front Line No Komrades, including Oxna Bears All, and their new supplement Kameradenschweine!
Are you a Gen Con newbie or a veteran?  Both will appreciate Geek Nation Tours ability to make the registration process easierfor all. While your 4-day Gen Con badge is included in the tour package, you will still have to register for events. To that end, we will be arranging a pre-registration conference call via Skype to help expedite the registration process and to help everyone choose the events they want. Are you slightly overwhelmed by the registration procedure? Not sure what to register for when the cart opens? Worried that you might be missing the very best in seminars or gaming opportunities? Let Geek Nation Tours ease your mind. Even before we arrive in Indianapolis, Geek Nation Tours will endeavor to make the Gen Con experience exceptional…
Further, we are proud to announce that we will be again handing out our Gen Con badges and event tickets! That's right, no ticket pickup lines and no delivery costs for any items that are pre-registered for prior to June 10th! We will deliver them right into your eager hands. Our welcome dinners are always informative and loads of fun. They are great for newbies and veterans alike, and you are sure to leave with a smile on your face, a full belly and all the information necessary to get the most out of your Gen Con experience.  Plus, we will get right to gaming even on the first night…
Lastly, but perhaps most importantly, Geek Nation Tours has arranged for us to stay at the Le Meridien Indianapolis which is not only one of the nicest boutique hotels in the area, but also literally two very short block away and an easy walk to and from Gen Con (perfect to be able to drop your loot off and return quickly for more gaming or shopping).  We also pick you up at the airport and get you back there post Gen Con so you can safely make your way home.
Please note that we have transferred most of your tour reservations from the 2020 cancelled event to this 2021 tour. Thus we are already approaching capacity. If you want to hop on the tour and experience Gen Con please book asap as Space IS Limited…. 
Pre-Tour Information
Gen Con 2020 will live on in our hearts and our actions!  Geek Nation Tours is planning an extra day – a Gen Con Primer – if you will.. The day will be filled with gaming of all sorts and a celebration of the Gen Con that wasn't!  We will gather on Tuesday August 3rd 2021, so plan to arrive early so we can start our Gen Con off as soon as possible… Return to this site often for more details…
Day 1 - Indianapolis (Wednesday, Aug. 4, 2021)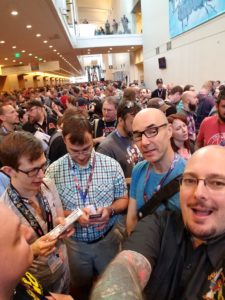 Tour members will be arriving throughout the day and everyone will have transportation arranged to take them directly to the hotel. A Geek Nation Tours representative will be waiting to greet you when you arrive. We will have a leisurely, relaxing free day to explore the area. Depending on your arrival time and your interests this can include taking in a couple of Indianapolis' museums, which are just a short walk from the hotel (or of course gaming with those that have already arrived).
"No museums for me! On to Gaming!!!" you say?  If you are itching to get to gaming then GNT provides. Drop your bags at the hotel and head on off to the Kingmaker Café! Here you will be joined by other GNT tour participants as they arrive and then when everyone is there we will dine (followed by yet more gaming of course)!!! Graham MCNeill will be there ready to bring part of our group on a horror driven ride through Cthulhu-ville.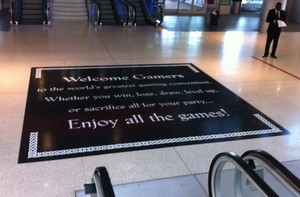 GNT also will provide transfers to our HQ so no need to add the quest to find the Kingmaker… We will have that all covered too…
We will be staying at the beautiful Le Meridien just two short blocks from the convention itself.
Overnight Location: Indianapolis
Day 2 - Indianapolis (Thursday, Aug. 5, 2021)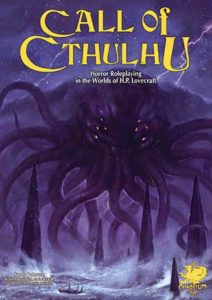 As we will already have our badges, we will be able to jump right into the Gen Con 2020 goodness! At this point you will be ready for the spectacle that is Gen Con. If you have any questions at all, our Geek Nation representative will be there at the convention with you. As a matter of fact, he will even walk to the convention with you to ensure your Gen Con experience proceeds without a hitch. We will be starting off our Gen Con early as we head off to the opening ceremonies at 8:30 a.m. just outside the exhibit hall. Doors open at 10:00 am so be sure to bring a game!
Geek Nation Tours takes pride in getting people of like minds together to experience the finest in geeky events and our Gen Con tour will be no exception. We will meet each night to regale each other with our experiences, the games we played or saw, and to share other Gen Con "war stories". Past Geek Nation participants agree that our nightly gatherings are a wonderful part of the convention experience – a time where you can get to know other geeks and maybe hear a great suggestion or two on what to do the following day. Not only that, you'll be surrounded by a large and welcoming gaming community so you'll have an opportunity to meet new friends and the time to discuss all those geeky things that you love. You can join us every night or you can do your own thing, it's entirely up to you. Geek Nation Tours wants you to have the most freedom possible to "Geek Out", so our meetings will be completely optional – you can come and go as you please. For those that can't make the meals (because of a full gaming schedule) feel free to come later – and bring your dice – because we will have open gaming every night.
For those that do join us however, Thursday night will see us at our HQ playing all things Cthulhu. Expect to see Smirk & Dagger's Tower of Maddness as it goes with the tour theme and is perfectly zany for a night of relaxed horror…But this will be the second night of Graham McNeill directed Call of Cthulhu RPG goodness. Each night he will bring you to the edge of insanity with a one-off adventure into madness, horror and death. Write home that you were one of the six people driven mad by Graham McNeill each night at Gen Con...
Overnight Location: Indianapolis
Day 3 - Indianapolis (Friday, Aug. 6, 2021) / Special Note (Aug 6 -Aug. 8)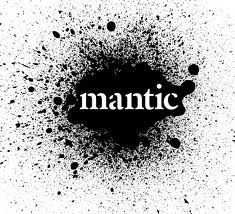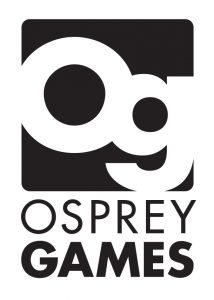 You now have three days to completely geek out! You are free to experience Gen Con 2021 as you want, though there will always be a Geek Nation Tours representative on hand to deal with any questions or concerns you may have. Join a role playing game, demo a new boardgame, or get your picture taken with a cosplayer. Your schedule should be all set at this time, but you can always choose to head off to Gen Con's boardgame area to grab a game with some new friends. Lost your GNT companion? Don't worry – you can always find his exact location just by texting him.
Prior to registration, Geek Nation Tours will ask tour participants if they are interested in doing some gaming as a group. Many will be busy doing their own thing, but if you are interested be sure to sign up for any or all of these events. Some of the classics we did as a group in year's past were D6 Gen's "Play by Mob" event, and the famous "True Dungeon" – but even X-Wing had a huge following…
But those are the days…what about the nights, you ask?  Well each night you will be treated to dinner on Geek Nation Tours and have awesome exclusive gaming experiences.  Join Geek Nation Tours for four nights of social gaming, demos and prizes.  Bring your own game or play one of the games we feature that night, as we will have a multitude of tables and free gaming space open for all! We will even have several gaming companies on the ropes for a short Q&A prior to hanging out and rolling some dice with us well into the evening.
Overnight Location: Indianapolis
Day 3 - Indianapolis (Friday, Aug. 6, 2021)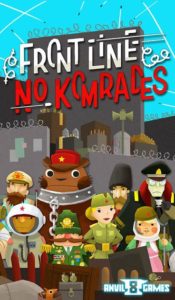 Tonight we will again head off to our Kingmaker cafe HQ for another awesome buffet dinner and gaming. We will broaden our gaming focus tonight and hopefully include games from GNT's partners Osprey Games... We hope to confirm shortly that they will be with us to talk about their awesome books, their incredible and rapidly growing list of new and exciting games, and last but not least, their recent foray into roleplaying via Paleomythic and Romance of the Perilous Land... 
Either way we will be offering up some roleplaying tonight as Anvil 8 Games will be packing their own brand of cyberpunk RPG called Aetherium. An extension of Anvil 8's miniatures skirmish wargame, characters enter the digital mindscape as anarchists, corporate agents, activists, hackers or spies. Struggle to maintain the impossibly complex machinery as your mind soars through the infinite worlds of cyberspace. Brian Niro and his crew will allow you to escape meatspace, Gen Con and your fellow gamers. For those that want more boardgaming action though, the Anvil 8 Games crew will bring along all their versions of  Front Line No Komrades, including Oxna Bears All, and their new supplement Kameradenschweine!
All this and a chance to be driven insane by Graham McNeill too...
Overnight Location: Indianapolis
Day 4 - Indianapolis (Saturday, Aug. 7, 2021)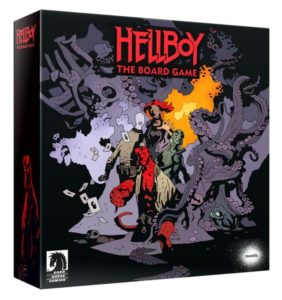 We will return to the Kingmaker Cafe and Geek Nation Tours HQ for an evening with the Mantic Games Crew. Tonight we will take part in the Mantic Open Night!!! What is Open Night you ask?  Open Night is the one night a year where Mantic gets to thank their fans for being awesome customers and players.  This is a night of celebration which starts with a Q&A and Update on all things Mantic and a glimpse into what goodness will be released in 2020.  After the Q&A you will have a chance to play their games and mingle with their staff as King Kahuna Ronnie Renton will be present to regale you in all things Mantic...
This year they will be spotlighting two new games, a Winggit air battle game, and Kings of Waricus Minimus, a war chariot race game.  Last year's favorites will be there also, Dungeon Saga: Bar Room Brawl, Jet Bike races, DoomBall and an open game of Dreadball Ultimate.  There will be open tables for open gaming as well, so bring your favorite Mantic game!
Each GNT participant will receive the following this night...
1 drink ticket, good for any drink at the bar
a commemorative Mantic campfire mug (campfire not included)
a surprise Mantic miniature
special accessory items from Iron Heart Artisans, Outrider Hobbies, etc. for many of our games
the opportunity to quiz Ronnie about future releases
It is sure to be a night of horror as well though as we feature Mantic's Hellboy The Board Game. Inspired by the legendary tales of horror, myth and folklore this cooperative gaming experience will see you become a member of the Bureau for Paranormal Research and Defense (BPRD), ready to investigate occult threats. You will become one of the iconic members and choose from Abe Sapien, Liz Sherman, Johann Kraus or Hellboy himself to explore gothic locations, hunt down clues, discover artefacts, fight horrific creatures and maybe even deny hell on Earth…
Overnight Location: Indianapolis
Day 5 - Indianapolis (Sunday, Aug. 8, 2021)
Tonight we will be getting together for our Farewell Dinner at one of our best loved restaurants - Brazilian Barbeque – at Fogo de Chao! Eat until your belly is full and take in their beautifully cooked meats or sample their spectacular salad bar. Whatever you eat, make sure it doesn't make you too sleepy as we will return to the hotel to roll dice there…
After dinner we will take the time to bring a favorite boardgame (or perhaps a recent purchase) and teach our fellow gamers something you love. Whether you hop into boardgaming or just hang out watching – Sunday night is always an awesome night to relax with some less competitive gaming back at our hotel. As a matter of fact, many many laughs are always heard from our tour members this evening. We cannot stress enough how fun this last night is.
Tonight we will have one more kick at the cat or should I say stab at the tentacle...As Graham continues to serve up some Cthulhu stew.
Overnight Location: Indianapolis
Day 6 - Indianapolis (Monday, Aug. 9, 2021)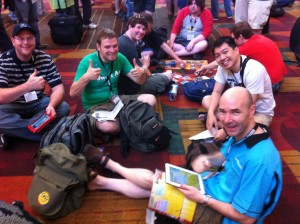 Today we will transfer to the airport and head home. The photos, memories and friends you made, even before hitting the convention, are yours to keep forever!
Tour Notes
Thinking about coming in early? Geek Nation Tours can help you with all your travel plans. Whether you want to visit another part of the United States prior to your arrival in Indy or if you just want to relax a bit afterwards. Let us know your travel needs and we can make sure you get the experience you are looking for.
Already have your convention pass or hotel but want to hop aboard?  No problem!  Geek Nation Tours can remove those costs from the tour package for you.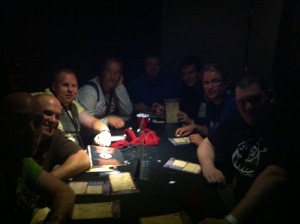 Geek Nation Tours also takes care of the non-geek spouse with its Parallel Universes department.  There is a lot to do in Indianapolis for non-geek spouses or those that want a break from the rarefied confines of Gen Con. So, if 4 full days of gaming is not your thing, our Geek Nation representative will be available to help coordinate excursions around the Indianapolis area. Whether it is finding a mall, visiting a museum or taking in a sporting event, we are sure we can find something for all those non-geek spouses (or gamers just looking for a break).
NOTE: Attendance of special guests and celebrities is subject to change due to scheduling conflicts and professional obligations.
NOTE: COVID-19 has changed both our geek and our real worlds. Some things may never be the same and others may not be able to be offered on our tours or will have to be altered in a new post Covid world. With that said, please understand that GNT is moving forward as if the disease is already conquered, but all tours are now subject to change.
What's Included
Pre-Registration Conference Calls, All hotel nights and taxes (we will be staying at the Le Meridien Indianapolis), transfers to and from the airport, Gen Con 4-day badges, all dinners including the exclusive Welcome Dinner and the GNT farewell dinner, Gen Con 2021 weekend pass and no line event ticket pick up, Exclusive Gaming Experiences, and Commemorative (and stylish) GNT Gen Con shirt.
Tour Price
Main Tour:
$2,799.00 USD + $555.66 Taxes & Fees
Single-Occupancy Upgrade: $750.00 USD + $120.00 Taxes & Fees
Final Payment Due:
May 10, 2021
Note:
Don't have a friend to get the double occupancy rate? That is what Geek Nation Tours does! Book as a double occupancy and we will match you up a roommate… This way you get the best of both worlds – someone to BS about the Con with – and more cash to spend!
Non-Geek Spouse Argument
Non-Geek Spousal Argument: "But there is tons to do in Indy for the whole family. Geek Nation Tours even has great non-geek spouse activities too!"
Copyright Notice(s)
© 2017 GEN CON, the Gen Con logo, and The Best Four Days in Gaming! are trademarks of Gen Con LLC. All rights reserved. Used under authorization.