Destination(s):
England and Wales
Departure Date:
October 16, 2024 (Wednesday)
Return Date:
October 25, 2024 (Friday)
Price:
Price - 10 Day Tour: $3,499.00 USD
Special Notice:
GNT's new Tourstarter tours not only allow you to help build the tour that you want to go on, but also puts money back in your pocket via profit sharing. As the tour grows – tour participants will enjoy a reduction in their fare. Of course, pricing is not fixed as we have yet to build the tour together, but based on past tours tour participants can expect a price reduction at 20 participants of $125.00 USD, at 25 participants that reduction increases to $200.00 USD and at a sell out of 30 tour participants expect a tour reduction of $250.00 USD.
Further, the tour pricing is based on past tour research. It may fluctuate while we build the tour but hopefully will remain close to the indicated rate.
Spread the word and help us put some money back into your pocket next to your sonic screwdriver…
About this TourStarter Tour
WE HAVE YET TO BUILD THIS TOUR! We are itching to get to it however, and thus have it listed as a Tourstarter project (see the Special Notice notes above and the "I'm Interested" notes to the right)… The dates have not been settled on nor have tour details been arranged. The currently timing and the described route shown below are also up for changes although those places just scream Sherlock Holmes to Geek Nation Tours…
Some of the questions we first will have to ask are…
A) Currently, GNT has picked October 2024 for this tour, but perhaps we should change it to mid-September to see the fall colours? We also avoid the highly traveled tourist months either way…
B) This tour has a bit of sleuthing and a light LARP vibe at times. Should we do a deeper dive into both? This way you will be able to add to the clues and any resolution of the crime…
C) Does the tour include enough free time?
D) Are there any other places of note we should visit? We can see Sherlock hanging out and gathering clues at the Southbank Book Market for instance… Should we include a stop?
E) Should we expand the Foodie theme of the tour to include more dinners and lunches…
F) Is the Sherlocked Convention still a thing post Covid?  Or is there a new con that we should tie this tour to?
YOU decide….
The game is on as Geek Nation Tours is pleased to invite you on our Sherlock Holmes tour. Based on the first three seasons of the incredible BBC series Sherlock, this tour will take you to a wide variety of locations in the UK, visiting Wales, Bristol, and of course London, home of the brilliant and eccentric Sherlock Holmes.
Try not to lose your way as you dive into Dewer's Hollow from The Hounds of Baskerville. Enjoy an elegant lunch at Simpson-in-the-Strand, a regular haunt for Sir Arthur Conan Doyle himself. Try to better Holmes and Watson racing along the route they used to chase down a speeding taxi in A Study in Pink. Hold back the tears (we all know they were there) as you recall Sherlock's unique, but touching best man speech at Goldney Hall, scene of the wedding reception in The Sign of Three. And see if you can fathom the complex logistics of how Sherlock Holmes faked his own suicide when visiting St Bartholomew's hospital. And of course, we will be stopping off outside the actual 221B Baker Street, home of our beloved hero. And much, much more.
In addition to seeing the sights, there will be activities to take part in along the way. An evening of gaming beckons you to test your sleuthing skills with Sherlock Cluedo or take part in the Holmes family tradition with a 'friendly' game of Operation. Enjoy a pint (or two, or more) to celebrate Watson's wedding as we crawl along the pubs from John's stag night (with plenty of time to recover in the morning, of course). Present your own innovative, entertaining, or just plain outlandish theory as to how Moriarty faked his suicide. Plus you'll even get the chance to do a bit of consulting detective work during our murder mystery dinner.
Intrigued? Well, there's more! You'll marvel at the famous London skyline in our own private capsule on the London Eye. Find out more about the history of the world's only consulting detective at the Sherlock Holmes museum. Have a photo op with none other than Benedict Cumberbatch! (Well, a highly detailed, ultra-realistic, anthropomorphic waxwork representation of him at Madame Tussaud's.)
So what do you say my fellow Cumberbuddies and Freemanphiles, will you join us on this intimate and encompassing excursion into the world of Sherlock?
Day 1 - London, England (Wednesday, Oct. 16, 2024) / Welcome to London!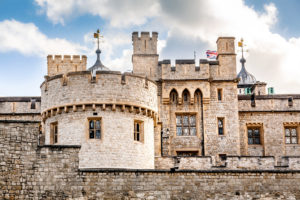 Today everyone will arrive from around the world and your GNT Tour Leader will be ready to welcome you and your fellow travelers to the tour. You will be given detailed instructions on how to make your way to the hotel and meet up with the rest of the tour participants. However, be sure to arrive as early as possible since your Tour Leader will be heading off to the Tower of London. Moriarty breaks in to the Tower to steal the crown jewels and flamboyantly introduce himself to the world in The Reichenbach Fall. Make sure not to linger too long planning your own heist or you'll miss the Welcome Dinner back at the hotel. During dinner everyone will have the chance to get to know each other better, unless of course you've already figured it out by studying everyone's appearance.
Overnight Location: London, England
Day 2 - London, England (Thursday, Oct. 17, 2024) / Film Sites, Buckingham Palace, plus Sherlock Holmes Pub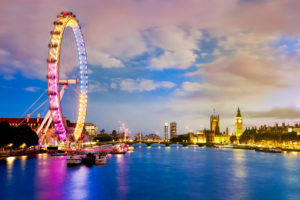 The day starts with an incredible view of London from up high in the comfort of a private capsule on the London Eye. Not only is the London Eye seen in the opening credits of Sherlock, but it's the best possible place to get a comprehensive look at the city.  Here we will take in the sites and get our bearings for the days ahead.
After this your Tour Leader will be taking you around a handful of filming locations from the BBC series including Buckingham Palace from A Scandal in Belgravia as well as the Houses of Parliament and the Westminster underground station from The Empty Hearse.
Then it's time for lunch (included) at the Sherlock Holmes pub! You'll enjoy your meal alongside a replica of the classic Holmes' and Watson's sitting room and study. Diners are able to view the whole area adjacent to the restaurant through a large glass partition, with additional viewing space through windows located in the hallway.
After lunch, rest your heals in the comfort of a coach as we are taken on a tour of all things Sherlock with a London local guide. The tour will take in literary sites from gentlemen's clubs to grand hotels featured in some of the novels and short stories of Sir Arthur Conan Doyle. You'll get to visit many of the film and TV locations and inspirations in the capital featured in screen adaptations with Jeremy Brett, Robert Downey Jr., and, of course, Benedict Cumberbatch. You'll have plenty of opportunities to snap photos and see the locations up close along the way.
In the evening, you'll be treated to dinner (included) at The Archduke, a centrally located restaurant uniquely tucked under the railway arches of Waterloo station. Then it's back to the London Eye for another visit. This time you'll see a breathtaking glimpse of the wonders of London lit up in the night sky.
Overnight Location: London, England
Day 3 - London, England (Friday, Oct. 18, 2024) / Breakfast with Sir Arthur Conan Doyle, a Skateboard Park and Chinatown
The morning is yours to explore and investigate before reconvening for a fine lunch at Simpson's-in-the-Strand, where Sherlock Holmes as well as his creator, Sir Arthur Conan Doyle, were known to frequent. For gentlemen, jacket and tie are preferred…deerstalker, optional (smart casual dress code).
This will be followed up with more location visits with your Tour Leader. This will include the South Bank skate park & Chinatown from The Blind Banker with enough time to buy your own lucky cat, The Old Bailey used as the exterior of the courthouse in The Reichenbach Fall, and St. Barts hospital, where you can lie down and take photos of your own faked death.
The evening will consist of an exquisite meal (included) in the opulence of the Criterion Restaurant, another regular visiting place for Sir Arthur Conan Doyle. After dinner it's off to Brindisa Soho for some refreshments before seeing who can catch the taxi from A Study in Pink first (so pace yourself with the sangria).
Overnight Location: London, England
Day 4 - London, England (Saturday, Oct. 19, 2024) / 221B Baker Street & Madame Tussauds
Day four begins with a look at 23-24 Leinster Gardens, the false façade hiding the London underground tracks from His Last Vow. Then on to the train that will take us (hopefully seeing the façade from below) onto 221B Baker Street. No, we're not spending the rest of the morning at Speedy's Café, but rather the Sherlock Holmes Museum, and yes, they have a wonderful gift shop so don't forget your spending money. From here you'll have time to enjoy a spot of lunch before moving on.
The afternoon will be dedicated to meeting all manner of famous people, including Usain Bolt, the Royal Family, and Mr. Benedict Cumberbatch himself! Naturally, time and monetary restraints wouldn't allow us to get all of these people together in one place so we've opted for the next best thing, a visit to Madame Tussauds waxworks. With so many photo opportunities, this would be the perfect chance to dress up as your favorite Sherlock character.
In the evening, your Tour Leader will be organizing a games evening back at the hotel including Sherlock Cluedo, chess, and the Holmes family favourite, Operation. Your Tour Leader will also be working to arrange group reservations for lunch and dinner. However, you are free to organize your own meals throughout the day.
Overnight Location: London, England
Day 5 - Cardiff, Wales (Sunday, Oct. 20, 2024) / Cardiff Castle and Moriarty
It's time pack your bags, board the coach, and travel to a different country! Many of the locations as London, England in the series are actually shot in Cardiff, Wales. Not to worry though, while England and Wales are their own distinct countries, they are both part of the country of the UK (confused yet?) and along the way you'll enjoy some of the finest countryside the British Isles has to offer. Make sure to bring your thinking cap (or deerstalker) however, since there will be a traditional British Pub Quiz during the drive to test your Sherlock knowledge and deductive skills.
After lunch, join your Tour Leader to pull back the veil on some movie magic by visiting some more filming locations. First off will be Cardiff Castle, used to film the Moriarty crown jewels break in interior scenes from The Reichenbach Fall. Then you'll see Cardiff University's Haydn Ellis building which is used as the hospital Sherlock stays at after being shot in His Last Vow. Finally, you'll get a look at the School of Chemistry, used as Roland Kerr College in A Study in Pink, to compare what you see on film versus what you see in real life.
We'll finish the day with some fine Italian dining at Giovanni's (included), where Sherlock enjoyed a meal in the company of the ruthless Charles Augustus Magnussen in His Last Vow.
Overnight Location: Cardiff, Wales
Day 6 - Cardiff, Wales (Monday, Oct. 21, 2024) / Cardiff Film Sites and a Tour of the BBC Studio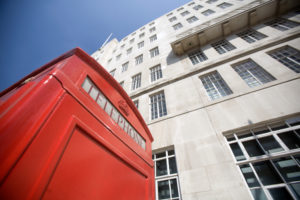 Today is packed with sight-seeing in and around Cardiff with your Tour Leader both by coach and on foot. You'll get a glimpse of the terrifying Dewer's Hollow from The Hounds of Baskerville before having lunch at the nearby The Bush Inn, the pub used as The Cross Keys Inn.
In the afternoon there will be a tour of the BBC Studio in Cardiff where you'll discover how television programs are made and find out about radio programs broadcast on BBC Radio Wales and BBC Radio Cymru. And if that's not enough, you'll also have a go at creating your own news bulletin or taking part in an interactive radio drama.
Again your Tour Leader will be making group arrangements for dinner, but you are free to organize your own meal.
After dinner, grab your 'glass measuring cylinder' because the game is…something… as we follow in the footsteps of Holmes and Watson's stag night pub crawl in The Sign of Three. Geek Nation Tours will buy the first round and later in the evening your Tour Leader will be on hand with post-it notes and pens to play 20 questions (and maybe somebody will get to be a pretty lady…even though beauty is a construct based entirely on childhood impression, influences, and role models.)
Overnight Location: Cardiff, Wales
Day 7 - Bristol, England (Tuesday, Oct. 22, 2024) / Bristol a Pool and a Chance to Swim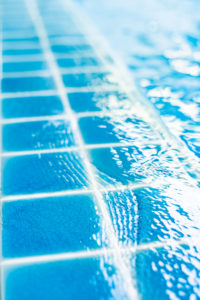 After a relaxing morning (recovering from the previous night's clueing for looks) it's back on the coach off to another Sherlock filming location. A handful of key scenes were shot in Bristol, situated just across the channel from Cardiff in the South West of England.
After checking in to the hotel you'll get to visit Bristol South swimming pool, where Holmes and Watson first meet Moriarty in The Great Game. Option one is to wear a sharp suit and look menacing, unstable, and super cool. Option two is to wear a swimming suit and enjoy some time in the pool.
After dinner (included) in the evening, you'll have the opportunity to present your own take on if and how Moriarty faked his death in The Reichenbach Fall. Prizes will be given for the most ingenious and inventive ideas.
Overnight Location: Bristol, England
Day 8 - Bristol, England (Wednesday, Oct. 23, 2024) / John and Mary Watson's Wedding
Today is about the celebrating the union of the Watsons in The Sign of Three, so either bring your hankies or stuff your emotions deep down inside your mind palace next to your beloved Irish Setter/BFF. Boarding a coach, you'll start by visiting St Mary's Church, the scene of John and Mary Watson's wedding. Then it's on to Goldney Hall House and Gardens, where the wedding reception was held and Sherlock gave one of the most unique and touching best man speeches ever heard.
The evening is yours to relax and enjoy the city of Bristol, since we'll be heading back to London in the morning.
Overnight Location: Bristol, England
Day 9 - London, England (Thursday, Oct. 24, 2024) / A Coach Ride, Some Free Time & and a Murder Mystery Dinner
The day starts with a leisurely journey back to London by coach. Once you've settled back into your hotel room you'll have the afternoon to yourself to visit more famous sites, go shopping on Regent's St, or reward your patient traveling partner with a West End matinee. As always, your tour representative will be happy to help you with suggestions of places to visit.
In the evening, the tour will end on a grand scale. You'll be given the chance to truly test your sleuthing skills, as you'll take part in a murder mystery dinner. Enjoy a three course meal, study the clues and solve the mystery. Just make sure you stay alive until dessert is served!
Overnight Location: London, England
Day 10 - London, England (Friday, Oct. 25, 2024) / A Journey Home
Today we will transfer to the airport and make the journey home. The photos, memories and friends you made are yours to keep forever.
Today is also the day for those taking part in the Sherlocked UK extension to make their way to the convention location (TBA) and enjoy a weekend full of insights and interactions with the cast and crew of Sherlock.
Optional Post-Tour Add-on
Day 1 - London, England (Friday, Oct. 25, 2024) / Sherlocked?
It's time to get your geek on! Today we'll reposition ourselves in the Sherlocked convention hotel and settle in for the weekend. Upon checking in to the hotel, we'll register and have a sneak peek at the convention. Then we'll enjoy dinner together and stay up for the convention after party!
Overnight Location: London, England
Day 2 - London, England (Saturday, Oct. 26, 2024) / Sherlocked?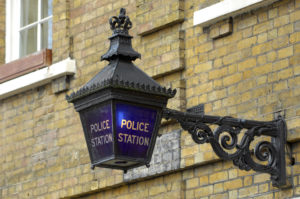 Your first full day of the convention is yours to do as you please. Check out sets and props used in the series and learn more about production from cast and crew! Check back soon for updates on who is scheduled to appear! We'll gather in the evening to compare notes over dinner before returning to attend Saturday's after party. Feel free to point out everyone's shortcomings based on their appearance since you are, of course, a high functioning sociopath, aren't you?
Overnight Location: London, England
Day 3 - London, England (Sunday, Oct. 27, 2024) / Last Day of Sherlocked
It's the last day of the convention, so make sure to get those photos, autographs, and swag you've been waiting for. After another full convention day on your own, we'll meet up for another farewell dinner and have the chance to give our own eccentric yet heart-warming toasts. Then we'll break out the glass measuring cylinders one last time for the last after party to wrap up the convention!
Overnight Location: London, England
Day 4 - London, England (Monday, Oct. 28, 2024) / Once Again it's Time to Say Farewell..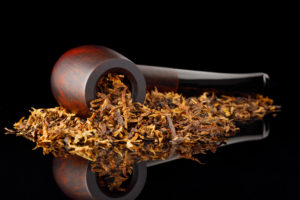 Once again it's time to say farewell. Hopefully the most priceless things you'll take home with you are the memories and connections you made along the way!
Tour Notes
NOTE: Attendance of special guests and celebrities is subject to change due to scheduling conflicts and conflicting professional or personal obligations.
NOTE: COVID-19 has changed both our geek and our real worlds. Some things may never be the same and others may not be able to be offered on our tours or will have to be altered in a new post Covid world. With that said, please understand that GNT is moving forward as if the disease is already conquered, but all tours are now subject to change.
What's Included
Main Tour: All hotel stays, several meals (as mentioned above) included breakfast every day, entrance to all museums & exhibitions, both day and night private capsules on the London Eye, local guides and transportation, London transit cards, games & prizes, and more!
Post-Tour Extension: All hotel stays, Silver access to the Sherlocked convention, breakfast and dinner every day, London transit cards, games & prizes, and more!
What's Not Included
Air to the UK, local airport transfers, some meals not pre-arranged before the tour.
Estimated TourStarter Price
Price - 10 Day Tour:
$3,499.00 USD + $411.57 Taxes & Fees
Single-Occupancy Upgrade: $750.00 USD
Price - Extension:
$1,599.00 USD + $191.88 Taxes & Fees
Note:
Don't have a friend to get the double-occupancy rate? That is what Geek Nation Tours is all about! Book as a double occupancy and we will match you up with a roommate. This way you get a new friend to BS about the trip with AND more cash to spent, huzzah!
TourStarter Note:
Please Note that the above pricing is just an estimate and the final price will be determined upon settling our itinerary and coming to a collaborative decision on all details. It is our 2019 pricing however, and thus is a good estimate of the final price.
Non-Geek Spouse Argument
"It's the UK! Think of the castles and the culture…"