Tour Status:
NOW BOOKING - LIMITED SPACE
Destination(s):
Schaumburg, Illinois, USA
Departure Date:
March 22, 2023 (Wednesday)
Return Date:
March 27, 2023 (Monday)
Price:
Main Tour: $2,399.00 USD
Special Notice:
Please note that this tour will likely sell out very quickly of both Single Occupancy and Double Occupancy space.  Thus, all bookings will be considered pre-registered until we can collect deposits and confirm your space with such. Please book asap if you would like to join us.
About the Tour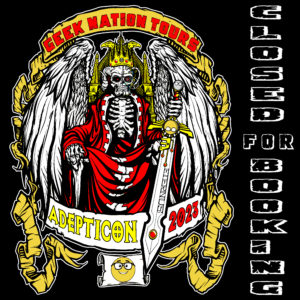 Hello all wargaming geeks! Geek Nation Tours is proud to release our AdeptiCon 2023 tour!  Our 2023 AdeptiCon tour is now closed for booking. We may be able to fit you in however, if you are interested please email headgeek@geeknationtours.com …
Geek Nation Tours is very excited to present our tour to the world's largest tabletop wargaming tournament and convention – AdeptiCon. Here, discriminating wargamers from around the world find a multitude of gaming experiences – from tournaments using a variety of different wargaming systems to the very best in gaming and painting seminars. AdeptiCon is also a wargamers' shopping paradise with a huge amount of vendors waiting to show you their wares. It is a spectacle to be seen and experienced. Game with the best, meet friends from around the world, and roll dice all night long!
The AdeptiCon crew will, in 2023, be creating even more options and will offer tabletop gamers an unprecedented level of gaming excellence! And with the release of our 2023 tour, Geek Nation Tours and AdeptiCon will bring you nothing short of an elite wargamers' experience.
In the past, Geek Nation Tours brought tour participants Pre-Public guaranteed AdeptiCon registration. We offered those that hop on the tour the opportunity to select AdeptiCon events before the general public and thus insure that tour participants get to grab all the events that they are hoping for.  This year is no exception – book prior to October 30, 2022 and you will be able to pre-register for all events in advance of them going public. Don't come half way across the world only to have the spots you wanted disappear…
2023 will again also see Geek Nation Tours include both the Very Important Gamer Swag Bag Upgrade and the AdeptiCon Weekend Pass in the tour price. The package includes Preferred Check-in, an AdeptiCon T-shirt, and an AdeptiCon glass. Not only that – Geek Nation Tours makes your VIG package even better! We will pick up your tickets, weekend passes and your swag bags for you. Absolutely no waiting in line – just show up at the Welcome Dinner and "bang!" you will receive your loot hassle free (with a few extras from Geek Nation Tours, @DMG Miniature Factory and Ironheart Artisans).
Geek Nation Tours has of course, hotel rooms right at the Renaissance Schaumburg Convention Center Hotel! So all you have to do is roll out of bed and into the goodness that is AdeptiCon.  But that's not all! The Renaissance has also given us free Wi-Fi in our rooms for the duration of our stay…
Each year Geek Nation Tours offers an "AdeptiCon Welcome Dinner" where we have had tonnes of Guest Speakers from all aspects of the Wargaming Universe.  From Black Library authors Dan Abnett, Graham McNeill, Chris Wraight, C.L. Werner and Andy Smillie to Game Designers like Andy Chambers.  GNT also invites Wargame Industry leaders like Games Workshop, Fantasy Flight Games, Mantic Games, Warlord Games, Privateer Press,  Steamforged Games, Secret Weapon Miniatures, Cool Mini or Not, Fantasy Flight Games and Reaper Miniatures, to Pro Painters James Wappel, Victoria Lamb, Chris Borer, Dave Taylor, Meg Maples, Brandon Palmer, Matt DiPietro and Sculptor Patrick Keith from Bombshell Miniatures.
This year we will continue to give you the ability to let you meet awesome people in the wargaming industry every single night we are at AdeptiCon!  We will have our Welcome Dinner of course, but because they were so successful (and tonnes of fun) we will again offer our "Osprey/Frostgrave" night out, then our "Geek Nation Tours Wargaming Industry Leaders" Night and the very successful "Exclusive Master Class Speed Painting Seminar with James Wappel".
We will round this up with our Farewell Dinner and our Teach Each Other: Boardgaming Night were we get together to do just that with all the cool loot we liberated through out the week… Alternatively, bring a game from home that you love and would like to share with fellow geeks…
Day 1 - Schaumburg, Illinois (Wednesday, Mar. 22, 2023) / Arrival Day
Today we will arrive from all around the world!  Whether you come from Scotland or Japan, Norway or South Africa, wargamers will converge on the Renaissance Schaumburg Convention Center Hotel in anticipation of the awesomeness that is AdeptiCon!
Don't know how to get to Schaumburg from O'Hare?  Don't worry – we have you covered with Private Transfers all the way to the Hotel.  When we arrive our Geek Nation Tours Representative will show you around the hotel and make sure you know where all the AdeptiCon events will take place. Need to know where to go to get a game in?  We will be there to help get you going in the right direction hassle and stress free.
If you need to pick up some libations Geek Nation Tours has you covered there too… A few weeks prior to our arrival we will order from Sal's Beverage World online.  You will be able to get any libations you wish along with flats of water (recommended) and snacks.
Today is the day to pick up your elite swag bag, event passes, weekend badge and all the goodies you get with your Very Important Gamer Upgrade.  That is where we come in… Geek Nation Tours will hop in line for you and hand deliver them straight to you at our Welcome Dinner.  Not only that – we will throw in some cool things from GNT, @DMG Miniature Factory and Ironheart Artisans.
The Welcome Dinner itself will take place at the Renaissance so there is no reason to search for a local restaurant. Geek Nation Tours has a long list of awesome visitors that have joined us at our Welcome Dinners as Guests of Honor. This year we are very excited to offer you a quintessential AdeptiCon experience. The crew from The Basement of Death - Troy, John, and Ben Weis will bring us their amazing Space Hulk experience!!! Take part as one of the elite teams entering an ancient vessel of unknow origin to eradicate the Tyranid hoard within - or will you be eradicated yourself?
Each GNT tour participant will play in a timed - high intensity battle - against incredible odds. Who knows...if everyone meets death early we might even be able to cycle you through one more time in the name of the Emperor... No miniatures necessary btw...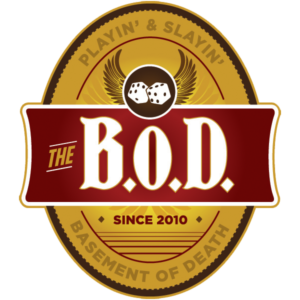 Troy, John, and Ben from the Basement of Death gaming group have been running events at conventions around the midwest for decades. The most well-known is their giant "narrative" Space Hulk game at AdeptiCon. They are excited to bring the battle between Genestealers and Terminators in the dark confines to the AdeptiCon 2023 Geek Nation Tour. You can follow their adventures at BasementOfDeath.com and hear Troy and his co-hosts on the Playin' and Slayin' podcast, where they discuss all facets of the hobby gaming world.
Overnight Location: Schaumburg, Illinois
Day 2 - Schaumburg, Illinois (Thursday, Mar. 23, 2023) / Exclusive James Wappel Seminar & Osprey Night Out Dinner
AdeptiCon is hopping straight into the 40K Championship but Geek Nation Tours has plenty to do for those of you not rolling dice or jumping into seminars.
Geek Nation Tours continues its annual tradition of offering a truly epic elite tabletop wargamers experience for this day.  Today we will meet between 4:00 pm and 6:00 pm for an Exclusive Master Class Painting Seminar.  We have again, lured James Wappel out of AdeptiCon teaching retirement to give GNT participants a seminar to remember.  Build your skills as one of the greatest miniatures artists on the planet shares his thoughts on terrain building. James is well known across the industry for some of the most amazing dioramas. Check out some of his work here ...
James is going to take the long trek away from Fort Wappel (AdeptiCon's Hobby Seminar Lounge – where pro-painters who have journeyed to from all around the world gather to visit and paint) to teach the class this year and for the foreseeable future.  This will allow repeat tour participants the ability to develop their skills each year.  It is GNT's goal that tour participants create better miniatures and that everyone goes back home with few extra tools in his or her painting arsenal.
As an added bonus James will be offering tour participants some special deals via his Patreon account and his famous Pyramid Painting Classes for any that wish to pre-order and upgrade this already awesome class!
But that is not all! Geek Nation Tours will treat you tonight as we have an off property adventure that is new this year! Geek Nation Tours has partnered with Osprey Publishing/Games in order to bring you straight into adventure. We will head off to the Hyatt (AdeptiCon's sister hotel) to delve into the reaches of Felstad to see what riches we can plunder from the Frozen City. Tour participants will play in a custom designed Frostgrave scenario which will be a collaboration between Joseph A. McCullough (King Kahuna of all things Frostgrave, Ghost Archipelago, Stargrave, Silver Bayonet, and Rangers of Shadow Deep), and Brent Sinclair (Frostgrave rules mastermind and Keeper of FG AdeptiCon events).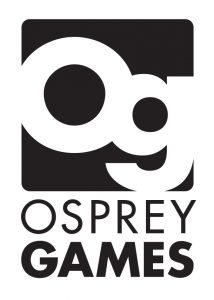 Warning! Hobby Challenge ahead! You will need to bring a fledgling warband representing of a new Wizard making their first foray into the Frozen City. This fledging warband will be created using a modified set of rules, where each player will create a level 0 wizard with the opportunity to spend only 150 gc to hire up to 4 soldiers. There will be a limit of not more than 2 specialists allowed per warband. Players will be pitted in a 4-player match which ensures that everyone get's stuck in right away!  To make sure all participants are equally prepared for the journey to Felstad, Osprey has graciously offered to give all tour participants a pdf of the Frostgrave 2nd Edition Rules!  Sign up for the tour and we will send you the rules asap!
There will prizes awarded by raffles and other random/fun events. Plan for this to be a fun event where the crazier the situation the better.  No gritted teeth competitiveness here... only adventure and fun!
Overnight Location: Schaumburg, Illinois
Day 3 - Schaumburg, Illinois (Friday, Mar. 24, 2023) / Wargaming Industry Leaders Dinner
Today is your day to Game and Seminar to your heart's content. Enjoy AdeptiCon on your own schedule, but always know that our Geek Nation Tours representative will be there if you need anything at all. You will be able to find him in the trenches with you - rolling dice and moving miniatures – so beware!
Tonight, we have another meal planned and past participants agree that our meet-ups are an important part of the convention experience – a time where you can get to know other Geeks from around the world and maybe hear a great suggestion or two on what to do the following days, exchange "war stories" and have loads of fun. You can join us every night or you can do your own thing. Geek Nation Tours wants you to have the most freedom to "Geek Out" as possible, so our meetings will be completely optional and you can come and go as you please.
With that said, tonight is going to be huge!  We will present our 7th annual "Geek Nation Tours Wargaming Industry Leaders Dinner".  Tonight gaming companies from around the world will join us for dinner, and as we eat we will be regaled with stories from our Industry leaders as well as talks about who they are, what they offer, and what they are planning for the future. Who knows, we might even get some "New Release" information…!
Each company will offer unique gaming events which will allow tour participants to hop from one company to the other, see the mechanics of each system, and learn directly from those that brought the game to life.  As a matter of fact, each company will be awarding victory tokens to those that show the best sportsmanship, cool cinematic moves, bad dice rolling or for just having the most fun. Those that earn the most victories will be awarded some cool prizes from Dicehead Games. There will also be plenty of time to hang out with designers or company leaders to socialize and if you are lucky you can get them to talk about the "old days" of miniature wargaming.
In 2022, the crew of Mantic Games gave everyone a taste of one of their newest games - "Armada".  Not only was the game a hit, but many on the tour made the journey to the Mantic booth the very next day to pick up a copy. We will see what happens in 2023, but perhaps Mantic will bring us a taste of their current hottness "Firefight"... No matter what they bring - dice will be rolled and much excitement will ensue...
GNT is excited that the crew from Crucible Crush Games will be joining us again in 2023.  They will spotlight their Flint & Feather game but possibly also their newest endeavour their Black Sun game as well…
Slow Death Games joined in our festivities in 2022 and they will return in 2023...  Again, talk about gang warfare, punk music and record collecting is sure to happen...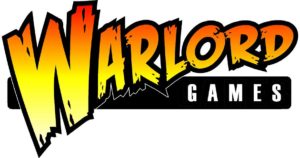 Also joining us for 2023, will be Warlord Games!  We are very excited about their return and can't wait to see what they will bring with them... Will it be Bolt Action, Black Powder, Epic Battles, Mythic America or perhaps Slaine? Whatever it will be, the Warlord crew always has something fun planned, and you'll be sure to leave their table with a smile.
In years past we have had, Cool Mini or Not, Mantic Games, Gale Force Nine, Osprey Games ,Warlord Games, Anvil Eight Games, Red Republic Games  (Arena Rex) and Games Workshop onboard and this year we hope our list of special guest will be even more impressive. We really want this to be a super fun time so there will be a cash bar and loads of positive energy throughout the evening.  So join us for this exclusive wargaming experience!
Overnight Location: Schaumburg, Illinois
Day 4 - Schaumburg, Illinois (Saturday, Mar. 25, 2023) / Saturday at AdeptiCon and Bowling at Night!
Yet another day to live the experience of AdeptiCon and game and seminar to your heart's content. Your schedule is your own, but be sure to join us for another elite gaming experience in the evening.
We will be off to Enterrium where they feature loads of gaming opportunities that include retro style bowling, a classic/modern mixed video game lounge including pinball, basketball, virtual skiing, shuffleboard and over a 100 more games!! This night is particularly loved by all as we get to escape the hotel and get some blood moving in our bodies again (even if just because of the video games).  The night is filled with jocular competition as we see if we can make some strikes to counter the number of gutter balls. No, there won't be any pros here, but there will be many laughs...
Upon arrival we will fill our bellies with appetizers and and finger food, before you are released upon the video games.   Later we will reconvene as a group to socialize and knock down pins… Not to mention more prizes and tonnes of fun. 
Overnight Location: Schaumburg, Illinois
Day 5 - Schaumburg, Illinois (Sunday, Mar. 26, 2023) / Boardgaming, Awards Ceremony and Chicago Style Deep Dish Pizza!
One more day to game and seminar, but also to take in the Awards Ceremony and see who wins this year's charity auction army.  It is your last day to experience all the goodness that is AdeptiCon so make sure you take it all in!
Right after the closing ceremony Geek Nation Tours will start to wind things down with its "Farewell Dinner".  We will have dinner right in the hotel again, but we will order in for a Classic Chicago style dinner from Lou Malnati's Pizzeria.  Geek Nation Tours knows that gamers love their food and we will ban together as a group to choose our pizzas prior to arrival. This will allow more meal choice and a good chance of getting even better pies! Our mouths are watering even now…
Tonight we will chill out a bit and just enjoy our final night together, visiting over dinner. After our pizza feed we will take the time to bring a favorite boardgame (or perhaps a recent purchase) and teach our fellow gamers something you love. Whether you hop into boardgaming or just hang out watching – Sunday night is always an awesome night to relax with some less competitive gaming. As a matter of fact, many laughs are always heard from our tour members this evening.  We cannot stress enough how fun this last night is.
Overnight Location: Schaumburg, Illinois
Day 6 - Schaumburg, Illinois (Monday, Mar. 27, 2023) / Departure day but see you next year...
Today we will transfer to the airport and head home. The photos, memories and friends you made are yours to keep forever!
Tour Notes
NOTE: Attendance of special guests and celebrities is subject to change due to scheduling conflicts and conflicting professional or personal obligations.
NOTE: COVID-19 has changed both our geek and our real worlds. Some things may never be the same and others may not be able to be offered on our tours or will have to be altered in a new post Covid world. With that said, please understand that GNT is moving forward as if the disease is already conquered, but all tours are now subject to change.
What's Included
All hotel nights and taxes plus free Wi-Fi (we will be staying right on site at the Renaissance Schaumburg Convention Center Hotel), Transfers to and from the airport, AdeptiCon Welcome Dinner, escape from AdeptiCon Osprey/Frostgrave Night dinner, Geek Nation Tours Wargaming Industry Leaders Dinner, Exclusive Master Class Speed Painting Seminar, Bowling and Video Gaming evening and dinner, and Farewell Dinner. Pre-Public Registration and Guaranteed Gaming and Seminar bookings, Weekend pass and VIG upgrade which includes No line up Preferred Check-in and hand delivery, AdeptiCon T-shirt, AdeptiCon glass, Libation delivery from Sal's Beverage World, Geek Nation Tours Exclusive AdeptiCon Miniatures, private guide and more fun than you can shake a Goblin at…
What's Not Included
Flights are not included.
Tour Price
Main Tour:
$2,399.00 USD + $287.88 Taxes & Fees
Single-Occupancy Upgrade: $800.00 USD
Transfers:
All tour participants needing transfers to and from Union Station and Midway Airport will have an additional $110.00 USD charge.
Final Payment Note:
Due 1 week prior to the release of our Pre-Public Event Registration normally late October or early November.
Note:
Don't have a friend to get the double occupancy rate? That is what Geek Nation Tours does.  Book as a double occupancy and we will match you up a roommate… This way you get the best of both worlds – someone to BS about the con with – and more cash to spend!
Covid Pricing note: As we move into the post-Covid era there may well be price adjustments as we move forward. It has been postulated that the tourism industry as a whole will see many price increases. While GNT strives to give the best price along with the best service and experience, we may be forced to increase tour pricing in the future.
Non-Geek Spouse Argument
"There is always Chicago to explore too… "