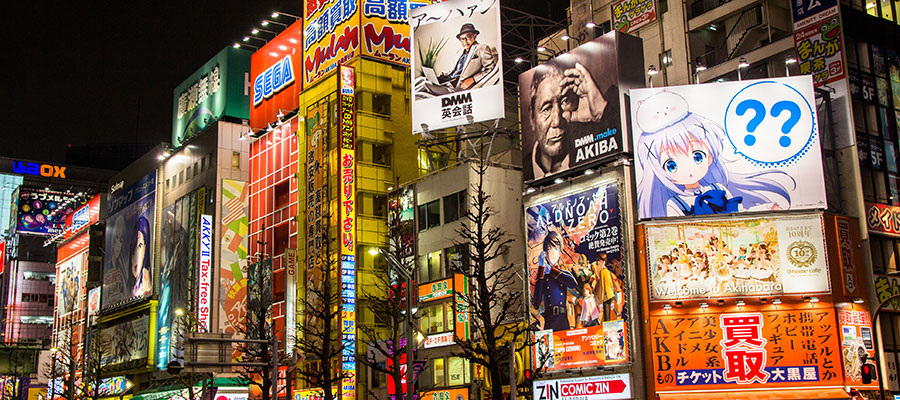 Destination(s):
Tokyo, Japan and area
Departure Date:
December 23, 2024 (Monday)
Return Date:
January 2, 2025 (Thursday)
Tour Dates:
This tour is part of our "Tourstarter" program and the departure date will be similar to what is displayed in the proposed itinerary
Price:
Tour Price: $5,999.00 USD
Special Notice:
GNT's new Tourstarter tours not only allow you to help build the tour that you want to go on, but also puts money back in your pocket via profit sharing. As the tour grows – tour participants will enjoy a reduction in their fare. Of course, pricing is not fixed as we have yet to build the tour together, but based on past tours tour participants can expect a price reduction at 20 participants of $125.00 USD, at 25 participants that reduction increases to $200.00 USD and at a sell out of 30 tour participants expect a tour reduction of $250.00 USD.
Spread the word and help us put some money back into your pocket (or into your manga collection)…
Please note that the dates for Winter Comiket 2023 have not been finalized. This tour may then have its dates altered although it is more likely that the day sequence would change as opposed to the actual dates of the tour. We will update the tour as we move forward into the year.
Studio Ghibli tickets can only be purchased 2 months in advance and are limited. Geek Nation Tours will make all efforts to secure these tickets but can not be held responsible if sold out.
Further, the tour pricing is based on past tour research. It may fluctuate while we build the tour but hopefully will remain close to the indicated rate.
This tour will have Adult Themes throughout…Please note Comiket sometimes is not for the faint of heart
About this TourStarter Tour
WE HAVE YET TO BUILD THIS TOUR! We are itching to get to it however, and thus have it listed as a Tourstarter project (see the Special Notice notes above and the "I'm Interested" notes to the right)… The dates have not been settled on nor have tour details been arranged. With that said, this tour is focused on the Winter Comiket Comic Convention and New Year's celebrations in Japan. To that end travel will take place over those holidays… The details of most days could remain the same as below, but of course even these are open for adjustment if the Tourstarter crowd has a different vision.
Really that is Geek Nation Tours first question for all you possible TourStarter participants.  Are there any destinations in Tokyo that you feel should be included in the tour?
A) Should we include a day at Tokyo Disney?
B) Should the tour include the Samurai Museum as part of the tour?
C) Or perhaps we should drive Go-Carts in Akihabara dressed as Mario Bros. characters…
D) Or maybe we need to go to the Museum of Yebisu Beer and a few more nights clubbing it in Roppongi
YOU decide….
Welcome to our December edition of our Japan Tour trilogy… This tour will focus on Tokyo, covering as much geeky goodness as we could handle all in, or around Tokyo. We have been getting requests for Giant Robot and Video Gaming tours, as well as requests for more Anime goodness. Further, we have always wanted to do an anime shopping tour in Japan – allowing North American Anime geeks to plunder everything from model kits, to action figures to cosplay outfits. This tour will have all those in spades.
You ever wanted to see all the cool places to buy geek stuff in Japan? Have you ever wanted to seek out giant robots? How about game in the very best video arcades that Tokyo has to offer? If so this is the tour for you… Oh did we fail to mention Comiket (short for Comic Market) which could very well be considered the world biggest comic book convention. It is for sure the largest event in existence for lovers of Japanese anime, manga and game subcultures. You will see not only cosplayers and commercial booths, but more importantly this event is for doujinshi or self-published, fan made comic books and fan art. Each creation has a limited run as they normally are inspired by other people's works and sometimes tread the line of even Japanese fan tastes…
But Comiket will only be on part of our explorations of Tokyo. We will see Akihabara (the geek Mecca of all things tech and the home of more video arcades then you can shake a Pikachu at), we will shop all the famous geek hot spots like the Nakano Broadway, Animate and Harajuku, we will experience a cornucopia of only the best video arcades in Japan, full your luggage full of Gundam and other model kits, we will explore in detail the most famous of geek islands – Odaiba, and visit a steady stream of Japanese temples and museums ending with a fan "Must See" the world famous Ghibli Museum.
So join us! Come geek out with us in Japan!
Day 1 - Tokyo, Japan (Monday, Dec. 23, 2024) / Welcome to Odaiba Island, Japan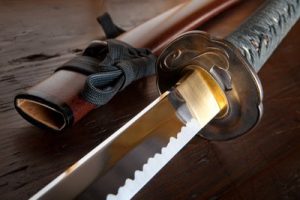 Today we will arrive from all around the world into Tokyo. You will be given detailed instructions on how to meet the rest of the tour participants at our hotel (always remember you will be in constant contact with our representative). From there you will have a free day to explore all that Tokyo has to offer…. Whether that is seeing the Samurai Museum, the Tokyo National Museum, the views of the Tokyo Skytree, or perhaps the day will see you sneak out to shop for some traditional goods in Nihonbashi. Another good option is just hanging out and people watching at a café or pub.
Don't get too caught up in the excitement that is Tokyo however, as we will be meeting as a group to gather for a traditional Japanese meal. We will go over our plan of attack for the tour and of course our expedition to Comiket, and at the same time we will get to know your fellow geeks!
We will be staying at the Grand Nikko Tokyo DAIBA right on Odaiba island.
Overnight Location: Tokyo, Japan
Day 2 - Ghibli Museum, Japan (Tuesday, Dec. 24, 2024) / Ghibli Studios we say again ... Ghibli Studios
Today we will board a motor coach and head off for an adventure. Our first stop will be none other than the world famous Ghibli museum. Opened in 2001, Tokyo's Studio Ghibli Museum is home to fan favorite characters from Ghibli Studios films – such as My Neighbor Totoro, Princess Mononoke and Spirited Away. This whimsical museum uses Miyazaki Hayao's characters to describe the history of animation and how animators are inspired, but it is much more than that! It feels like an artist's getaway with its stained glass windows and relaxed atmosphere. You will even have the chance to bring some special artwork home from the library or art collection to mount in your geek den. Oh, and Totoro will be there to greet us, offer another photo op, and see us off….
From Ghibli we will hop on the coach again to take a short ride the Suginami Anime Museum. This small museum was founded by the Suginami ward to commemorate the areas many studios. Here amongst the hands on displays and art we will learn why this area is known as the real heart of anime. For instance, this neighborhood itself sports more than 130 studios. The small museum will take us on a visual English tour through the history of anime from 1917...
If we have time from here we will go to the Asagaya Anime Street, a newly opened street beneath Tokyo's Asagaya station, it has dozens of cosplay shops, anime fan merchandise and other awesomeness. You will be free to wonder but many of us will take a hike to the Gojira-ya or Godzilla Store, one of Tokyo's oldest collector toy stores – this humble shop features loads from the main Kaiju movies of the past and present. The store is tiny but you will find tonnes of figures, model kits and maybe bring home a Gojira or two… Oh, and if we have time we can even duck downstairs for a pint or two to see their Godzilla-themed bar and watch monsters destroying Tokyo.
We will then return to our hotel to freshen up prior to heading out for dinner on your own. The day is not done however, we will have a night on the town to see the night clubs of Roppongi. Bring your dancing shoes as we hit the clubs and dance the night away.
Day 3 - Ikebukuro, Japan (Wednesday, Dec. 25, 2024) / Ikebukuro, Otome Road and Pokemon Center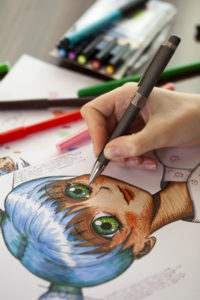 Christmas Day we will make our way to Ikebukuro and offer up something for the ladies in the crowd. Otome Road (or Maiden Road) has not only a large selection of independently published manga, anime and novels targeted specifically to women (or Otome-kei – Maiden Style), it also boasts Butler cafes and cosplay and other shops. Be warned however, books published for women (especially dojinshi) can be very graphic and not what would be expected in the West. Not all are this way of course, but you have to keep this in mind when shopping.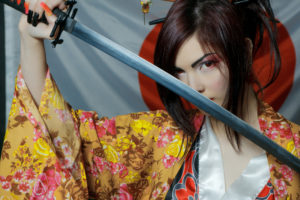 After we get a lay of the land we will give you a bit of free time to explore either the arcades in the area or Sunshine City – one of Tokyo's "city within the city" complexes. Here you will find shops, restaurants, an aquarium, a planetarium, a museum and most importantly two indoor theme parks – Namja Town and J-World Tokyo. Namja Town is a theme park based around cats and is fashioned around an old Japanese house complete with a haunted room. You will definitely get your fix of kawaii things here! J-World is themed around JUMP anime like One Piece, Dragonball Z and Naruto. It has a wide variety rides and displays plus a lot of photo ops. Definitely a must if you are a fan of the genera. You can eat at both locations but mind the prices on these themed foods…Namja is noted for its ice cream and gyoza. Each also has an entry fee with multiple types of tickets. We will be sure to be there to help you choose.
Also close by are the Sanrio Vivitix (full of loads of Hello Kitty and My Melody clothing, stuffies, and other gear) and a Pokemon Center were you can buy video games, card games and loads of other Pokemon-related merchandise. Others may want to visit the electronic stores that have an on-going rivalry in Ikebukuro. Bic Camera and Yamada Denki are well known for competing sales, and those interested might find some great stuff to bring home.
For all you Evangelion fans, we will try to stop by the Parco Shopping Mall to give you some time with the Evangelion Store…For those of you just wanting to escape to do a bit of gaming, we will show you where to find Ikebukuro arcade culture. Very close to Sunshine City is the Ikebukuro Sega GiGo. The largest arcade in the area, which sports a huge amount of fighting games where you can find competition day or night. If GiGo is not to your liking, you can try Game Adores Sunshine if you want to tackle video card games (think of Magic and add an electonic hallucinogen) or the many others in the neighborhood.
We will gather for a Christmas dinner - Japanese Style!
Day 4 - Comiket, Japan (Thursday, Dec. 26, 2024) / Comiket at Last!
Today sports a full day at Comiket! We will be leaving as two different groups. One for the diehard collectors will roll out of bed and walk to the event, and one later in the morning for those that just want to take a good look around. Comiket is the premier place to purchase dojinshi (self or unofficially published works), rare items, fan art and other limited anime related goods. Remember that the Japanese are more liberal with their sexuality, and that many Doujinshi reside on the fringes of geek society. Parental Guidance is definitely needed when entering Comiket, and you should expect to see a large amount of explicit and pornographic images. Remember that this is the largest comic convention in the world and as such the crowds will be HUGE – 500,000 comic book geeks will be right beside you. The energy will be overwhelmingly cool, and you will see cosplayers as well as fans. The wave of people will be outstanding and you will be in the biggest crowd of fellow geeks possible on the planet. Lunch will be on your own and many will want to escape the rarified confines of Comiket to continue to do a bit of exploring of Odaiba…
That night we will gather for another group meal and some libations. Geek Nation Tours takes pride in getting people of like minds together to experience the finest in geeky events and our Comiket tour will be no exception. We will meet each night to regale each other with our experiences, the video games we played or saw, the cool anime stuff we picked up, and to share other Tokyo "war stories". Past Geek Nation participants agree that our nightly gatherings are a wonderful part of the tour experience – a time where you can get to know other geeks and maybe hear a great suggestion or two on what to do the following day. Not only that, you'll be surrounded by a large and welcoming geek community so you'll have an opportunity to meet new friends and the time to discuss all those geeky things that you love. You can join us every night or you can do your own thing, it's entirely up to you. Geek Nation Tours wants you to have the most freedom possible to "Geek Out", so our meetings are all completely optional – you can come and go as you please.
Day 5 - Odaiba, Japan (Friday, Dec. 27, 2024) / Gundam Front! Miraikan, Tokyo Leisureland & More
Today we will spend the entire day at Odaiba. We will be staying on the geekiest of islands in Japan, and will walk to our first stop – Gundam Front! This modestly sized indoor theme park features attractions and shops centered around anime robots. A life-sized Gundam statue even guards the front of the building offering great photo ops. Inside we will experience the Gundam movie and other life size displays, but we will also take in the library of virtually every Gundam model kit ever made.
From here we will be off to the Miraikan National Museum of Emerging Science and Innovation. This huge museum based on science and cutting edge technology will surely amaze you. From displays and interactive demonstrations, it is touted as being one of the best museums in all of Japan. The Dome Theater will amaze you visually, the mission survival display will challenge you mentally, and the ASIMO robot will inspire you with thoughts of the future. You will be free to wander the museum at your leisure and lunch as you see fit.
After lunch you will have free time, but many of you may want to join us as we explore the Daiba Itchome Shotengai mall which is a nostalgic recreation of 1960s urban Japan. It has tonnes of shops, miniature bowling area, a haunted house and for all you gamers on the tour – a super cool old-fashioned arcade. All this, and a visit to the Tokyo Trick Art Museum! The forty-five two dimensional exhibits allow the most amazing of photo experiences. We hope to get as many of us as we can in crazy cool and hilarious photos…
For those that want a little bit more gaming we will head off to the Tokyo Leisureland. This huge entertainment complex features a huge variety of computer games, baseball cages, karaoke, and bowling. You should have your gaming itch well satisfied here! You will be free again to shop and wander Odaiba where you will once again explore and dine one your own. You can even get a bit more One Piece love at the Odaiba One Piece Restaurant.
After dinner we will meet up at Sega's Joypolis indoor theme park to enjoy the rides and do a final bit of gaming. Be careful of the thrill rides however, their rollercoaster and Half Pipe Canyon are supposed to be crazy… What else could you ask for? Rides, virtual reality, 3-D movies, laser tag, video games, and rock and roll all mixed into one bundle of fun.
Day 6 - Tokyo Tower & Ginza, Japan (Saturday, Dec. 28, 2024) / Tokyo Tower, One Piece, Ginza and an Onsen
Today will see us giving some love to all the Godzilla fans on the tour as we will be off to the Tokyo Tower! The tower is of course featured in many 'Zilla movies but also offers a stunning view of the city. While it's iconic antenna is 333 meters tall, we will take a look out its main observatory 150 meters off the ground. We could make the 600 step staircase climb, but we think the elevator will be more popular. Since we are already here we have to make a stop at the One Piece Tokyo Tower indoor amusement park.
From here we will jump into some coolness for the gamer in you, and stop in Ginza and the Sony Building.  We will however, get some great photo ops of the building from the outside and even be able to venture inside if their slated renovations are finished as planned in 2022. Ginza is Japan's most famous high end shopping district, and it is home to art galleries, cafes, restaurants and night clubs. We will give you some time to look around and lunch in Ginza prior to heading out once again for Odaiba,
We will stay the rest of the evening in Odaiba allowing you to stroll, shop and even take in the giant Gundam at night. We will however, meet in the early evening for a special trip and dinner at the Oedo Onsen Monogatari. This onsen is a great place for onsen newbie and vets alike. We will relax in their revitalizing waters and have dinner on your own before heading back to our hotel.
Day 7 - Harajuku, Japan (Sunday, Dec. 29, 2024) / Harajuku, Takeshita Dori and Meiji Jingu
Today we will be off to Harajuku. Often touted as not only the coolest place in Japan, but the place to see the most radical teenage culture and fashion styles. Plus, it is great fun to see all the club meetings, practice sessions, street entertainers and even the odd greaser rockabilly and hip-hop dancers, show off their stuff in Yoyogi park. We may even see the odd Gothic Lolitas and Cosplayers hanging out at Harajuku bridge. Yoyogi park itself is one of Tokyo's largest parks with wide lawns, ponds and forested areas. It is a great place to hang and we will be asking the kami for good weather this day. But even in the odd snow fall, Yoyogi can turn from the craziness of the street entertainer's scene to one of calmness and serenity.
If you are in Harajuku however, and interested in fashion, anime or just with being hip and cool in Japan, you have to stroll Takeshita Dori (street) and its side streets. Here you will find fashion boutique stores, used clothing stores, and a multitude of Japan hip goodness (along with waffle restaurant or two). You might even want to hop right into the goth scene, and we are more than willing to point out a few Lolita fashion stores to try out if you are game…
For those that want a little less hip-ness, and want to see what the older folks are wearing – visit Omotesando. This tree lined street also boasts cafes, restaurants and fashion boutiques. If you are in the area you really need to stop by Kiddy Land, one of Tokyo's most famous toy stores. Its multiple floors offer a wide selection of fantastic toy goodness from Hello Kitty to Snoopy. Don't worry, we will give you plenty of time to explore these areas and to lunch prior to heading off to Shibuya.
Video gaming fans however, may opt to sneak off from the Harajuku to Shibuya a bit early to tackle the Shibuya Kaikan Arcade. The Kaikan is a six story tower that has a vast selection of new and old games. It is an older arcade, but fun and competition is to be had. Others may want to do some more fashion shopping – as Shibuya is also a well-known mecca of Japanese fashion. If that is the case, a stroll in the Center Gai pedestrian zone is called for. This area is lined with stores and game centers alike, and at night comes further to life with night clubs, restaurants and bars. Before you leave us to explore however, we will all have to see one of perhaps Tokyo' most famous street attractions – Shibuya Crossing. This large intersection is littered with neon advertisements and giant video screens, and is a popular place to stop in the middle of the street for photo ops. For those wanting more anime you also have the Mandarake Shibuya to take advantage of.
Day 8 - Akihabara, Japan (Monday, Dec. 30, 2024) / Akihabara and More Arcades... Many More...
Akihabara or as the cool geeks say "Akiba" is a Mecca for an Otaku (the Japanese word for geek or fanboy/girl). Akihabara is often known as the centre of electronics, gaming, manga and anime culture. It has everything from electronics, maid cafes, bookshops, arcades and loads of Otaku merchandise. Today is all about educating the Otaku in all of you, but we are positive that you will be itching to buy, buy, buy all through the day...
Our first stop after arriving at Akihabara Station will be the Tokyo Anime Centre to see their displays on our way to the breath taking Animate shopping area. The Tokyo Anime Centre while small, is located right in Akihabara and has information and displays on anime, a way to try voice-acting, exclusives, and more.
From here we will head off to the world famous Animate. This is very possibly the best place to get all your Otaku shopping done. You will be able to find everything from clothing and accessories to manga, figurines, and loads of other coolness! Who knows, there might even be a voice character or anime creator hanging out. They often frequent this cool hide out….
Before we break for lunch we will show you where the local Mandarake is. This, and its sister stores scattered throughout Tokyo and Japan, is one of the very best places to find anime and manga collectibles. It is eight floors of crazy otaku goodness from new and used manga to displays, toys, models and cosplay gear. We will leave you here with some suggestions for lunch and give everyone time to explore the local restaurants. If you are looking for something light and love J-pop, why not try AKB48 which features sweet treats and a large screen featuring their live performances. Next door to this is the Gundam Café, feel free to have some robot waffles, cakes and ice cream. You can even get take-out or explore their Gundam merchandise and café exclusives.
After lunch we will take a break from the craziness that is Akihabara and visit Kanda-myojin shrine. The shrine is not only beautiful, but also is dedicated to blessing new IT-related ventures or to remove bad luck from those that are ongoing. They even have something special for those of us that need help with our computer related devices. For a small donation the monks at the shrine have created a charm to cast out evil forces from all your digital devices. This three-part charm has something for your wallet, a sticker for your smart phone or other portable device, and larger charm for your computer at home.
On our way back to Akihabara Station we will hop from arcade to arcade. This will give you the ability to play some games and to use the flashing lights to distract you from the desire to buy buy buy… We will have a Japanese speaking guide to help us figure out how to play the games and to get a good feel of what it is like to game in a Japanese arcade.
Our first arcade stop will be Tokyo Leisureland which is known to be one of the more laid back of the arcades in the area. After a quick look at it's 5 floors we will be off to Super Potato! Super Potato boasts an eclectic mix of video game museum and retro gamer shop. Are you looking for an old console or game? This is the place to look – besides they have a great arcade on the 5th floor that has a relaxed atmosphere and vintage video games.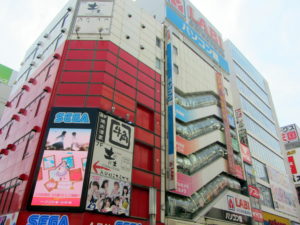 Taito HEY is by far the most recommended and perhaps the best arcade Japan. This landmark arcade has an awesome selection of games including a whole floor dedicated to shooters, another floor dedicated to fighting games, and there is competition to be had day and night. If you need to take a break and look at some manga, they have that too…
If you want to switch arcades, but still feel the need for some competition, take a look at Club Sega down the street. This is the oldest Sega arcade in Akihabara and still a favorite of local otaku. And while we are talking about Sega, we will continue down the street to another mecca of gamers Sega Gigo. This massive old school arcade has loads to choose from, and a slightly more relax atmosphere, plus classic games and up and coming visual gaming experiences.
Next we will make quick stops at Gamers Akihabara and Radio Kaikan. Gamers is actually a store dedicated to anime and manga, but it does have Japanese gaming magazines as well as a floor dedicated to card game tournaments and autograph signings. Who knows who might be there when we arrive… Radio Kaikan is one of Akiba's Iconic department stores that have been around since the 60s. You may remember it as the Akiba building that had a UFO crashed into it. Radio Kaikan has electronics, figures, book and doll stores and one of our favorite hobby stores – Yellow Submarine. If you are an Armored Fighting Vehicle modeler or in the market for scale car models, resin parts or after-market accessories this is the place to go. It also has loads of displays from modelers all across Japan. It really is a scale modelers delight.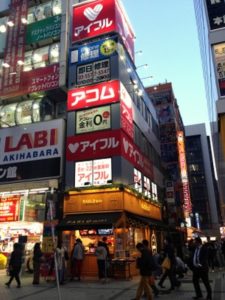 For those that would rather just hang out we will also visit a Maid Café today… Prior to heading out to dinner on your own. Don't worry we will give you plenty of suggestions and we will all meet at the Akihabara Station to return to the hotel as a group.
For those that just want a drink but would love to continue the theme, we may be able to stop at the underground gaming bar "Gamebar A Button".
NOTE: There is the option for diehard gamers to leave the group to game in Akihabra all day long. You can certainly lose yourself in arcades for that long. Just let us know and we will direct you prior to the day's destinations…. Also for those that want to return to Comiket we can offer assistance with that too. You will be well covered for all your geeky goodness with GNT.
Day 9 - Nakano, Japan (Tuesday, Dec. 31, 2024) / Nakano Broadway, Shinjuku, and Robots
Today we will offer up some shopping for and continue to explore Anime and Manga in Tokyo as well as one of Tokyo's (indeed Japan's) most beautiful parks. First we will leave our hotel to go to the famous Nakano Broadway. This is yet another Mecca for Geeks and Otaku, and is a stop that cannot be missed on any Anime or Geek tour of Japan. We will arrive at Nakano station and take the short walk to this amazing place. The Nakano Broadway has more than a 100 shops all dedicated to Otaku and Anime culture. It is a paradise for those wanting to purchase anything related to being a geek in Japan, and even boasts the famous Mandarake bookstores, Cosplay costumes stores and much much more. We will give you a lot of time here as the vastness of the four levels of geeky shopping area demands it. As there are many restaurants both in the malls and a short distance outside we will meet you after lunch and head toward Shinjuku.
The gamers on the tour however, will want to make sure that they stop at the Namco Nakano – a smaller arcade that has a good selection of fighting games on its second floor… Our guide will make sure you know how to make the 5-minute trek from the Nakano Broadway. Be sure to have had lunch prior to meeting the group at Nakano station as we will be headed off to Shinjuku. Hold on to your hats though as Shinjuku station is known to be the world's busiest train stations – servicing over 2 million people a day.
Our first stop will take the craziness away, and Shinjuku station will be just a memory when we enter the stunning beauty of Shinjuku Gyoen Park. You will feel the city melt away as we enter its tranquil paths and relaxing scenery. Shinjuku Gyoen is one of Tokyo's largest parks and was founded in the Edo Period. It has all that you would expect from a Japanese garden – bridges, large ponds and beautifully manicured shrubs and trees.
Once you have taken a few breaths, it will be time to hop into the hustle and bustle of Shinjuku one more time as we scout out Shinjuku's Yodobashi Camera and the multitude of arcades offered in the area. For instance, Club Sega Shinjuku is one of Tokyo's largest Arcades and offers games and competition for all levels including a whole floor dedicated to fighting games. On the way there we will pass by the Taito Station South Shinjuku arcade which is a hotspot for Street Fighter players. We may well leave the gamers to do their thing however, to have a chance to visit Tokyo Metropolitan Government Building and see all of Tokyo. The view from the tower is stunning and you will see just how massive Tokyo is. The city continues well into the distance.
We will then head out for a pint or two and perhaps some ramen for dinner, prior to heading out to the monstrously famous Robot Restaurant. You will see the battles of huge robots as they pump lasers at each other while music thuds in the background. Tokyo itself makes you feel you have been transported to the future, but no more so then when we visit this space… Bring on more giant robots we say! Many of us will return to our hotel for a well-deserved rest but some may want a pint or two at the famous (and relatively close by) 8bit Café.
Regardless of where your interest lies, we will let you loose in Shibuya until explore how many Japanese spend New Year's Eve. Hatsumode, or the year's first visit to a shrine or temple, feels more like a festival then a religious ceremony. There will be food stands and people lining up for a prayer in the main hall of most temples and purchasing lucky charms to bring in the New Year. We hope to be at Meiji Shrine when they ring the temple's bell.
Day 10 - Tokyo, Japan (Wednesday, Jan. 1, 2025) / A Free Day in Tokyo
Today you will have a free day in Tokyo... many of us will be headed out to the various shopping areas on the look out for a special Japanese tradition – Fukubukuro or Lucky Bags! This Japanese New Year tradition involves stores making grab bags filled with random contents for a very special price. They are only available on Jan 1st and 2nd though – so keep an eye out…
This might be a good time to think about returning to Akihabara for our final bit of shopping and game playing (Although as it is New Years day not everything will be open - so it is best if you got all your real shopping done prior). We will guide you to your favorite shops, and help you find those items you most treasured during our first trip to the area. You will be free to split up and lunch on your own (you might even want to try a maid Café or two) however, as everyone will be dashing to and fro to get the most out of the day.
If you have all you need in Akihabara you might like to make the journey to the Tamiya Plamodel Factory. If you are a fan of models, then this is definitely a trip you might want to make. The Plamodel Factory is THE place to buy not only Tamiya products, but loads of others as well. They even have rare exclusive-in-store items you can't get anywhere else. Mr. Tamiya also frequents the store… So who knows – you might even get an autograph on the ball cap you are sure to pick up…
The evening will see us return to our hotel to clean up prior to heading out to a local Izakaya for a final group meal. If you have never made it to one of these pub like restaurants you really are in for a treat. These are casual places to hang out after work, to dial down, to eat and to laugh over a pint or two.  Or perhaps we will have dinner where some say is a "must stop" in Japan– at a local Karaoke bar! That's right! We will sing well into the night and maybe even have a beverage or two prior to heading back to our hotel.
Day 11 - Tokyo, Japan (Thursday, Jan. 2, 2025) / Sayonara for now...
All good things must end, unfortunately, and today we return to the Narita airport and depart for home. The photos, memories and friendships you made on the tour are yours to keep forever!
Tour Notes
NOTE: Attendance of special guests and celebrities is subject to change due to scheduling conflicts and professional obligations.
NOTE: COVID-19 has changed both our geek and our real worlds. Some things may never be the same and others may not be able to be offered on our tours or will have to be altered in a new post Covid world. With that said, please understand that GNT is moving forward as if the disease is already conquered, but all tours are now subject to change.
What's Included
All accommodations, all motor coach and river transfers, Welcome & Farewell and most other Dinners, Breakfasts, most entry fees.
What's Not Included
Airfare, some local taxi and subway fares.
Estimated TourStarter Price
Tour Price:
$5,999.00 USD + $495.00 Taxes & Fees
Single-Occupancy Upgrade: $1,250.00 USD + $165.00 Taxes & Fees
Note:
Don't have a friend to get the double occupancy rate? That is what Geek Nation Tours does. Book as a double occupancy and we will match you up a roommate… This way you get the best of both worlds – someone to BS about the con with – and more cash to spend!
TourStarter Note:
Please Note that the above pricing is just an estimate and the final price will be determined upon settling our itinerary and coming to a collaborative decision on all details. Pricing however is based on previous estimates, and thus is a good estimate of the final price.
Additional Options
Want to do more in Japan? Geek Nation Tours can arrange hotel stays and other options for you. Just let us know what you have in mind and we will come up with a travel plan.
Non-Geek Spouse Argument
New Year's Eve in Japan? Come on….