Tour Status:
NOW BOOKING - LIMITED SPACE
Departure Date:
January 28, 2024 (Sunday)
Return Date:
February 3, 2024 (Saturday)
Tour Limit:
15 Participants
Price:
Tour Price: $3,999.00 USD
Special Notice:
Hello all Geek Travelers! Please know that Geek Nation Tours wishes you all safety, health and happiness in these troubled times. We all can't wait until we are able to travel this glorious planet once more, and are excited at the possibility to see new things and to meet once again those friends we have made across the globe. That said, GNT wants to bring a bit of joy to perspective fellow travelers and show that we are still fashioning awesome adventures for you. We want you to see what we have planned for you no matter when it is that we can travel again. We are thus opening up our tours as Pre-Register only. We will be accepting no deposits at this time as we will have to be adaptable to when all tours might actually take place. We will place all pre-registered tour participants in "first come first served" order when securing space upon the guaranteed departure of a tour however, so please pre-register asap… This tour is released with limited space from the onset and thus be sure to hop aboard if you are at all interested.
Remember however, that all tours are subject to date changes and are currently not guaranteed at this time. Further, all tours space requires no deposit and no financial obligation.
About the Tour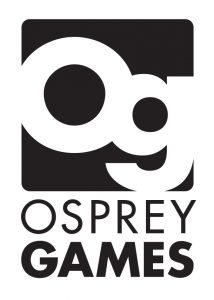 Journey with us to the frozen city of Felstad, or as it is more commonly known, FROSTGRAVE. Well, the city that inspired the game anyway – Tallinn, Estonia. In 2020 Geek Nation Tours took tour participants on our first in a series of exotic gaming destinations, where we will discover rarely visited locales and explore their culture, history and culinary delights, coupled each day with fully-immersive, elite gaming experiences. The trip was in a word – wonderful. So it is with great delight that GNT will repeat the tour to the Baltic state of Estonia right in the middle of winter…
Osprey Publishing (and Games) and Geek Nation Tours have joined forces to create tours for the most discerning of travelers. It is our goal to fashion vacations where travelers can delve deep into specific games and experience them at a level that is heightened by special guests, such as designers, and publishers who relate their visions as they walk and game along side us. Not only will we roll dice with our guest hosts and will see what inspires them, but also cover the more geeky aspects of the destinations we visit. We will meld pop culture with history, blend practical knowledge with epic legend and see human struggle and heroic deeds through many lenses.
Joseph A. McCullough designer and high mage himself, will join us on our adventure and provide new custom-designed scenarios matched to the daily themes of our explorations of the area. We will dive right into the Medieval backdrop and have Living History Guides show us all that Tallinn has to offer. From exceptional dinning and period pubs to, eerie forests, feral bogs, and Viking villages… You will be delving deep into the Frozen City…
But don't worry, we will let you communicate with home via modern day wizardry… Estonia has declared internet access a human right and Skype was born there… and yes, wireless internet is almost everywhere.
Act fast though… This tour can only accommodate 15 participants and thus you will need to grab a spot soon!
So, cast some spells and if you think you have the guts to explore the ruins – hop aboard!
Day 1 - Tallinn, Estonia (Sunday, Jan. 28, 2024) / Arrival Welcome Dinner
Today the warbands arrive in Estonia from all corners of the globe. Whether you arrive precisely when you mean to by modern aircraft, raised skeletal steed, or on the back of a golem, you will be picked up and the airport and delivered straight to the hotel via a private transfer like a true wizard deserves…
Upon arrival the day is yours. Feel free to rest and relax after your long journey, however, if you want to make the most of your day, your Tour Leader can provide recommendations on what to see and do and advise on how to get there. Geek Nation Tours arranged for gaming at the Golden Piglet Inn starting at noon. You can spend this day as a free day to explore Felstad but know we will start gaming and leveling up basically upon arrival ….
All such adventures normally start with a visit to a local pub or restaurant and so in the evening, you'll break bread with the other members of your party at our Welcome Dinner. We will dine right at the hotel tonight and have true Estonian Cuisine at the Golden Piglet Inn… Here you'll officially meet your traveling companions, your Tour Leader and Guest Host as we match wits in the first of a series of Joe-made custom adventures designed to match our journeys around this cold city.  We will be sure that a tiny Felstad will be waiting for us in the gaming room as Gamemat.eu has also hopped on board as a sponsor.. We will dive into their city terrain and their fashionable Winter Realm mats … perfectly simulating what is just a few footsteps away…

But our explorations of Frostgrave will start even before you arrive in the Frozen City, as the tour will have several "Hobby Challenges" to get us all into the spirit prior to our departure… First off, our 2024 special tour exclusive miniature sculpted by Mike Owen from North Star Military Figures of our version of Albert Magnus (also known as Albert the Great though we prefer his title Doctor Universalis) – perhaps the most famous of Alchemists, who will help us discover Felstad once more…
We will be staying at the beautiful St. Petersbourg Hotel for the duration of the tour…
Overnight Location: Tallinn, Estonia
Day 2 - Tallinn, Estonia (Monday, Jan. 29, 2024) / Delving into Frostgrave
Today we will be joined by our local guides from the immersion theatre troupe - Tales of Reval and be treated to the first part of our immersive guided tour of Tallinn/Felstad. We will need to dress for the weather and be well fed as we will spend most of the day outside.
On our adventure we will be greeted by the all powerful St. Albert and given a quest or two! We will also explore the Lower Town portion of Tallinn's Medieval city and discover the history of Tallinn and Felstad. We might even hop into one of the local shops to sample a bit of schnapps to warm our bones.
We will then lunch at the Ill Dragon authentic medieval pub but after our bellies are full we will be off to the local blacksmith to forge an artifact of untold power (note the bit about "untold")… Be sure to not only heat the iron and hammer it into a powerful magic item, but to also remember to cast your Enchant Weapon spell….
After a quick stop to freshen up at the hotel and to pick up our miniatures we will have the first of two culinary experiences at the Olde Hansa restaurant, tonight we will be treated to their "Grand Feast of the Nobleman" which will include bear, wild boar, elk sausages and fish amongst others. But that is not all! Here we will partake in our second night of gaming led by Mage Lord McCullough himself. Be prepared to roll dice and game Frostgrave as well as live it.
This is also the second night that we will pull out yet another of our "Hobby Challenges"… Along with a warband it is up to you to bring one piece of snowy terrain… Will a hidden treasure be found within? One can only hope…
Overnight Location: Tallinn, Estonia
Day 3 - Tallinn, Estonia (Tuesday, Jan. 30, 2024) / A Sleep and the Woods
Today we will let you sleep in, but gaming will be offered throughout the day right in the Golden Piglet Inn. We will arrange to meet and perhaps finish up a couple of Supreme High Sorcerer Joseph of Kant's summoned scenarios…Who or what we meet will be determined by another of our "Hobby Challenges" as each participant will be tasked with bringing an appropriate villain for each gaming night… Perhaps we will be called upon to fight the giant Kalevipoeg, or to do battle with the embodiment of the ancient Estonian pagan sensibilities that the spirits of their departed loved ones live on in the trees. Will the Tree Folk come back to claim Frostgrave as their own we wonder..?
Between games you might want to throw off some of the Felstad/Tallinn cold by taking in the hotel's private sauna...
We will again gather to dine at the Rataskaevu 16 restaurant for our evening meal, but the real adventure starts post dinner as we venture out into the Estonian countryside. We will leave by magical steed (coach) and explore both haunted villa and barbarian bonfire... Beware as a barbarian may well join us to recall tales of both Felstad and ancient pagan Estonia, and we will have to warm our bones with mulled wine and schnapps...
Only the very bravest (or most foolhardy) attempt a forest hike at night – where all senses are heightened as the mystical unknown awaits them….
Overnight Location: Tallinn, Estonia
Day 4 - Tallinn, Estonia (Wednesday, Jan. 31, 2024) / On Bogs, Castles and Spas
If you thought your brush with the Estonian countryside ended last night you are in for a surprise… Today we will journey into the Viru Bog. Estonia's wetlands will transport you to another world and we will trek its mysterious depths via a 3.5 km nature trail. We then have snack right in the bog itself, and I pity the fool that caused a ruckus in the forest the night prior. The bog monsters are, after all, quite protective of their Forest-kin cousins…
From here we will journey to Rakvere Castle and learn about the Crusades in this Teutonic Order fortification. It will indeed have an abandoned Felstad feel, but we will still be able to see its torture chamber, and of course its alchemist's workshop…
From Rakvere we will attempt to escape the cold by crawling into one of Estonia's best spas…We will experience the spa's water park and sauna center like an Estonian (or perhaps a Felstad-ian delver would after finding a bucket full of gold)… Experience seven different saunas from the Finnish style to the Infrared, or relax in the hot water jacuzzi…
Don't get too relaxed though, as after dinner we will have as many Frostgrave games as we can manage and one will see us up against whatever Magus Joseph the Mighty concocted for this day.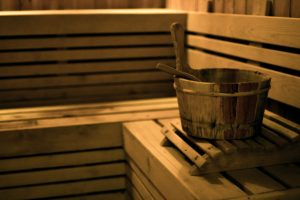 Tonight, you will be using the gift gribbly from Geek Nation Tours and Mierce Miniatures delivered to you even before the tour starts so you will be able to take back the spirit of the Viru Bog home with you in the form of a Machaira Peat Beast… If that is not enough, even before the tour starts Mierce will offer tour participants a one-time 20% discount when using their online store.
Tonight, we will stay at the Aqva Hotel & Spa, but don't worry you can leave most of your stuff back at your hotel room in Tallinn – all you will need today is a day bag and your miniatures!
Overnight Location: Tallinn, Estonia
Day 5 - Tallinn, Estonia (Thursday, Feb. 1, 2024) / Vikings and Living the Dream
Today we rise early for breakfast and another bit of time-travelling as we visit the local Viking Village and we explore as if we were in the northern reaches of the Frozen City itself… Here we join our living history guides and the local Vikings who will help us develop our martial prowess via spear and axe throwing, archery and even a go at their Trebuchet...  But beware the Demon worshiping barbarians of the north however, they would happily sacrifice you and your soul to their malevolent masters…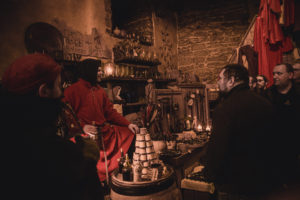 After lunch, we will return to Tallinn and you will be free to explore the town, relax, or get a game of Frostgrave in before we again head off for dinner at the Peppersack restaurant. Here we will not only dine on their wonderful grilled delicacies and famous house beer, but we will also see their nightly sword fight. Expect a rousing fast-paced battle between duelists with honor, fame and the heart of a fair maiden at stake.
Never fear – those that chose the relaxing option will still get to play Frostgrave this night under the tutelage of the Warlock Joe – The Wondrous…
Overnight Location: Tallinn, Estonia
Day 6 - Tallinn, Estonia (Friday, Feb. 2, 2024) / A Final Look at Felstad
Our second day afoot in the Frozen City will see us once again discovering the sites of Tallinn! The Tales of Reval troupe will show us some of their magic of Upper Town and perhaps we will even climb one of Tallinn's towers to see the full city of Frostgrave...The troupe will bring us back in time and amongst the stops will be the Alexander Nevsky Cathedral to see the final resting place of Kalevipoeg the giant, and the Raeapteek Pharmacy (Europe's oldest alchemist stop for those of you exploring the dark arts). It is said, that back in the day one could buy mummy juice (powder made of oversea mummies mixed with liquid), burnt hedgehog powder, and even unicorn horn…
We will return once more to the Olde Hansa restaurant to warm ourselves, have a tour of the house and sample Estonian beers, mulled wine and schnapps and have lunch...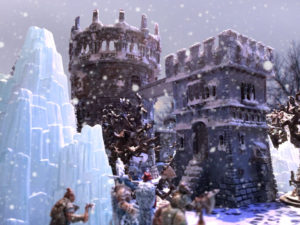 We will then return to our hotel for a rest, some gaming, and our last meal of the tour which will see us return to the Golden Piglet.  This will also allow us to pack between games...
A last game of Frostgrave? Maybe… With the sword play right in front of us we may get inspired to roll some dice or to stay and drink merrily…. Regardless, Joe Magician Extraordinaire will be ready to astound us with more FG scenario fun…
Overnight Location: Tallinn, Estonia
Day 7 - Tallinn, Estonia (Saturday, Feb. 3, 2024) / Homeward Bound
Unfortunately, all good things must come to an end and today we return to the airport and depart for home. We will head off individually again via private transfer to the Tallinn Airport, but the memories, miniatures and friendships you made are yours to keep forever!
Tour Notes
Attendance of special guests and celebrities is subject to change due to scheduling conflicts and conflicting professional or personal obligations.
NOTE: COVID-19 has changed both our geek and our real worlds. Some things may never be the same and others may not be able to be offered on our tours or will have to be altered in a new post Covid world. With that said, please understand that GNT is moving forward as if the disease is already conquered, but all tours are now subject to change.
What's Included
All accommodations, all transfers excluding transfers to and from airports, private tour costs, all breakfasts, all dinners including "Welcome Dinner" and "Farewell Dinner", Museum entrance fee and private tours, and more fun than you can shake a ruler at…
What's Not Included
Some small transfers and entrance fees will need to be paid for locally. International air.
Tour Price
Tour Price:
$3,999.00 USD + $439.89 Taxes & Fees
Single-Occupancy Upgrade: $750.00 USD
Final Payment Due:
December 17, 2020
Note:
Don't have a friend to get the double occupancy rate? That is what Geek Nation Tours does. Book as a double occupancy and we will match you up a roommate… This way you get the best of both worlds – someone to BS about the trip with – and more cash to spend!
Remember that the "Frostgrave Immersion 101 2020″ Tour will have a maximum guest space of 15 passengers, so space is VERY limited. Book now to secure your spot. 
Gaming while on tour – Make sure you bring at least one Frostgrave warband (You might want to also bring an extra Wizard or two…) We will be gaming most nights on this tour…
Covid Pricing note: As we move into the post-Covid era there may well be price adjustments as we move forward. It has been postulated that the tourism industry as a whole will see many price increases. While GNT strives to give the best price along with the best service and experience, we may be forced to increase tour pricing in the future.
Additional Options
Want a few extra days in the Baltics? Geek Nation Tours will be more than happy to arrange it for you. Simply email us at headgeek@geeknationtours.com or put a quick note in the "Special Requests" box when you book.
Non-Geek Spouse Argument
"But think of the historical sites…"