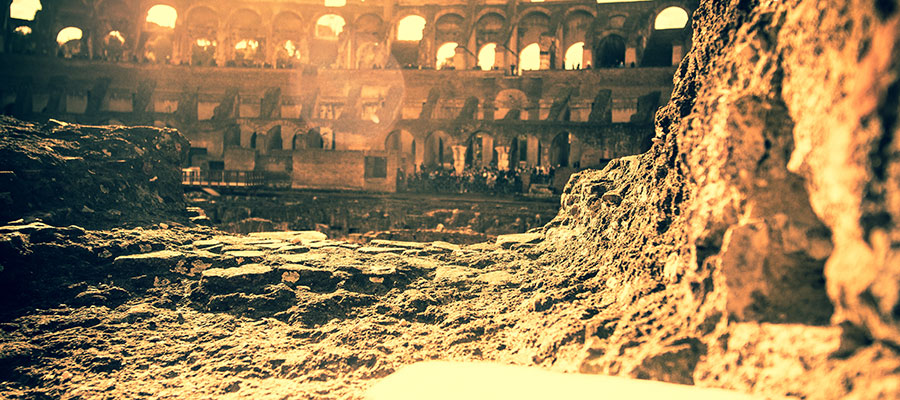 Departure Date:
April 5, 2026 (Sunday)
Return Date:
April 11, 2026 (Saturday)
Price:
7-Day Tour Price: $4,999.00 USD
Special Notice:
Hello all History lovers!  This tour is part of our "Once in a Lifetime" series. These tours will only be offered once on the date stated below. These tours will never be repeated… The world is just too big with too much glorious amazing stuff to see to focus on going back to these destinations. That said, we are rather proud of this tour and think the experience will live with you forever. So come along with us for a once in a lifetime journey into history…
About the Tour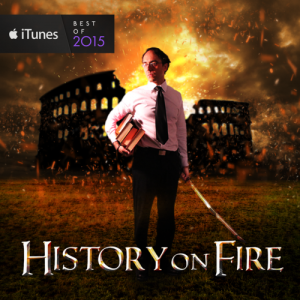 What we do in life…echoes through eternity. 
The Gladiators of ancient Rome lived their lives in chains and fought and died for the entertainment of the masses. These ultimate warriors paid in full with their blood, but their stories have become legendary. Strap on your sandals and join Geek Nation Tours as we tour Italy and trace the history of these epic champions on our Arenas of Blood tour! 
Geek Nation Tours prides itself on bringing like-minded people together in awesome destinations. We also want you to be deeply immersed into any geeky subject we cover… As such, we will bring along not only our Geek Nation Tours representative, but a local guide that knows the subject well and can give us hands-on experience – Archaeologist and Italian tour guide Emiliano Tufano from Emiliano's Archaeological Tours.   
Further, Geek Nation Tours is proud to announce that we will have Podcaster, Author, Martial Artist and History Professor Daniele Bolelli from History on Fire aboard this tour!  Daniele will bring the world of the Gladiators to life right before us and regale us with stories from the past and how they can be related to the present.  As a matter of fact, if you want to listen to him do just that please take a listen to Episode 1 The Slave Wars (Part 1), Episode 2 The Slave Wars (Part 2: Spartacus), Episode 30 Gladiators in Ancient Rome (Part 1): Are You Not Entertained?, and Episode 31 Gladiators in Ancient Rome (Part 1): The Spirit of the Gladiator here: History on Fire Archive.
Geek Nation Tours' other big news this year is that Osprey Publishing and Geek Nation Tours have joined forces to create tours for the most discerning of travelers. It is our goal to fashion tours where one can delve deeply into the historic period we are covering with expert guest hosts relating knowledge as they walk along beside us. But while learning is important, we will also seek out fun and cover the more geeky aspects of the journey. We will meld pop culture with history, blend practical knowledge with epic legend and see human struggle and heroic deeds through many lenses.
Hear the crowd roar (if only in your mind) as you visit a multitude of different Roman amphitheaters. See the ancient buildings of the Forum recreated right before your eyes using modern technology. Feel the weight of your sword as you attend an actual gladiator school! Splitting time between Naples and Rome and making excursions to other sites along the way, you'll spend the entirety of this seven-day tour in the heart of the Roman Empire. 
The beating heart of Rome is not the marble of the Senate, it's the sand of the Colosseum. He'll bring them death and they will love him for it.
-Gladiator
Day 1 - Pompei, Italy (Sunday, Apr. 5, 2026) / Welcome to Italy and Napoli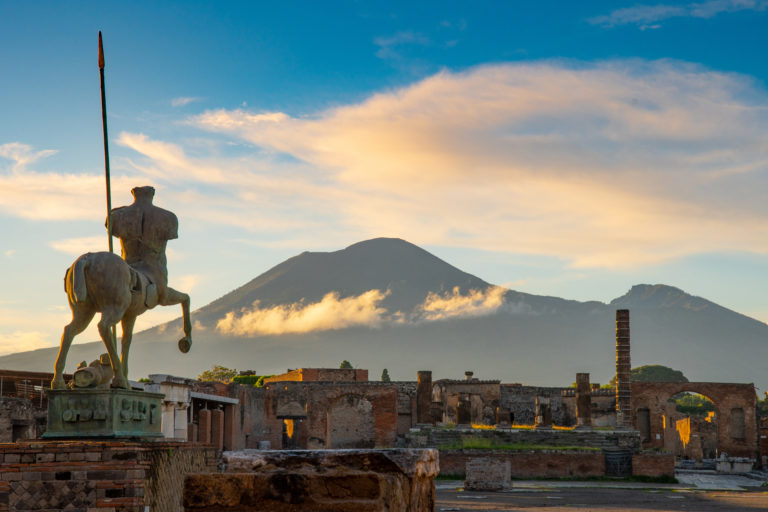 oday you will arrive from all over the known world to Naples. You will be given detailed instructions on how to make your way from the airport to your hotel in Pompei. There you'll meet your Geek Nation Tours Tour Leader and enjoy the rest of your day on your own. While the rest of your traveling companions arrive throughout the day, we recommend you explore Pompei a little.  There is much to see in and around this amazing city and places that we will have to skip to keep to our Gladiator theme. Mount Vesuvius for instance, the Temple of Apollo or Jupiter or just hanging out at the city's many markets and street-food booths – to name but a few possibilities.  
Be sure to arrive in Napoli by the earlier afternoon however, as the first stop on our adventure will be the Gladiator Pits brought to life by the troupe at the Archeoteatro Pompeiano and their Gladiatores Pompeiorum. Here we will discover the story of Marco Attilio in a child friendly re-enactment of a gladiator match where he is unexpectedly catapulted into the arena against Ilario, this arena's current champion.  Fun will be had by all as the drama plays out, but be careful however, to not cause too much of a ruckus in the stands…One never knows if you will be dragged into the arena yourself…  
After the performance, you'll gather with your party and head out for a Welcome Dinner with your Tour Leader and of course Daniele. We will dine at the Caupona Pompeii for some incredibly prepared traditional Pompeiian food. It's the closest you can get to actually living like an ancient Pompeiian without a TARDIS or Delorean or some other time machine. Here you'll get to know the rest of your tour mates, meet and visit with Dan and be welcomed by your Tour Leader – who will give you more information on what to expect over the coming days. What's more – Geek Nation Tours has arranged for us to be surrounded by a Synaulia music troop and as we dine we will listen to the music of ancient Rome (with some modern interpretations added as well…)
While in Pompei we will be staying at Hotel Amleto.
Overnight Location: Pompei, Italy
Day 2 - Naples, Italy (Monday, Apr. 6, 2026) / Naples: Museo Archeologico Nazionale, The Flavian Amphitheatre & the Herculaneum
This morning you'll make an early start after breakfast and journey by coach to National Archeological Museum of Naples. Here you'll get a closer look at the artwork and daily items of ancient Naples and learn more about the blood sport that appeased the masses.  It is our hope that you throw yourself into the museum's collection of amazingly preserved frescos sculptures and treasures from all around the area… As we continue to explore gladiators in the coming days what you see here should allow you to imagine the opulence of the ornamentation that would have surrounded the gladiators themselves.
We will then head off to the Flavian Amphitheater – one of the best-preserved arenas of gladiatorial combat in the country. You spend the morning touring the amphitheater with a local guide to share their expertise of this often-overlooked arena. The ancient Naples Ludi were amongst the most-wealthy and thus built two arenas – a feat only also done in Rome. The Flavian is the third largest arena in Italy and was designed with the same style and materials as the Colosseum. We will bring you back in time via its vaults, cells, pits, higher tiered seating, and its still visible elevator mechanisms. No other arena allows such access and ability to wander…  
We will break for lunch at the Pizzeria Picea. Don't expect a large deep dish here. You'll be served traditional Italian pizza on a small thin crust with incredibly fresh ingredients. Legend has it that Naples is where pizza was first created, so we simply must try their most ancient of versions…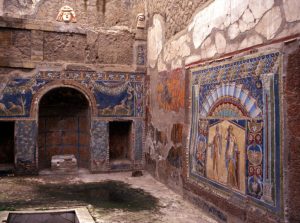 After lunch we will regroup at the coach and make your way to Herculaneum to begin your journey back in time as we wander this Mt. Vesuvius eruption ravaged, but well preserved, town. Here you will no doubt start to be connected to the past as its homes and villas give you the sense of what it was like to live in those ancient times.  The wood beams, in particular, are very similar to those seen in wooden gladiatorial arenas, and the frescos and mosaics will allow you to see through time.    
Upon our return to the hotel and as the sun begins to settle on the Mediterranean, we'll take a short walk for dinner at Bettola del Gusto a favorite of Emiliano's and once you've got your fill of authentic Italian cuisine (and maybe a few scoops of gelato), we will make the quick stroll back to our hotel.  
Daniele's Notes: Today Daniele will entertain you with stories about the possible origins of gladiatorial combat and its connections to human sacrifice and to the Iliad. Part of the chat will also revolve around life in gladiators' schools, the rules for gladiatorial combat, the different types of gladiators, and the events that characterized a day at the games. 
Overnight Location: Naples, Italy
Day 3 - Pompei, Italy (Tuesday, Apr. 7, 2026) / Pompei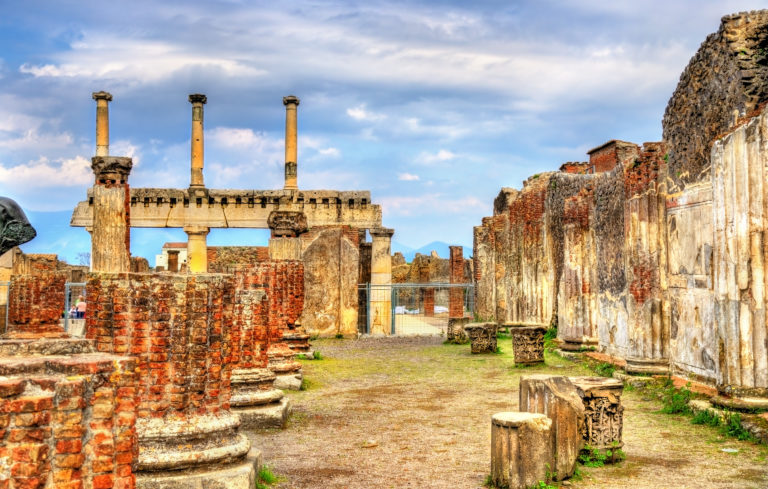 After fueling up on breakfast, you're off to experience a full day in Pompei. The horrific events of the eruption of Mt. Vesuvius has made it one of the world's most preserved ancient cities.  Here we will come to terms with not only the tragic disaster, but just how massive the ancient world's cities were.  Its labyrinthine network of alleys, passages and buildings will be almost overwhelming, and you will get a good idea of how the gladiators of the day lived.  For example, the Lupanare brothel most likely would have seen gladiators, Lanista and attendees visit.  The erotic frescos located within may well have been "menu options" of a sort. You'll also spend some time exploring the domestic and municipal ruins and learning more about daily life in Pompeii. 
If we have time we will try to include the recently reopened Antiquarium Museum which features some of Pompeii's archaeological finds and a digitally reconstruction of several Pompeii's buildings. 
After lunch on your own, you'll regroup to approach the arena from the city side as to better immerse you in this days' time-traveling. You will snake your way through the cramped streets only to come upon the Anfiteatro – were vendors would show their wares just exterior to the oldest known roman arena in existence.  The Amphitheatre sat 20,000 people, was constructed in 70 BCE and is a perfect example of where Gladiators would have fought. But we won't stop our explorations there, we will leave the cheering crowds (well our imagined cheering crowds) and continue our explorations beneath the stands themselves.
After a full day immersed in the incredibly preserved ruins of Pompeii, you'll head out on foot to the restaurant Hermes Café.  Hermes Café is stylized after ancient Rome and the food will amaze… We might even be able to steal a view of Mount Vesuvius from their terrace… 
Daniele's Notes: Tonight, Daniele will tell an epic tale about Spartacus to better prepare you for what you'll see tomorrow. Spartacus was an auxiliary soldier in the Roman Army, a deserter, an outlaw, a gladiator, and the leader of one of the greatest slave rebellions in history. Under his leadership (Spartacus—not Daniele), over 70,000 people defeated the Roman legions multiple times. You will hear about mass crucifixions, Dionysian orgies, a master course in guerrilla warfare, walls built with corpses, the most brutal punishment in military history, pirates, and overambitious Romans losing their heads.  
Overnight Location: Pompei, Italy
Day 4 - Rome, Italy (Wednesday, Apr. 8, 2026) / Santa Maria Capua, Appia Antica Regional Park and Travel to Rome 
Today is Spartacus day! But before we get started you'll check out of your hotel and say ciao to Naples as you will be on your way to Rome. The distance may be short, but the journey will be filled with multiple stops to explore along the way. 
Your first stop is the town of Santa Maria Capua Vetere. The ancient city may be in ruins today, but in the 4th century BCE, this was the second largest city in the Empire after Rome itself! And this is where the Spartacus story really started. Legend has it that the Lanista Lentulus Batiatus bought and trained Spartacus here before the gladiator slave and 70 others escaped to cut a bloody path through Rome. 
You'll tour the ruins of the city, which was the home to the second largest arena in Rome and see another stunning example of an arena/amphitheater.  We will also visit the amazing Capua Gladiator Museum. This museum is one of the few museums dedicated to gladiators and a real treat as it is definitely an "off the beaten path" destination. 
Lunch is served overlooking the ruins of the amphitheater at the Amico Bio Sparticus Arena restaurant. Another amazing Italian meal immersed in the incredible atmosphere of ancient architecture will certainly leave you feeling like a wealthy Republic merchant. 
Then it's on the coach and off to Appia Antica Regional Park on the outskirts of Rome, where our discovery of the Spartacus story continues.  It is said that when the army of 6000 slaves were defeated the survivors were crucified along the Appian Way going to Capua, and we will stand on that very road! Taking advantage of our position we will also talk about the Roman road system – the backbone of the Empire.  
As the evening settles in, you'll arrive at your hotel in Rome, have a bit of time to lounge before heading out to your optional dinner at the Trattoria (a less formal Italian-style restaurant that sells wine by the decanter rather than the bottle and specializes in quick traditional local meals.  Basically, where the locals might eat) Stefano alla Suburra. Alternatively, feel free to explore and dine on your own for a free evening out… 
If Pompeii and Herculaneum are some of the most preserved cities of antiquity, Appia Antica gives you a mesmerizing look at how nature has reclaimed the ruins of a lost civilization. It will also allow you to visualize what it would have been like between the ancient cities… Where legions, merchants. senators and yes – even gladiators – travelled. You'll be given free time to explore some of the greenest ruins in Europe, follow the ancient viaduct, or tour the Catacombs of St. Callixtus.
Daniele's Notes:  Today Daniele will tell you about the magnetic attraction that pulled men and women to gladiators, the clash between Christianity and the gladiatorial games, and about the odd connections between gladiatorial combat and the evolution of MMA. If you put enough wine in front of him, he may also tell you about a non-gladiator topic—specifically, the wild life of Caravaggio, the outlaw painter whose masterpieces are found all over Rome.
While in Rome we will be staying at Hotel d'Inghilterra.
Overnight Location: Rome, Italy
Day 5 - Rome, Italy (Thursday, Apr. 9, 2026) / Various Rome Museums and Ancient Sites 
Strap on your sandals for a full-day gladiator-slanted walking tour of Rome with Historian Daniele Bolelli, our insightful local guide, and Geek Nation Tours representative. After breakfast you'll trek out into the ancient city on foot and discover the capital of the Empire up close and personally. The first leg of your tour takes you to the ancient Pantheon Temple which is perhaps the most well-preserved Roman building still standing.  It will allow us to understand how ornate the architecture of the times was, and it is our hope that you will then be better able to bring the amazing Colosseum to life. 
We will then visit the Museum Massimo sculpture collection to better understand the Roman love of the physical body and their infatuation with combat as entertainment. In particular, we will see the frescoes from the House of Livia and the famous Resting Boxer… 
Our next stop, the Stadium of Domitian or Circus Agonalis was the first arena in Rome. This underground museum will not only allow us to see the arena's original arches, gladiator arms and armour, but will do so right where the earliest or gladiatorial contests would have taken place.   
After lunch on your own, you'll continue to the Galleria Borghese as not only will we see the magnificent gladiator themed exposed mosaic "Mosaico del Gladiatore", but also Cardinal Scipione Borghese's (1577 to 1633) collection of Caravaggio art.  Daniele will be in his glory… Relating many stories of one of his favorite artists. For those wanting to brush up give a listen to History on Fire's Caravaggio episodes.  
After the day's touring we will retire to yet another wonderful meal at the Restaurant La Villetta 
Daniele's Notes: Daniele today tackles the big 'why' – namely, why did gladiatorial combat fascinated Romans so much. Was it just bloodlust? Or maybe something else was at play? What was the connection between gladiators and Stoic philosophy? 
Overnight Location: Rome, Italy
Day 6 - Rome, Italy (Friday, Apr. 10, 2026) / Classical Museum, Ancient sites, Gladiator School and Farewell Dinner
This morning it is our hope to show you the grandeur of the political elite compared to our visits to the brothel and streets earlier in the tour. To do this we will set out for the Roman Forum and then to Palatine Hill for the view and the ruins there.  We will see Caesar's Palace (the actual palace, not the casino) or The House of Augustus, and also venture to the Villa of Livia and the Arch of Titus to continue our explorations into the grandeur of Rome…
We will continue our exploration with perhaps the most important of Gladiator sites – the Colosseum. You will see the Colosseum from its upper levels just as a spectator or senator would view the games.  But if you are going to see the Colosseum as a senator then we must make sure you get the other point of view as well, and thus we will conclude our visit by journeying to the underground and arena floor areas as well!  
If possible, we will visit the Ludus Magnus – largest of the four Ludi in Rome and once home to 2000 gladiators, and the Circus Maximus where not only chariot and foot races took place, but also gladiator contests.  
Today is the moment the entire week has been building up to as we will visit the Gladiator School and Museum of the Roman Legionnaire where you'll partake in an actual gladiator school and learn how to fight like a gladiator! Once your training is complete, you'll be pitted against your fellow gladiators to test your skills. Fear not, the crowd won't be thirsty for blood and you'll all live to fight another day.  You will however, be awarded coveted certificate of Roman Citizenship – the ultimate reward to serving Imperial Rome. While there we will also take in their two museums based on the Roman Legionnaire… One covering the military and the other covering the civil aspects of life in the Roman Military.  
Your day draws to a close with a farewell dinner at Hostaria Antica Roma. You'll be treated to an authentic ancient Roman menu as you overlook the towering ruins. You'll be hard pressed to find a more fitting locale to wrap up your gladiatorial exploits. 
Daniele's Notes: On this final day, Daniele will discuss all your favorites movies about Ancient Rome—Gladiator, of course, but also Spartacus (both the film and TV series), and most importantly his favorite TV series ever, HBO's Rome.  
Overnight Location: Rome, Italy
Day 7 - Rome, Italy (Saturday, Apr. 11, 2026) / The Voyage Home 
Sadly, all good things must come to an end. Today you and your brothers and sisters in arms will go your separate ways and return to your normal lives. If your suitcase isn't full, your heart surely will be with the memories and friendships cultivated along the way! 
Tour Notes
We get you reading straight away…
Osprey Publishing and Geek Nation Tours want to start you off right with our tours and thus will get you reading about the history we will be visiting.  Each of our Signature Battlefield tours will see books on the subject bound for your book shelves… Upon final payment of your Signature Battlefield Series: Arenas of Blood Spartacus and the Gladiators of Ancient Rome 2026 we will be sending you Gladiators 100 BC – AD 200 by Stephen Wisdom, Spartacus and the Slave War 73 – 71 BC by Nic Fields, and The Gladius by M.C. Bishop.
NOTE: Attendance of special guests and celebrities is subject to change due to scheduling conflicts and conflicting professional or personal obligations. Further, archeological sites are often closed for viewing to better preserve them, and some tickets (like the Colosseum Underground tour) may not be purchasable. GNT can not be held responsible for such changes to the tour.
NOTE: COVID-19 has changed both our geek and our real worlds. Some things may never be the same and others may not be able to be offered on our tours or will have to be altered in a new post Covid world. With that said, please understand that GNT is moving forward as if the disease is already conquered, but all tours are now subject to change.
What's Included
All hotel stays, coach transfers between locations, all breakfasts, some lunches, and most dinners throughout (including Welcome and Farewell dinners), entrance fees to museums and exhibitions and tours as part of the program, local guides, games & prizes, and loads of other stuff! 
What's Not Included
Airfare to and from tour locations, local airport transfers, most lunches and some dinners throughout, public transit when applicable and entrance fees to museums and exhibitions visited on your own. 
Tour Price
7-Day Tour Price:
$4,999.00 USD + $549.89 Taxes & Fees
Single-Occupancy Upgrade: $600.00 USD + $66.00 Taxes & Fees
Final Payment Due:
November 1, 2025
Final Payment Note:
Bookings will be accepted until February 1, 2026, but must be paid in full at the time of booking.
Note:
Don't have a sparring partner to get the double occupancy rate? Geek Nation Tours can help! Book as a double occupancy and we'll match you up with a roommate. This way you get the best of both worlds, someone to BS about the trip with…and more cash to spend!
Covid Pricing note: As we move into the post-Covid era there may well be price adjustments as we move forward. It has been postulated that the tourism industry as a whole will see many price increases. While GNT strives to give the best price along with the best service and experience, we may be forced to increase tour pricing in the future.
Additional Options
Want to do more in Italy or Europe? Geek Nation Tours can arrange hotel stays and other options for you. Just let us know what you have in mind and we will come up with a travel plan.
Non-Geek Spouse Argument
Really? Italy…