Tour Status:
Tour Completed – this tour description is provided for historical/archival purposes, and to show you what you've missed!
Destination(s):
Edwards, California USA
Departure Date:
September 26, 2023 (Tuesday)
Return Date:
October 2, 2023 (Monday)
Departs From:
All around the Blighted Place
Tour Limit:
16 Participants
Price:
Main Tour to the Apocalypse Based on Hotel Double Occupancy, Couch Motorhome Occupancy, and Navigator Duties: $3,299.00 USD
Special Notice:
This tour has a minimum tour participation of 10 tour participants. For the tour to be guaranteed we need at least 10 newbie wastelanders to hop aboard….
About the Tour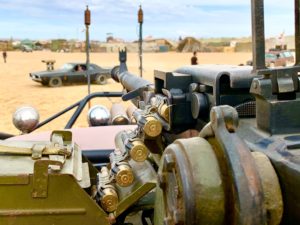 We just lived through one apocalypse, so why not join Geek Nation Tours for another one? 2023 will see GNT making the trip to Wasteland Weekend, California USA. If you love the Mad Max universe, and want to experience the dust, noise and carnage of the wasteland for yourself, you really have to give this tour a go.
Walk into a Bartertown that is alive with the sounds of metal clinking on metal, the shouting exchanges as agreement on prices are met, the begging of the panhandlers and the multitude of musicians vying for your money (well bottle caps actually – custom bottle caps are one of the many currencies at Wasteland Weekend and one would be smart to secure some early in the show).
The entire compound is in constant motion and smells of exhaust, propane and charcoal lighter fluid with a hint of barbecue. It is a continual flash of colours, camo and skin in a backdrop of dust and heat. Added to all this is every type of car imaginable converted to a mobile prop or gas driven cosplay machine, that are so magnificent you won't get enough of admiring the death engines. The spikes, the rust, the armour, the creation of things of war from vehicles of the mundane. It really is a sight to see and make no mistake the vehicles are decked! Yup! Wasteland Weekend is full throttle…
The nights are full of dancing as industrial, and speed metal fill the air. Neon beckons you forward, but competes with blood sports and a full-scale representation of the "Thunderdome" complete with bungie – jumping weapon – toting warriors. Juggers straight from "Blood of Heroes" are also present – boiling the blood of onlookers.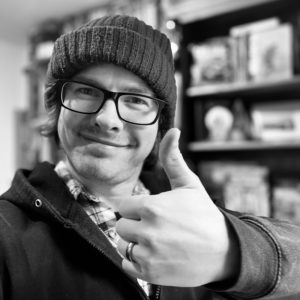 This is a crazy scene. Mild intimidation is unavoidable. Your brain will tell you that everything is a threat here as everyone seems armed and armoured as spikes, rust and blades abound.
But let GNT help you – you tribeless vagabond… We, your fellow travelers, will be our own tribe. We will band together only to realize that when we venture into a random tribe's tent we are graciously, and happily welcomed. It will be our goal to ease you into the Wastelander community. To travel from place to place, from event to event, and to bar to bar. To see what is happening at each stop, to not only immerse you in a world, but to meet people and to interact with the Post-Nuke community. The people here make it easy. You would never expect the Wasteland to be as friendly as it is.
With all that said, you will be camping – cosplay camping – and GNT has you covered. We will provide not only the rental costs for the motorhome, but also the camping equipment needed for the trip and food daily. You'll be given a chance to grab some supplies prior to the journey into the apocalypse (you might want some favorite snacks or sandwich meat for lunches), but GNT will pretty much provide a fully stocked motorhome for you (and your roommates) to comfortably retreat to. We will travel as a convoy, led by your guide so no worries about getting lost in the wasteland. And…we have also included your Wasteland Weekend entry as well…
But what would be a Geek Nation Tour without a special guest and some gaming? We have a week of totally unique post-apocalyptic gaming in store for you as we are joined by Mike Hutchinson – the designer of Gaslands – the tabletop game of post-apocalyptic vehicular mayhem with toy cars. We will take our favorite toy cars and race and battle right in the middle of a Road Warrior world, playing a bunch of games across the trip (but still leaving most of the time for enjoying the party).
Together, we will create a miniature version of the Wasteland Weekend that surrounds us to play our games in. So, we hope you will grab your tools and superglue in preparation for the tour, and accept a couple of hobby challenges ahead of the trip… We will give you more details as we get closer to our departure, but for now start planning to build:
1. a Wastleland Weekend style race gate terrain piece (check out Google Images for a photo of the Wasteland Weekend entrance gate), and;
2. one other piece of terrain to represent our own camp: maybe a motorhome and a tent, or a campfire, or something more personal that the post-apocalyptic version of you would turn up in!
We'll be playing an exclusive Wasteland Weekend Gaslands campaign written by Mike for the trip, and there'll be some awesome prizes awarded throughout: including the opportunity to take home some of the original custom vehicles featured in the Gaslands: Refuelled rulebook!
Day 1 - Edwards, California USA (Tuesday, Sep. 26, 2023) / The Gathering of the Tribes
Today the tribe will gather. We will arrive at Los Angeles International Airport from all corners of the doomed earth. You will be given instructions to gather at our nearby hotel and have the day to revel in all things the modern world provides – one last time. Perhaps you would like to go to see the idol Mickey and pay your respects to the giant mouse. Or see a Wookie and hear the roar of a starship. Or maybe you would like to be thrilled with a roller coaster ride or two. Or maybe, you just want to hang out at a café one more time before the End takes them from us.
No matter your day's adventures, GNT will help you get there. Be sure though, to return to the hotel for dinner as the tribe will gather and meet for our Welcome Dinner. Here we will discuss the coming journey to the apocalypse and get to know our fellow travelers. Plus, we will of course be meeting Mike Hutchinson today and will most definitely be talking Gaslands… AND, we will show off our Hobby Challenges… Yes, the GNT tour has you working in the sweatshop prior to your arrival. You will need to bring not only some cool cars for the Gasland adventures you will have over the course of the event, but you will also need to bring one Gaslands race gate and one Gaslands terrain piece. We will be looking for Wasteland Weekend themes and high marks will be given to those that create something matching the Wasteland vibe (Hint hint… maybe a sign, ship or even our own motorhome compound?)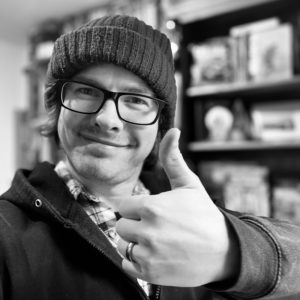 And now a word from our sponsor......
As my wife, Vanessa, and I emerge blinking into the Californian sun, we'll want to grab a cold beer, hang out and get to know you. I'm pretty sure there'll be a copy of Skull in my bag, and we'll be in the hotel bar putting the final touches to our wasteland costumes, taking sand-paper to anything too shiny and going outside to drag them in the dust...
Day 2 - Edwards, California USA (Wednesday, Sep. 27, 2023) / Into the Apocalypse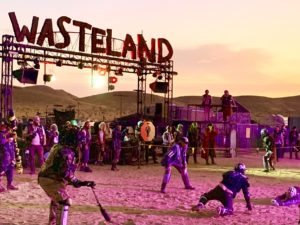 We will leave today to journey into the Wasteland. Captains, will man their Motorhomes, and with the help of the Navigator, will make their way convoy-style out of L.A. We will make the two and a half hour trip to the doomed land. We will stop along the way for you to pick up supplies, snacks and extra food. GNT will of course supply non-radioactive meals throughout our stay. Be sure to buy all you need though, as once we leave civilization there will be no returning (well until Sunday at least), and you will not be able to pick up any other supplies.
Today is the gathering of tribes and you will see many setting up their tents and headquarters inside the main Wasteland Weekend compound and without. We too will be setting up our compound and anyone designated as "the Boys" (note that this is a title and does not designate gender) will need to hop to it and make sure our space is set up… Especially chairs for the captains and the Lord Mike, giver of the Gaslands…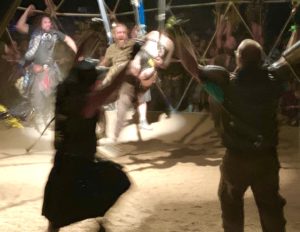 You will, however, already be noting the attention to detail and the massive creative and artistic endeavor that is Wasteland Weekend. Everyone will be hard at work setting their own personal view of what a Road Warrior style apocalypse would be ... This is created not only by the fact that a city is forming around the main compound – Wasteland Weekend is nothing short of a Cosplay Camping Trip into the Apocalypse - but how each person will be costumed, and in this way the vibe of a bunch of survivors banding together will be complete.
Events will be a bit fluid during the course of our time in the Wasteland. Events often alter their start not only in hours but in days. One cannot always plan what happens or when it happens, but that is one of the joys of this event. With that said, we will have some cool things for you to do tonight. After your return to the GNT compound, your guide will start to prepare our Welcome Dinner via a good old fashioned camping BBQ. Sausages are in order (we promise that they will be pork, real pork, and radiation free) and we will have veggies (we promise that they will almost certainly be free from atomic mutation).
Following dinner, we will make sure your costumes are appropriately distressed so be sure to have them out (better yet worn), but the main post dinner event will be a Gaslands car build-off led by Mike Hutchinson himself. GNT will provide Hot Wheels cars and some North Star Gaslands weapon sprues to arm them… We will even be joined by our fellow Wastelanders, so expect quite a motley crew…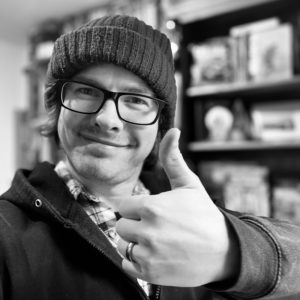 And now a word from our sponsor......
Warning: if you are unlucky enough to get stuck in my motorhome, you are going to have to put up with high-volume desert rock and sludge metal for the duration of our drive out into the wasteland. I cannot wait to see the settlement and get exploring with everyone. After our first cook-out, let's build (and paint) some cars for the campaign. I'm not planning to bring a team, I'm just going to make one right there, inspired by all the insane vehicles at the event. I can't wait!
Day 3 - Edwards, California USA (Thursday, Sep. 28, 2023) / And Now You Are In It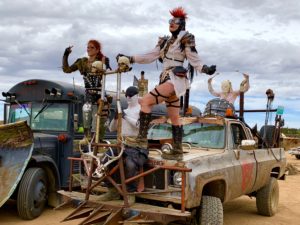 Today is traditionally the Blackthumb Meet & Greet, and a time for all the death machine owners to hang out together and show off what they have built. It is WW's unofficial car show and if you want to bs with the gas driven cosplayers this is a jovial time to do so.
Your guide will also take you to Bartertown to so some shopping. You'll see tones of pre-apocalypse and post-apocalypse things to buy. Bring cash and bottle caps and you should walk away with some (replica) weapons, food from the food vendors and a laugh or two. Take advantage of the random spots to sit, and conversations will be easily started… Note though, one never knows if they will lead to a kind of mini LARP or talk of things back home.
Events are pretty fluid in the Wasteland, and you never know if you will see that same thing twice, but last time GNT visited we took in the Morning Mayhem 1:64 Car Show that featured cars straight out of Mad Max and Gaslands. At night we completely recommend a visit to the Copperhead Caravan compound for Matt McGuire's Deathrace 1:64. I'll be up front here, the event is a Hot Wheels race that one might see at Christmas time or at a Scouts meeting. In GNT's opinion though, this is exactly what you'd see in a world where media died in nuclear flame. A bunch of people coming together to cheer the races of toys from a bygone era. Feel free to bring a functional Hot Wheels car (perhaps weighted with the wheels waxed) to join in on the fun, but be prepared to lose your ride as those not finishing first are forfeit to the Deathrace diorama.
With all that said, we will have events planned for our tribe right at our compound. In the morning, Mike Hutchinson will lead us in an exclusive GNT/WW never before seen Gaslands Campaign for tour participants only. You'll have to be in the Wasteland to get the details, but there will be prizes. As a matter of fact, Mike has promised us cars seen in the Gaslands: Refuelled rulebook itself. Further, in the afternoon, we will offer up a painting class for not only our tour participants, but also for general Wastelanders. Join us as we paint the cars we built the night before… We will supply the paint but may ask you for an ounce of blood for a wash…
Dinner tonight will be catered at our compound by the Texasmoke BBQ crew. They say it will be beef (and again not radioactive), but you'll have to judge for yourself.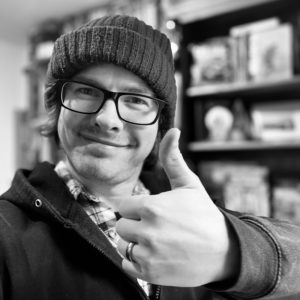 And now a word from our sponsor......
Day 3 is the first day we get to play some Gaslands (about time!) and I'm going to bring a special campaign for us to enjoy together. There'll be tables set up in each of our motorhomes, or maybe we'll drag them out into the sun… I'm hoping for some gaming laughs, and then a chance to dive into the rest of the event. From what GNT tells me, it sounds like we are going to find some pretty like-minded people.
Day 4 - Edwards, California USA (Friday, Sep. 29, 2023) / The Dogs of War, Humungus and the Car Show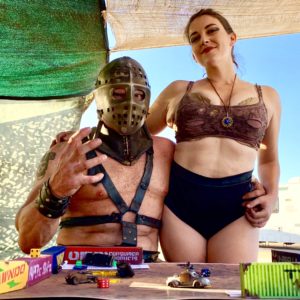 "Greetings from The Humungus! The Lord Humungus! The Warrior of the Wasteland! The Ayatollah of Rock and Rolla!"
The first time Lord Humungus and the Dogs of War roll down the road you are sure to have shivers. Nothing like a gang of cars blasting out heat and bass to immerse you in a movie scene. You will see people in the streets rushing to the side of the road to not only see the spectacle, but also to pay homage to the clear top dog of Wasteland Weekend. It is our hope that the Lord Humungus and the Dogs of War join us for dinner tonight. GNT is still working on the details, but our audiences with his excellency have gone well.  BTW The Humungus is a Gaslands fan...... [MH: Hell, yeah!]
We will continue our Gaslands campaign today and each motorhome will have to gather as a tribe to compete with fellow tour participants… Outlandish upgrades will be handed out by our own Lord of the Wasteland Mike Hutchinson via his Unique LEGACY Gasland expansion…
This will be followed by a Newbie Deathrace demo game for vets and newcomers alike. Opened to all Wastelanders (well as many as we can fit) Mike will lead a game where we can use those newly built and painted Gaslands cars.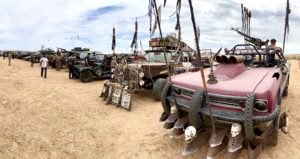 Today will be the official Car Show so we will have to be flexible when we get our demo on, because you won't want to miss seeing all the death machine awesomeness in one area. It is a day of recognizing the vehicles that are a huge part of any post-apocalyptic medium. We will head to the car show to meet the creators and their amazing metal machines. Gawk at the engines of death and the effort made to make Wasteland Weekend the most immersive event in the world.
Each nigh you can also find almost every type of music under the pollution choked sun. Go dancing to 80s tunes, Industrial, techno or metal – the choice is yours, but we recommend you do it all. There are also burlesque shows and other things best not mentioned here. Be sure to have your own mug/cup/or glass as the Atomic Café will be there serving up libations to wastelanders. They take old world money, but it all goes to a good cause.
Dinner will be offered up by GNT yet again and all will be offered hamburgers. Again, we can't guarantee what is the actual meat, but we will say it is beef.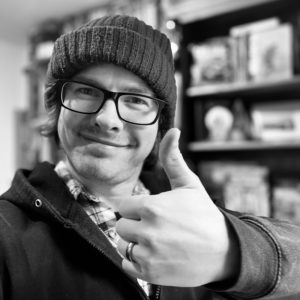 And now a word from our sponsor......
I feel like Day 4 is when the tour starts to go off the rails… in the best way. We are going to be dusty, hot, and having an awesome time. We'll play some games, we'll try and convert some other wastelanders to our cause, and we'll see an insane collection of real-world death machines. The schedule will be flexible, and I'll make sure we don't all have to play our games at the same time, so we can come and go as we need.
Day 5 - Edwards, California USA (Saturday, Sep. 30, 2023) / Parade Day and More Gaslands

Today will be a busy day in the Wasteland! First off it is Car Cruise Day, where we will get to see each vehicle make its appearance on the streets normally filled with survivors. The smell of diesel and the roar of engines will have you thinking you are indeed in Mad Max's world. And the fear of its tyrants will be sure to ensure your supplication… Beware of the spikes and gander at the magnificence.
Again, we will game in Wasteland city for a couple of hours in the morning… Ensuring a glorious ending to our tour participant only Gaslands campaign. Winners will receive awesome gifts and the losers will get their choice of terrain from the group's Hobby Challenge… You didn't think you would leave with what you brought did you? Don't expect to bring your nice shit to the Apocalypse and have it stay with you… Two men enter, one man leaves…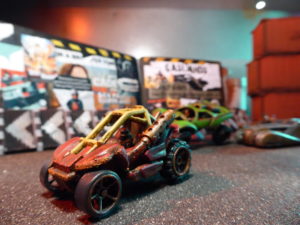 Also this day will be the Gaslands Matchbox Car Crusher Challenge… You'll be given a big hammer and some safety goggles, but you'll have to provide the rage to smash a Hot Wheels flat. The flattest car in the time wins, so get those arms in shape or think of a shifty way to get your car on the thin side (you don't have to use the hammer). Be sure, to fill this last full day with the multitude of awesome things to do at WW. You could hunt down one last bounty with the Rust Devils, do one last LARP, check out the Caution Tape Carnival, or the vibrator race (yes, you are reading correctly) at The Den, or any of the cool shows put on by the many tribes in the wasteland like the Badlands Savages, the Wretched Embers, and even the Puppets of the Apocalypse.
Later the same day the equal opportunity objectification WW swimsuit contest will gather crowds of Wastelanders who will cheer the contestants on, and fun will be had by all… Be sure to also take in the Smashbotz and the RC car Death Race! Carnage will ensue …
Our last dinner in the Apocalypse will be catered by the Dinki-Dive crew. They say they'll make us some Chili and Mac and Cheese. We are not sure what the Mac and Cheese is made from, but the meat in the chili sure will be meat…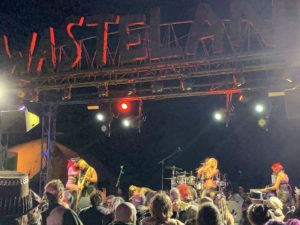 The party will just be revving up by this time, and it will be a sight to see as all the tribes join together for one last massive party of awesomeness… Tonight, the bands will be out in their splendour and the headliners will hit the stage. This is the time where everyone comes together… Where all of the Wasteland vibes as one.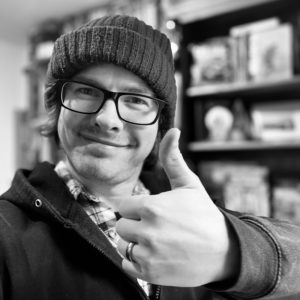 And now a word from our sponsor......
So it turns out that taking toys and then racing them is a pretty strong theme at WW. I think we are going to fit right in. This is going to be the last night, and Vanessa and I plan to party with whatever we've still got in the tank. See you at sunrise?!
Day 6 - Edwards, California USA (Sunday, Oct. 1, 2023) / The Scattering of the Tribes
Today we will pack up and return to Los Angeles. We will take our time returning however, to stop for lunch and to drop off some donations in Lancaster. Geek Nation Tours is a proud sponsor of the Catalyst Foundation and hopes to give back to the community via them. We will be using alot of new stuff for this adventure and most of it will be largely unspoiled by the days we spend playing Apocalypse. So, know that your tour participation will go a long way. If you would like to make a further donation to this excellent charity please let us know and we would be happy to direct you.
We will check in at our hotel, and after a long-deserved shower, we will gather for our Farewell Dinner. This will be a time to regal each other in our adventures and to say farewell to those tribe members that made it out of the apocalypse alive.
Day 7 - Edwards, California USA (Monday, Oct. 2, 2023) / A Journey Home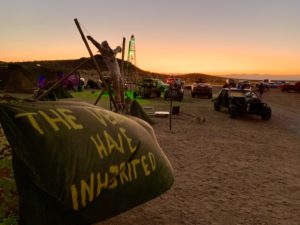 Today we will make our way back to the Old World via the entity called LAX. Be sure to have packed your wasteland garbs away, and don't try to bring anything sharp on the plane. The memories of the wasteland will last a lifetime… Or at least until you return…
Tour Notes
NOTE: Attendance of special guests and celebrities is subject to change due to scheduling conflicts and conflicting professional or personal obligations.
NOTE: COVID-19 has changed both our geek and our real worlds. Some things may never be the same and others may not be able to be offered on our tours or will have to be altered in a new post Covid world. With that said, please understand that GNT is moving forward as if the disease is already conquered, but all tours are now subject to change. Also, each event that GNT visits will undoubtedly have rules about vaccination and masking. GNT tour participants are expected to comply with each of these mandates.
NOTE: We will be renting our Motorhomes from Cruise America and they do not guarantee a specific Motorhome layout. Therefore, the exact layout of the Motorhome can not be guaranteed by Geek Nation Tours. That said, we will be very specific in what we request.
Wasteland Weekend: For more information about Wasteland Weekend see: https://www.wastelandweekend.com/
What's Included
All hotel accommodations, Motorhome accommodations (NOTE: Shared as per the below), camping equipment and other camping related items, transfers, Welcome & Farewell and most other Dinners, self-made Breakfast & Lunch options. Fully stocked motorhome. You will be given the chance to see our list and to supplement it prior to arrival at WW, Wasteland Weekend entry fees.
What's Not Included
Airfare, some local taxi and fares.
Tour Price
Main Tour to the Apocalypse Based on Hotel Double Occupancy, Couch Motorhome Occupancy, and Navigator Duties:
$3,299.00 USD + $395.88 Taxes & Fees
Hotel Single Occupancy Upgrade:
$250.00 USD + $30.00 Taxes & Fees
Note:
Note that we will be doing things a bit differently on this tour as far as accommodation goes. All hotel nights will be based on double occupancy with the choice to move to single occupancy. We recommend that you chose single occupancy for the hotel nights if not coming with friends or as a couple. You will appreciate the quiet prior to and post the Wasteland, because YOU WILL BE SHARING YOUR SPACE WHILE VISITING THE APOCYLPSE.
This tour will only have accommodation for 16 people or so. We will be renting four Motorhomes for tour participants. All Motorhomes will come fully stocked. No need to buy bedding or plates… We will have it. We will also have snacks and food and most anything else you can think of! We will even give you a chance to buy more snacks or personal items prior to heading off to the wasteland. This does however, mean that we will have room for 4 bed choices and 4 duty choices only. Pick soon to be sure to secure the choices you desire most…
Motorhome Bedding Categories:
Queen (rear private bedroom) 6'2" length x 5'0" width + $250.00 (an additional concubine (of any gender) may accompany you at the tour base cost. Concubines have no duties while in the Wasteland)
Queen (bed over cab) 8'0" length x 4'9" width. Clearance 1'1" + $125.00 (an additional concubine (of any gender) may accompany you at the tour base cost. Concubines have no duties while in the Wasteland)
Single (dinette converts) 5'8" length x 3'2" width (NOTE: this bed will need to be stripped down each morning and converted into the community's interior table)  This bed is bookended with the table bench structure so one will not be able to stretch out further then the measured dimensions. + $0.00 (There is no additional cost to sleep on the dinette couch. The above must be observed however…)
Single (couch) 5'8" length x 3'6" width + $0.00 (NOTE: this bed will need to be stripped down each morning and converted into the community's interior couch. + $0.00 (There is no additional cost to sleep on the dinette couch. The above must be observed however…)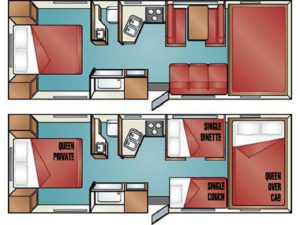 For a more visual look at our proposed Motorhome please visit Cruise America at: https://www.cruiseamerica.com/rent/webres/c30
Duties Categories:
Everyone must choose one duty title for the tour. Some duty titles give a reduced tour cost as per below.  Each motorhome will have one each of the below duties. It is first come first served regarding duty choice.
Captains duties:
Drive Motorhome
Monitor and regulate water, heat and gas and relate to guide
The Captain and King Kahuna Mike Hutchinson do not have to partake in group duties
The title of Captain gives a -$125.00 cost to the tour.
Navigator duties:
Helping the Captain navigate the Motorhome
Pack donatable things into clear garbage bags at the end of the Weekend.
The title of Navigator gives no cost reduction to the tour.
Lieutenant duties:
Dishes daily
Clean kitchen counters, and tables daily
Sweeping inside daily
Cleaning of outside area around camper daily
The title of Lieutenant gives a -$100.00 cost to the tour.
Peon duties:
Clean bathroom / toilet daily
Draining sewage upon departure (it is not as big a deal as you might think and we will teach)
The title of Peon gives a -$150.00 cost to the tour.
Group duties: The whole group has to help with the below duties (except the Captain and King Kahuna Mike Hutchinson)
Washing Dishes (We know that this is a Lieutenant duty but please try to pick up and clean up after yourself)
Help set up GNT compound
Clean and organize motorhome for departure
Help load / unload motorhome
Wiping things down prior to departure
Covid Pricing note: As we move into the post-Covid era there may well be price adjustments as we move forward. It has been postulated that the tourism industry as a whole will see many price increases. While GNT strives to give the best price along with the best service and experience, we may be forced to increase tour pricing in the future. 
Additional Options
Want to explore more of Los Angeles, Anaheim, San Diego or the United States in general?  We can help you get there and customize your whole holiday for you… Please just contact us and let us know your travel dreams.
Non-Geek Spouse Argument
Ummm… Road Warrior?