Destination(s):
Nottingham, UK
Departure Date:
November 4, 2022 (Friday)
Return Date:
November 14, 2022 (Monday)
Tour Limit:
30 Participants
Price:
Tour Price: $3,399.00 USD
Special Notice:
Success!  This Tourstarter is now live.. We are currently in the process of creating this tour. The process will take some time however, and thus if you are interested in helping build YOUR tour – join us via the Tourstarter form to the right! We would love to have you aboard!!!
About this TourStarter Tour
WE HAVE YET TO BUILD THIS TOUR! We are itching to get to it however, and thus have it listed as a Tourstarter project (see the Special Notice notes above and the "I'm Interested" notes to the right)… The dates have not been settled on nor have tour details been arranged. We hope the tour will coincide with two GW Warhammer World events in November 2022 (as per the below) but the tour instead may take place in September 2022 to center around TANKFEST at the Bovington Tank Museum. Once we reach Nottingham most of those details will remain the same as below, but of course even these are open for adjustment if the Tourstarter crowd has a different vision.
Really that is Geek Nation Tours first question for all you possible TourStarter participants.  Should we go to:
A) Two November 2022 Games Workshop events (if they happen to have two on bookend weekends)?
B) Should we instead go in November 2022 but also include the Bonvington Tank Museum instead or a second GW Warhammer World Event? And this IS a miniatures tour after all… Maybe we should all get some tanks prior to departure and bring them along to have our own Tank Fest right at Bovington's?
C) Should we alter the dates to take in TankFest! (also at the Bovington Tank Museum) and go in September 2022?
D) Should we alter the dates to take in Salute! (the UK's premier Miniature Wargaming Convention) in April 2022?
E) In the past GNT has invited Guest Hosts to come aboard the tour… Should we seek one out for our tour?
F) Or perhaps we should see Leeds Armory and the medieval city of York?
YOU decide….
And now to whet your appetite…
Geek Nation Tours is proud to announce our return to the UK in 2022. Geek Nation Tours continues to make the journey to the United Kingdom to celebrate miniature gaming and this time the tour will be built in part by you – the miniature wargaming fan. Every miniature wargaming Geek's dream is to visit one of the birth places of wargaming – Nottingham England. If you are a fan of 40K, all things Fantasy, Historical Wargaming or even a good old-fashioned Martian Invasion – then this is the tour for you. We will be focusing on rolling dice and we will have days of wargaming in store for tour participants, we might even get a boardgame in or two.
This tour will revolve around at least one Games Workshop Warhammer World event but we will be sure to have several days of gaming right at GW HQ in Nottingham. Historical gamers fear not! Geek Nation Tours has never before created a miniature wargames tour so dedicated to the full spectrum of the Wargaming Hobby. Along with some Kill Team and Warhammer 40,000, Teras will also be launching into historical gaming this year and will bring along Warlord Games' Hail Caesar! and Mantic Games Kings of War: Historical for some crazy historical gaming so those of your already into that part of the hobby won't be left out of the fun…
GNT is all about bringing the community together in a cool place, so expect painting challenges from every possible wargaming genera and company. We hope to lead wargamers to game outside their normal boxes and cross historical, fantasy and sci-fi boarders… Be sure to see our "WARNING!!! HOBBY CHALLENGE" notes throughout the tour description…
We will be returning to many of the places we have visited in the past, but all will have a cool newness about them. We will see the newly renovated Games Workshop HQ and Warhammer World, and return to Warlord Games and Mantic Games (both of which have newly renovated stores and gaming areas). But this time we will spend most of the day at each place touring their facilities, exploring their games, hobbying and, of course, looting their warehouses!
Added to all this is a brand-new lineup for 2022. For the first time ever, we will visit Wargames Foundry. Not only will we see their fantastic grounds and facility, but Bryan Ansell (founder of Citadel Miniatures) will regal us with tales of the past. It will be an awesome opportunity to explore the history of our hobby. Undoubtedly, we will roll dice and get to gaming here as well!
But that is not all, GNT is hard at work at adding several other awesome miniature companies. More are in the works, but for now please note that we will also be visited by Atlantis Miniatures, and Mierce Miniatures. We might even be able to get pre-order in with them…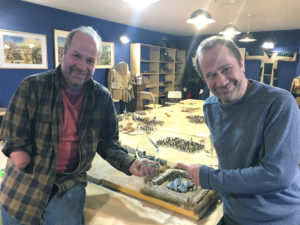 We have some HUGE news for 2022! Not only will we be regaled by the infamous Perry Twins, but they have graciously invited us into their homes. Ever wonder what the creators of your hobby game on? Well, join us now and we will take a humbled look at the Perry's set up… Want more? John Stallard from Warlord Games is not to be out done by the Perrys! He has invited those historical and Warlord fans to play at his home….
So, there you have it! You wanted more gaming and more special guests…. How does gaming with John and hanging out at the Perrys do yah?
This will be a Miniatures in the UK tour like no other. Hop aboard and explore these wargaming sites while being surrounded by people of like mind. Fellow gamers – who are just as enthusiastic about miniature wargaming as you are.
WARNING!!! HOBBY CHALLENGE: No matter your current miniature wargames bent, we are throwing down the gloves on this tour. We challenge you to bring at least one unit from a game company that is outside your normal hobby and gaming box. If you are a Games Workshop fan – bring your GW minis (we WILL be using them) – but also bring a Hail Caesar! unit as well or a Kings of War unit… Actually, Teras will be combining both with a unit of Romans (just saying). If you are a Historical gamer then consider yourself slapped in the face with the scifi glove, pick a Kill Team or 40K unit to join in our narrative! For miniatures, you'll have loads of choice… Think about using Wargames Foundry miniatures, Perry Miniatures or any of the other companies we will be visiting…
Day 1 - Nottingham (Friday, Nov. 4, 2022) / Welcome Day & a Late Night Transfer to Nottingham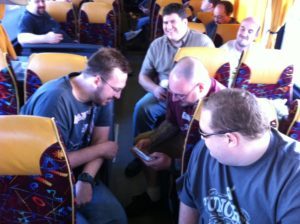 Today we will arrive from all around the world to meet in London England. Tour members will be arriving throughout the day and will be given detailed instructions on how to meet up with the rest of our tour participants. You will be able to leave your bags at a Heathrow Airport hotel prior to spending a free day exploring all that London has to offer. Depending on your arrival time, you might want to visit Buckingham Palace or the Tower of London, stroll Hyde Park, ride the London Eye, discover Big Ben, or just sit in a café or pub and enjoy the awesomeness that is the UK. For you hard core gamers you might want to head off to visit the internationally famous hole in the wall store the Orcs Nest…
Be sure to make it back to Heathrow airport by dinner time however, as Geek Nation Tours kicks off our landing party with our traditional Welcome Dinner right at the hotel.  It will be a great opportunity to meet your fellow tour participants and discuss what we are going to do in the coming days.  After dinner we will board our coach for a late night transfer to Nottingham.
STRETCH GOAL #1 IF WE MANAGE TO HAVE 10 PEOPLE BOOKED ON THIS TOUR, GEEK NATION TOURS - WITH THE HELP OF THE TOURSTARTER COMMUNITY - WILL DEVELOP A EXCLUSIVE TOUR MINIATURE ONLY AVAILABLE TO TOUR MEMBERS... HERETIC, HEATHEN, LOYALIST OR LACKY... WHAT WILL IT BE?  YOU DECIDE.
Overnight Location: Jury's Inn Nottingham (dinner and breakfast included)
Day 2 - Nottingham (Saturday, Nov. 5, 2022) / Games Workshop Warhammer World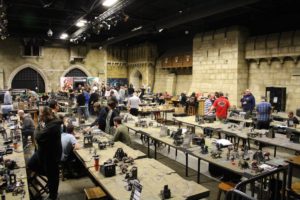 Today it is our hope to participate in the first of our Games Workshop Warhammer World Events! Stay tuned for more information on the event...
BUT WHAT EVENTS SHOULD WE DO?
A) CIADEL COLOUR OPEN DAY?
B) THE BLACK LIBRARY WEEKENDER?
C) A WARHAMMER AGE OF SIGMAR CAMPAIGN WEEKEND?
D) OR THE 40K OPEN DAY?
YOU DECIDE....
Alternatively, we could head south to the Bovington Tank Museum or even alter the dates to September and visit the museum during Tankfest!
We could alter the dates even more drastically to go to Salute!, but that normally takes place in April...
Overnight Location: Jury's Inn Nottingham (dinner and breakfast included)
Day 3 - Nottingham (Sunday, Nov. 6, 2022) / A Trip to Warlord Games...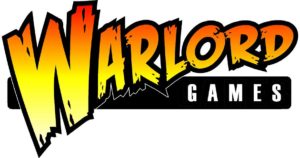 Now is time to explore the centre of the wargaming world – Nottingham. We will converge on Warlord Games. Expect to learn more about Bolt Action, Hail Caesar!, Gates of Antares and Konflikt 47… Warlord's warlord, John Stallard will take us on a tour to explore their casting room, offices and store, who knows we might even get to roll some dice or run rampant through the warehouse aisles on a looting spree.
After a day of immersing into miniature games, Ludorati would like to offer you the chance to unwind, relax and enjoy the lighter side of board gaming. We'll set up a selection of great group games that soon have you mixing and laughing together. Of course, if you don't like the games that we suggest you're welcome to help yourself to anything from their library of over 750 titles (including some hidden gems from local game designers!). Either way their professional staff will be in hand to ensure you have a great gaming experience.
WHAT GAMES DO WE PLAY AT WARLORD? BOLT ACTION? HAIL CAESAR? GATES OF ANTARES OR A MULTITUTE OF OTHERS?  YOU DECIDE!
Overnight Location: Jury's Inn Nottingham (dinner and breakfast included)
Day 4 - Nottingham (Monday, Nov. 7, 2022) / Off to See Ronnie at Mantic...
We will continue our exploration of wargaming companies and head off to lunch at Mantic Games. The King Kahuna of Mantic Games will be at hand to say hello and possibility roll some dice with us. Ronnie Renton is a long-standing friend of Geek Nation Tours and his kindness and enthusiasm are legendary. You can tell he loves to move toy soldiers across a table and he radiates a kind of infectious excitement about miniature wargames that brings that joy to others. He loves miniature wargame fans and Mantic is sure to launch us into some awesome fun.
We will tour Mantic's facility, check out their warehouse, game with them or even sit down and hobby. We will dive deep into all things Mantic from Kings of War, to Dungeon Saga, Mars Attacks, Dreadball and or course their Walking Dead game. But be sure to ask for a bit of Hellboy action when you are there… I am sure Ronnie will bring something out for you. We will also have to ask Ronnie if we can pilfer their warehouse for goodies to bring home.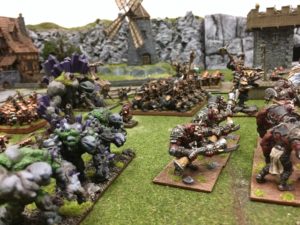 WARNING!!! HOBBY CHALLENGE: Another day to display your hobby prowess, and an opportunity to use your historical minis with some Kings of War action or launch into playing a multitude of other Mantic games like – Dreadball, Dungeon Saga, Star Sage or Walking Dead.
WHAT GAMES DO WE PLAY AT MANTIC? KINGS OF WAR? DREADBALL? HELLBOY OR WALKING DEAD OR A MULTITUTE OF OTHERS? YOU DECIDE!
Overnight Location: Jury's Inn Nottingham (dinner and breakfast included)
Day 5 - Nottingham (Tuesday, Nov. 8, 2022) / The Perry Twins & Ye Olde Trip to Jerusalem Pub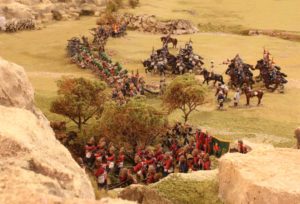 Today Geek Nation Tours has arranged a once in a lifetime wargaming experience. The Perry Twins, as they are affectionately known, have a long history in the wargaming world. They have created miniatures for Wargames Foundry and Games Workshop and were instrumental in creating the hobby we love today. Sometime ago the twins started their own wargaming company – and many of you will be able to pick up your pre-ordered Perry Miniatures minis today… But that is just the half of it. The Perry Twins, have graciously invited us into their homes. You will get to go into their households to see their armour collections and their private gaming rooms! All the while the Perrys will talk to you about the old days, recount their beginnings and show you their historical miniature line, miniature collections and get a first-hand experience from two of the nicest people in the industry.
Today is also the day for our traditional outing to "Ye Olde Trip to Jerusalem" pub. We'll take in a few pints and have a tour of the pub's secret warren of caves – there are a lot of hidey holes in Nottingham! We will dine at the "Trip" and settle in for a night at the pub. Even better, GNT will be inviting a number of special guests to our dinner. Have a beer with wargaming celebrities and join in our pub quiz and other pub fun. John Stallard from Warlord Games and Ronnie Renton from Mantic Games have both said they will join us for a "pint" or two again this year. In the past the Perry Twins, Rick Priestly, Jervis Johnson, Andy Chambers, Alessio Cavatore – and many more notables – have joined us as well.  So be sure to bring a small game, and some gaming questions, as we settle in for the night.
This year we will continue build our guest list and invite, Daniel Jack from Atlantis Miniatures, and Robert Lane and Tim Fisher from Mierce Miniatures. Oh, and they might even be able to take some pre-orders too – for delivery right into your hands….
Further, Daniel Faulconbridge from one of the industry's best magazines Wargames Illustrated will be on hand and may even join us on one of our day's expeditions… Who knows, you might even end up in an article…
We will be staying the night at the Jury's Inn Nottingham / Dinner and breakfast included
STRETCH GOAL #2 IF WE MANAGE TO HAVE 12 TOUR PARTICPANTS WE WILL HAVE THE OPTION TO VISIT THE PERRY TWINS RIGHT IN THEIR HOME...
Overnight Location: Jury's Inn Nottingham (dinner and breakfast included)
Day 6 - Nottingham (Wednesday, Nov. 9, 2022) / Warhammer World vs Warlord's Mighty John Stallard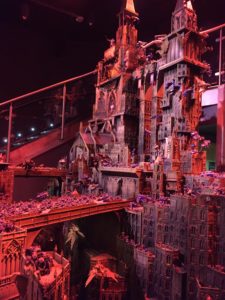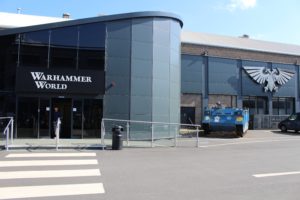 Today we visit to the all-new Warhammer World. Revamped in 2014-15, WHW now sports three stores! In addition to the Games Workshop store, there are also separate stores for Black Library and Forge World as well. Even better, WHW now has a brand new Exhibition Centre which displays many of those beautifully painted 'Eavy Metal miniatures you have seen in White Dwarf. But the really big news is that they now have a multitude of specially build dioramas, including the largest diorama that Games Workshop has ever built. All the dioramas are true wonders and are breath-taking for miniature fans of all types…
All tour members will have the opportunity to play friendly Warhammer 40,000, Horus Heresy or Age of Sigmar games. We suggest you bring a 1500-point army or so, but past tour participants have loaded up their trunks to play massive games this day. Participants can come and go to Bugman's Bar for lunch and dinner, and even have a pint or two when they play. With almost 12 full hours to game here, I am sure we can come up with our own narrative this day so expect the crescendo of a long hard-fought battle.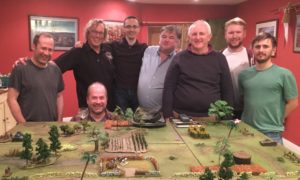 But what will the historical gamers do today? GNT has a special treat for you… After taking in the spectacle of WHW we will be headed to the house of Warlord's Mighty John Stallard for a game of historical coolness. John is known to be one of the most welcoming people in the industry. You want a good time? Just get him talking about the old days and you will hear some of the most interesting and humorous stories ever. John is boisterous and larger than life and a true joy to be around. Not to mention he has an awesome wargaming table and has offered to have you play at it. Yes – that's right – you wanted to have a once in a lifetime gaming experiences… Here is your chance!
WARNING!!! MULTIPLE HOBBY CHALLENGES: Today all your hard work comes to a head!  For those gaming at Warhammer World the miniatures you brought will be take'n out in earnest and meanwhile, those that brought historical minis will be able to give them a go at John's house… What a day!
We will be staying the night at the Jury's Inn Nottingham / Breakfast included
STRETCH GOAL #3 IF WE MANAGE TO HAVE 15 TOUR PARTICIPANTS WE WILL VISIT THE HOUSE OF JOHN STALLARD AND HAVE A GAME ON OF BOLT ACTION ON HIS FAMOUS PERSONAL TABLE.
Overnight Location: Jury's Inn Nottingham (dinner and breakfast included)
Day 7 - Nottingham (Thursday, Nov. 10, 2022) / Wargames Foundry and the War of the Roses...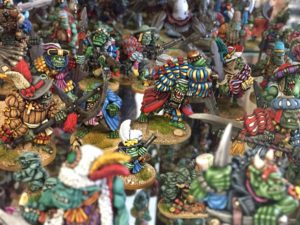 Another first for Geek Nation Tours, we are super proud and excited to visit our final miniature wargaming company this day – Wargames Foundry. Established in 1976 Wargames Foundry produces miniatures, paints and other gaming supplements, with deep roots in Wargaming history. Bryan Ansell of the Foundry is the founder of Citadel Miniatures. He helped create Warhammer Fantasy Battle, was once the Managing Director of Games Workshop and had a direct hand in the Warhammer boom of the 1980s.
We will arrive after lunch to hop on a tour of their factory and workshop, witness a live casting demonstration and much more. We will also view some historical Games Workshop art and the Foundry's massive collection of miniatures while being regaled by Bryan about the history of our hobby. His stories go way, way back, so you're sure to learn loads about our hobby and how it developed into what it is today.
The Ansell's are proud of their wargaming history but like to make sure visitors also explore the battlefield just outside their doors. GNT has thus arranged to do so with local historian – Mike Ingram. We will hear the story of the final battle of the War of the Roses, the Bloody Gutter and much more…
But that is not all – make sure you have your miniatures handy as we will be gaming this day as well.  All systems are welcome, and I am sure whatever you want to play your fellow tour participants will happily jump right in and roll some dice with you… We will game right in the store itself. Prior to heading back to Nottingham, we will do some late-night shopping as you pick from the largest miniature range in the industry.
We will be staying the night at the Jury's Inn Nottingham / Dinner and breakfast included
WHAT GAMES DO WE PLAY AT WARGAMES FOUNDRY? OR SHOULD WE INSTEAD HAVE A PAINTING DAY AND HIRE A LOCAL PRO-PAINTER TO ENABLE US TO UP OUR PAINTING GAME? YOU DECIDE!
Overnight Location: Jury's Inn Nottingham (dinner and breakfast included)
Day 8 - Nottingham - Maybe (Friday, Nov. 11, 2022) / York? Leeds? What to do?
This day is one of our two floater days...
BUT THE QUESTION IS...
A) SHOULD WE STAY IN NOTTINGHAM FOR ANOTHER DAY OF WARHAMMER WORLD GAMING?
B) TRAVEL TO THE MEDIEVAL CITY OF YORK?
C) VENTURE TO THE LEEDS ARMOURY MUSEUM?
D) OR HEAD OFF TO SOMEWHERE NEVER SEEN BY GNT PARTICIPANTS?
Overnight Location: Jury's Inn Nottingham (dinner and breakfast included)
Day 9 - Nottingham - Maybe (Saturday, Nov. 12, 2022) / Another day spent at Warhammer World
Today will be yet another day spent at Warhammer World... We hope to attend yet another GW event and be surrounded by not only the awesomeness that is this mecca, but with the community that drives it...
Lunch and Bugman's Pub, take in the event or play yet another GW inspired game...
AGAIN?  WHAT GW EVENT SHOULD WE DO?  OR SHOULD WE HEAD BACK TO LONDON EARLY FOR A NIGHT ON THE TOWN?
Overnight Location: Jury's Inn Nottingham (dinner and breakfast included)
Day 10 - Nottingham - Maybe (Sunday, Nov. 13, 2022) / From Nottingham to London
Today will be our last full day in the UK and we will travel from Nottingham to London. However, we will get some last-minute shopping, dice rolling, lunch and perhaps a last pint at Warhammer World today. We will be heading there bright and early and plan to leave just after noon to give you one last taste of Games Workshop.
Once we arrive in London we will gather one more time for our final meal together and set off on a search for one last pub (or two).
I ASK THEE...EARLY DEPARTURE OR MORE GAMING?
Overnight Location: Jury's Inn Nottingham (dinner and breakfast included)
Day 11 - Nottingham - Maybe (Monday, Nov. 14, 2022) / Departure Day but see you soon...
Some of us will be headed off to the airport and home today. We will take taxis and will depart in small groups. The memories, miniatures and friendships you made are yours to keep forever! Bon voyage, captain and may your travels be filled with thoughts of dice and miniatures.
Overnight Location: Jury's Inn Nottingham (dinner and breakfast included)
Tour Notes
NOTE: Attendance of special guests and celebrities is subject to change due to scheduling conflicts and conflicting professional or personal obligations.
NOTE: COVID-19 has changed both our geek and our real worlds. Some things may never be the same and others may not be able to be offered on our tours or will have to be altered in a new post Covid world. With that said, please understand that GNT is moving forward as if the disease is already conquered, but all tours are now subject to change.
What's Included
All accommodations, all transfers excluding transfers to and from airports, private tour costs, all breakfasts, some lunches and dinners including "Welcome Dinner" and "Farewell Dinner", Museum entrance fee and private tours, and more fun than you can shake a ruler at…
What's Not Included
Some small transfers and entrance fees will need to be paid for locally – including transfers to and from the airport. International air. Some lunches and dinners as per above
Remember that the "Geeking Out with Miniatures in Nottingham Tour" will have a maximum guest space of 30 passengers, so space is VERY limited. Book now to secure your spot. 
Gaming while on tour – there will be many chances for spontaneous gaming throughout the tour. In the past the hotels have supplied us with tables and gaming areas and we were happy to be able to game to our hearts content after returning to our hotel in the evening
Estimated TourStarter Price
Tour Price:
$3,399.00 USD + $373.89 Taxes & Fees
Single-Occupancy Upgrade: $800.00 USD
4-Day Extension:
$1,200.00 USD + $132.00 Taxes & Fees
Single-Occupancy Upgrade: $300.00 USD
Note:
Don't have a friend to get the double occupancy rate? That is what Geek Nation Tours does. Book as a double occupancy and we will match you up a roommate… This way you get the best of both worlds – someone to BS about the con with – and more cash to spend!
Additional Options: Want a few extra days in the UK to chill out or want to go to other places in Europe after the tour? Geek Nation Tours will be more than happy to arrange it for you. Simply email us at headgeek@geeknationtours.com or put a quick note in the "Special Requests" box when you book.
TourStarter Note:
GNT's new Tourstarter tours not only allow you to help build the tour that you want to go on, but also puts money back in your pocket via profit sharing. As the tour grows – tour participants will enjoy a reduction in their fare. Of course, pricing is not fixed as we have yet to build the tour together, but based on past tours tour participants can expect a price reduction at 20 participants of $125.00 USD, at 25 participants that reduction increases to $200.00 USD and at a sell out of 30 tour participants expect a tour reduction of $250.00 USD.
Spread the word and help us put some money back into your pocket (or into your miniatures collection)…
Please Note that the above pricing is just an estimate and the final price will be determined upon settling our itinerary and coming to a collaborative decision on all details. It is our 2019 pricing however, and thus is a good estimate of the final price.
Note also that the above includes the option of a 4-Day Extension. This is also an estimate on any such offer that we may elect to build. 
Non-Geek Spouse Argument
"But think of the historical sites…"