Destination(s):
Gettysburg, Manassas, Antietam, Harper's Ferry
Departure Date:
July 4, 2023 (Tuesday)
Return Date:
July 10, 2023 (Monday)
Tour Limit:
30 Participants
Price:
Main Tour: $2,199.00 USD
Special Notice:
GNT's new Tourstarter tours not only allow you to help build the tour that you want to go on, but also puts money back in your pocket via profit sharing. As the tour grows – tour participants will enjoy a reduction in their fare. Of course, pricing is not fixed as we have yet to build the tour together, but based on past tours tour participants can expect a price reduction at 20 participants of $125.00 USD, at 25 participants that reduction increases to $200.00 USD and at a sell out of 30 tour participants expect a tour reduction of $250.00 USD.
Further, the tour pricing is based on past tour research. It may fluctuate while we build the tour but hopefully will remain close to the indicated rate.
Spread the word and help us put some money back into your pocket (or into your memorabilia collection)…
About this TourStarter Tour
WE HAVE YET TO BUILD THIS TOUR! We are itching to get to it however, and thus have it listed as a Tourstarter project (see the Special Notice notes above and the "I'm Interested" notes to the right)… The dates have not been settled on nor have tour details been arranged. With that said, this tour is focused on the Gettysburg re-enactment and thus will centre around those dates. The 2023 re-enactment may well have different dates to what we have seen in the past but should be held sometime in July.
Here are some tourstarter questions to get you thinking of the tour you would like to go on…
A) Are there any civil war destinations near the Gettysburg area that you feel should be included in the tour?
B) Are there any distant civil war destinations that you feel should be included in the tour? For instance, Appomattox is about a four hour coach ride away…
C) If the re-enactment is three days over the weekend should we spend time each day at the grounds?
YOU decide….
"In great deeds something abides. On great fields something stays. Forms change and pass; bodies disappear, but spirits linger, to consecrate ground for the vision-place of souls. And reverent men and women from afar, and generations that know us not and that we know not of, heart-drawn to see where and by whom great things were suffered and done for them, shall come to this deathless field to ponder and dream; And lo! the shadow of a mighty presence shall wrap them in its bosom, and the power of the vision pass into their souls."
Joshua Lawrence Chamberlain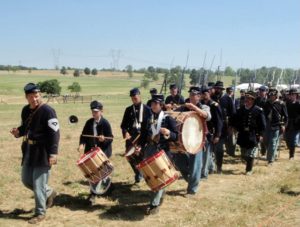 Speaking at the dedication of the Monument to the 20th Maine
October 3, 1889, Gettysburg, PA
Geek Nation Tours is proud to announce another of its "Signature Battlefield Tours" series. Join us for "Gettysburg and the Battlefield of the Civil War" in 2023. We are happy to offer the tour to the battlefield that played a huge role in the Civil War as well as visits to other historically significant locations such as Antietam, Manassas and Harpers Ferry. Join us as we travel the through this hallowed ground and visit some of the most important sites in American history. We will return often to the Battlefields themselves and explore these powerful places. You will find yourself looking across the great breadth of the Manassas battlefield. You will stand on an impossibly small cornfield and a tiny bridge where more Americans died than on any other single day in the nation's military history. We will see the town where John Brown made his stand against slavery and we will see the monumental Gettysburg battlefield in detail. We will visit the hill so gallantly defended by Joshua Chamberlain and stare off into the distances on General Robert E Lee's line where he made the fateful decision to march against Union lines.
Day 1 - Washington, DC (Tuesday, Jul. 4, 2023)
On this day we will arrive from points all over the map to Washington DC at Dulles International Airport or Baltimore/Washington International Airport before traveling to Manassas, Virginia for our Welcome Dinner where you will get to know your guide and fellow tour guests.
Overnight Location: Manassas, VA
Day 2 - Manassas, VA (Wednesday, Jul. 5, 2023)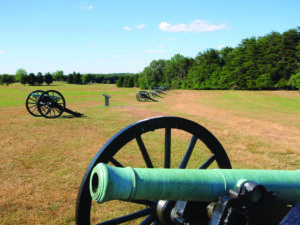 Today we will explore the Manassas National Battlefield Park. Make sure you have comfortable shoes and your Fitbit, because this is a walking tour. A park tour guide will lead the way and provide insight to the battle of Manassas as we take the Matthew's Hill walking tour. We will also learn about the 2014 discovery of a surgeon's burial pit where two Union soldiers were buried along with several lost limbs from other wounded soldiers. We will then ride to the Brawner Farm walking tour before enjoying lunch at Gunni's Restaurant and Grill. Up next we will visit the National Museum of the Marine Corps. We will then return to Manassas and you will have the option of having some free time or joining us on a walk of the Manassas Battlefield. We will walk from the Henry Hill Visitor Center to the Stone Bridge, Carter Cemetery, Matthews Hill, Stone house and then back to the Visitor Center. The walk will take about 2-3 hours and we will return to the hotel to meet for dinner.
Overnight Location: Manassas, VA
Day 3 - Harper's Ferry, WV (Thursday, Jul. 6, 2023)
We will leave Manassas and travel to Harper's Ferry to briefly explore the Bolivar Heights Battlefield (important for the battle of Antietam) and the town of Harper's Ferry. We will be led by a local guide who will end the tour at a local restaurant for lunch. From here we will return to our bus to visit Antietam battlefield, the site of the bloodiest day in American history. A Park Ranger will lead us on a detailed tour of this battlefield. We will spend the night in Hagerstown.
Overnight Location: Hagerstown, MD
Day 4 - Gettysburg, PA (Friday, Jul. 7, 2023) / Gettysburg at last!
Today we will travel to Gettysburg! We will first visit the Gettysburg Diorama. This is the largest diorama in the US and it depicts Gettysburg during the battle of 1862. This amazing diorama displays 6,000 acres in miniature and more than 20,000 hand-painted HO scale miniatures. It also gives a great overview of the battle and helps orient us for the afternoon tours. We will have a licensed Battlefield Guide with us that will provide further enlightenment and show us were we will visit that day. After lunch we will take a Gettysburg Battlefield tour that will give us a general overview of the battle. We will end the tour at the Gettysburg National Military Park Museum and Visitor Center to visit the Cyclorama, Museum and bookstore. We will then make our way to the hotel for dinner.
Overnight Location: Gettysburg, PA
Day 5 - Gettysburg, PA (Saturday, Jul. 8, 2023) / Little Round Top, Devil's Den and the Wheatfield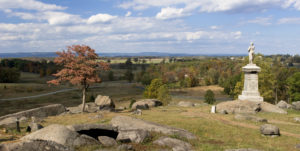 After breakfast we will return to the battlefield for a more detailed look at the Monument to the 20th Maine on Little Round Top, Devil's Den and the Wheatfield. After lunch we will visit the Shriver House for a re-enactment and a tour. You will have some free time to explore Gettysburg (recommendations include the Seminary Ridge Museum) and then return to the hotel for some down time. Later that evening we will dine at the historic Dobbin House and at twilight we will return to Lee's Line to get a more detailed look at this section of the battlefield.
Overnight Location: Gettysburg, PA
Day 6 - Gettysburg, PA (Sunday, Jul. 9, 2023) / Gettysburg Re-enactment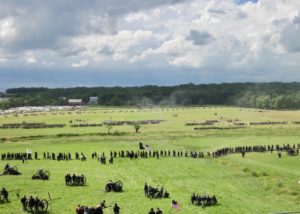 This day is the first day we will tackle once we have enough tourstarter participation. We will have to determine if a re-enactment will move forward and if so where will it take place and on what dates. GNT will gather all information and present it to tourstarter participants.
If, however, we find that a re-enactment has enticed us, after breakfast we will visit the Gettysburg re-enactment for the duration of the day. We will see at least two re-enactments and a live mortar fire demonstration or two. Between re-enactments we will visit the living history tents and military camps. These visits offer a deeper look into the day to day life of the soldiers and also gives visitors a wealth of knowledge about medicine, weaponry and other important aspects of the war. We will also be able to meet re-enactors and learn about their passions. After some down time we will visit the historic Farnsworth House for a period era dinner. After dinner we will return to the battlefield for a quick final visit.
Overnight Location: Gettysburg, PA
Day 7 - Washington, DC (Monday, Jul. 10, 2023) / Departure Day
Our journey into the historic past will conclude on this day as we say goodbye. The memories and knowledge gained from this trip and the new friends you have made will be yours forever.
Optional Post-Tour Add-on
Day 1 - Arlington, VA (Monday, Jul. 10, 2023) / Arlington National Cemetery
Today we will leave early to make our way to the Washington Dulles airport to say good bye to our tour participants returning home.  The rest of us, however, will be continuing our journey to Arlington National Cemetery. Here we hop on and off the automated bus tour to explore the cemetery at your own pace. We will have a leisurely, but limited, visit before we head off to the Washington National Mall. We will visit this area tomorrow as well, but today we will explore the Lincoln Memorial, Capitol Reflection Pool and Washington Monument as a group. Depending on how much time we have you will be free to wander the grounds or take in some of the other sites as well…
Later we will go to our hotel before having dinner as a group…
Overnight Location: Washington, DC
Day 2 - Washington, DC (Tuesday, Jul. 11, 2023) / The National Mall
Today we will again explore the National Mall. We will be transferred to and from the Mall and you will have the full day to explore the area as you see fit… You can take some choice photos of the White House and Capitol Hill or spend your time visiting some of the following:
This is the place to take in some of the most famous museums in the world:
Of course there are even more monuments to see today including:
Or if you would like to stroll the gardens you have these options:
United States Botanic Garden
Constitution Gardens
Mary Livingston Ripley Garden
Enid A. Haupt Garden
Kathrine Dulin Folger Rose Garden
Butterfly Habitat Garden
Victory Garden at the National
Museum of American History
Heirloom Garden at the National Museum
of American History, Behring Center
Native Landscape at the National
Museum of the American Indian
Hirshhorn Museum and Sculpture Garden
For those that want to venture off the Mall area you can always take in the Spy Museum…
Overnight Location: Washington, DC
Day 3 - Washington, DC (Wednesday, Jul. 12, 2023) / A Journey Home
We will be transferred to the Washington Dulles Airport for our return home. We will arrive around 10am so please book air travel plans accordingly.
Tour Notes
NOTE: Attendance of special guests and celebrities is subject to change due to scheduling conflicts and professional obligations.
NOTE: COVID-19 has changed both our geek and our real worlds. Some things may never be the same and others may not be able to be offered on our tours or will have to be altered in a new post Covid world. With that said, please understand that GNT is moving forward as if the disease is already conquered, but all tours are now subject to change.
What's Included
All Breakfasts, two lunches in Gettysburg, dinner at the hotel on July 5th, dinner at the Dobbin House and dinner at the Farnsworth House. All transfers, hotels and entrance fees. All battlefield tour prices and re-enactment fees.
What's Not Included
Flights not included. Some small local fees may apply.
Estimated TourStarter Price
Main Tour:
$2,199.00 USD + $263.88 Taxes & Fees
Single-Occupancy Upgrade: $300.00 USD
Extension Tour Price:
$899.00 USD + $107.48 Taxes & Fees
Single-Occupancy Upgrade: $199.00 USD
Note:
Don't have a friend to get the double occupancy rate? That is what Geek Nation Tours does.  Book as a double occupancy and we will match you up a roommate… This way you get the best of both worlds – someone to BS about the ACW with – and more cash to spend!
TourStarter Note:
Please Note that the above pricing is just an estimate and the final price will be determined upon settling our itinerary and coming to a collaborative decision on all details. Pricing is based on previous estimates however, and thus is a good estimate of the final price.