Destination(s):
London, Paris, Frankfurt, Warsaw
Departure Date:
November 5, 2024 (Tuesday)
Return Date:
November 15, 2024 (Friday)
Tour Dates:
This tour is part of our "Tourstarter" program and the departure date will be similar to what is displayed in the proposed itinerary
Price:
Price - 10 Day Tour: $3,499.00 USD
Special Notice:
GNT's new Tourstarter tours not only allow you to help build the tour that you want to go on, but also puts money back in your pocket via profit sharing. As the tour grows – tour participants will enjoy a reduction in their fare. Of course, pricing is not fixed as we have yet to build the tour together, but based on past tours tour participants can expect a price reduction at 20 participants of $125.00 USD, at 25 participants that reduction increases to $200.00 USD and at a sell out of 30 tour participants expect a tour reduction of $250.00 USD.
Further, the tour pricing is based on past tour research. It may fluctuate while we build the tour but hopefully will remain close to the indicated rate.
Spread the word and help us put some money back into your pocket (or into your dossier)…
About this TourStarter Tour
WE HAVE YET TO BUILD THIS TOUR! We are itching to get to it however, and thus have it listed as a Tourstarter project (see the Special Notice notes above and the "I'm Interested" notes to the right)… The dates have not been settled on nor have tour details been arranged. The currently described route shown below is also up for changes although those places just scream 007, Cold War and general spy action to Geek Nation Tours…
Some of the questions we first will have to ask are…
A) Currently, GNT has picked November for this tour… We think that is ideally cold and grey to fit the theme. We also avoid the highly traveled tourist months this way… Do we however, want to change the month of travel?
B) This tour is themed after the Amazing Race and scavenger hunts in general. It also has a light LARP element to it. You will be able to add to the storyline but often will influence other people's stories more than your own prior to departure. Note that the missions will NOT be shared with the tour participants… You can make suggestions on what you would like to see spies do, but likely your dossier will not contain those mission suggestions.
C) Should we expand the "night out" parts of the tour to clubs and bars?  Spy movies often have a strong club element and thus should we add those to the tour?
D) Should we encourage a "dressing up" theme to the tour and thus have a dress code though out it?
E) Should we expand the Foodie theme of the tour to include more dinners and lunches…
YOU decide….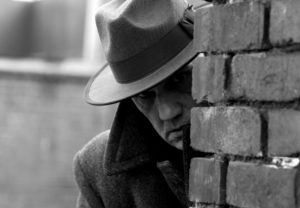 Greetings agent. It is only minutes to midnight so there's not much time to save the world from mutually assured destruction. Geek Nation Tours is inviting you, should you choose to accept, on a whirlwind Cold War Spy tour through Europe! We'll not only be visiting locations from Bond films and The Prisoner, but also actual Cold War sites in the UK, France, Germany, and Poland. This 10 day tour offers perspective on some of the most anxious years in recent memory. 
But it's not just for history buffs, each tour member will be recruited into either the East or West espionage teams and given daily missions to complete. Although you'll all be traveling together, you'll never be certain who you friends or comrades are or who's a double agent working against you. Each side will have until the end of the tour to complete their missions and with any luck either win World War III or prevent it from even happening (and, of course, win cool swag in doing so). 
Day 1 - London (Tuesday, Nov. 5, 2024) / Of Welcome Dinners and Secret Dossier...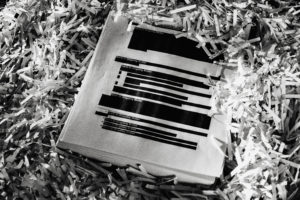 Today you will arrive from all over the world to London, UK. You will be given detailed instructions on how to reach the hotel where you will meet your fellow travelers and your Geek Nation Tours Tour Leader. Your first interaction with the tour leader will also be the first time you'll receive a mission envelope. You will be informed as to which side of the Cold War you'll be on, the overall scope of your mission, and any relevant information for your first assignment. DO NOT divulge this information to ANYONE, not even your traveling companion if you have one. You never know who is a spook for the other side.
Once the entire group has arrived, your Tour Leader will head out to one of London's world-renowned museums (likely the British Museum). You are more than welcome (and encouraged) to tag along, but feel free to use the afternoon as you would like.
Hopefully you have shaken off the jet lag by the evening since we'll be having a Welcome Dinner in the hotel. Here your Tour Leader will go through the program in more detail and give a rundown of what to expect regarding the espionage missions during the tour. You'll also have a chance to interact with the other agents and possibly work out who are your allies and who are your enemies.
Overnight Location: London
Day 2 - London (Wednesday, Nov. 6, 2024) / Operation London and "I am not a number!"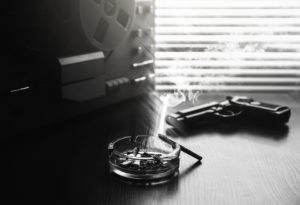 After receiving your morning information package, it's off for a spy tour of London with your Tour Leader. We'll be sure to hit up some real life spy locations in the city, but there will also be two numbers prevalent during our excursion, 007 and Number Six.
After the tour we'll sneak in to the Dirty Martini for lunch because obviously. It's understandable if you don't want to get your drink on so early in the day, but for others just remember to order yours "shaken, not stirred."
The Bond-stravaganza continues after lunch as we visit the London Film Museum and their special exhibition Bond in Motion displaying the amazing vehicles featured in all the Bond films!
In the evening we'll be dining in style at Bob Bob Ricard. The menu comes from Russia with love and the dress code is "elegant". Whatever you do, remember this…don't fall in love with a good-looking double agent, and pace yourself using the "press for champagne" button at every table.
As the night draws to a close we'll head back to the hotel. With Luck you've completed your daily mission. If not, you may want to race back and visit Charles again!
Overnight Location: London
Day 3 - London (Thursday, Nov. 7, 2024) / Another Mission and a Chunnel to Paris
After making contact with your handler, the morning and early afternoon are yours to spend as you please. Your Tour Leader will be on hand to help and offer suggestions where to go and what to see. Whatever you plan, you'll want to make time to mimic a Cornish miner in order to complete your daily mission.
Don't dawdle though! We've got a train to catch! You'll regroup in the afternoon and make or way through the Chunnel to Paris. Outside of your daily mission, we'll be sure to have some espionage-themed games on hand to pass the time along the way.
Once we arrive we'll check in to our hotel and enjoy dinner together before trying up any loose ends from the day's missions.
Overnight Location: Paris
Day 4 - Paris (Friday, Nov. 8, 2024) / French Army Museum, Some French Cuisine and Another Mission...
Make sure to acquire your daily mission packet this morning before you head off to visit the French Army Museum. During our tour, we'll see some amazing artefacts from French military history spanning from the middle ages to World War II.
After your visit it's off to lunch at Chez L'Ami Jean for some exquisite French cuisine. You'll be fueled up for your free afternoon and evening in Paris, but don't forget to complete your mission before the day is over. Lucky, if you travel on foot to complete your mission you'll definitely see Luxembourg Gardens, Notre Dame, and the Eifel Tower along the way!
Overnight Location: Paris
Day 5 - Frankfurt (Saturday, Nov. 9, 2024) / A Train to Frankfurt, IG Farben building and Military Cargo Planes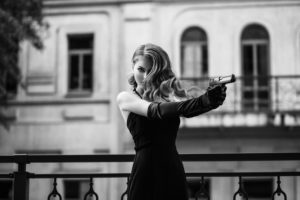 Another mission packet in hand and another breakfast in your belly, you'll make your way to Gar de L'Est and board an express train to Frankfurt. Again we'll have espionage gaming on board the train, but you'll also want to use this time to work toward your mission goals.
Upon arrival in Frankfurt, we'll drop our bags at the hotel and grab a quick bite for lunch. Then it's off to check out the IG Farben building, home to the US occupational forces command during the Cold War (including the CIA headquarters). The building and grounds that are now part of the university have an eccentric history beyond the US forces including the Nazi-controlled IG Farben chemical company and Frankfurt's mental asylum.
Later, we make our way to the airport to visit a memorial for the Berlin Airlift. Two 1940's military cargo transports stand as a reminder of the Soviet blockade of the divided city and the integral part Frankfurt played in its relief.
In the evening we'll dine at Ebbelwoi Unser for some regional treats including apple wine and "Grüne Soße". If we're lucky, we'll even be serenaded with some quirky singing! If you haven't completed your daily mission by now, it may be a lost cause since you might not be able to meet your secret contact any more after dinner!
Overnight Location: Frankfurt
Day 6 - Berlin (Sunday, Nov. 10, 2024) / An Express train to Berlin, a Tour by Car and of course - Checkpoint Charlie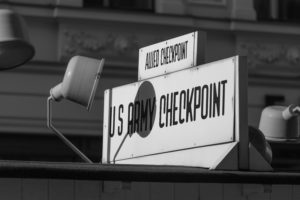 Hopefully you didn't partake in excessive Apfelwein the night before, because you'll be up early this morning in order to collect your daily mission packet before boarding the express train to Berlin. The prospect of napping to catch up on lost sleep may be enticing, but you may need the time to get your espionage affairs in order.
After dropping your gear at our Berlin hotel, we'll experience the unofficial German national food, Currywurst. This cultural cuisine mashup was founded in the city during its reconstruction after World War II.
Then we're headed on a safari, a Trabi Safari to be precise. You'll drive an authentic East German Trabant car with a fleet of other drivers around the city to see the remnants of a Western island in a Soviet sea and feel the echoes of a city torn apart by the Cold War. During the drive you'll see sights like the Brandenburg Gate, the Reichstag, the East Side Gallery, Café Moskau, and, of course, Checkpoint Charlie.
In the evening, we'll forego the post-modern world of cosmopolitan Berlin for a slice of Bavarian "typisch Deutsch" at the Löwenbräu restaurant at Gendarmenmarkt. We encourage you to be wary of any suspicious-looking blondes you encounter, they may likely be atomic!
Overnight Location: Berlin
Day 7 - Berlin (Monday, Nov. 11, 2024) / The German Spy Museum, a Listening Station and Decrepit Communication Towers
Congratulations agent, you've earned some well-deserved rest. Meet with your handler and enjoy your breakfast since we'll be starting a little bit later this morning. We'll make our way to the German Spy Museum for a morning visit. You'll learn more about actual spy craft and see authentic gadgets that would make Q proud during our tour. 
After the museum, we'll continue to the brand new Potzdamer Platz and enjoy lunch at Josty inside the Sony Center. From there we travel to the outskirts of the city and the Teufelsberg. Translated as "Devil's Mountain", this massive pile of rubble was repurposed as a US listening station during the Cold War. The post has been abandoned since reunification, but the decrepit communication towers and domes stand as a testament to heightened tensions and suspicious neighbors. 
In the evening we'll dine together in the hotel restaurant before resting up for the long journey ahead.
Overnight Location: Berlin
Day 8 - Warsaw (Tuesday, Nov. 12, 2024) / Another Mission, a Train for Warsaw, Behind the Iron Curtain at last...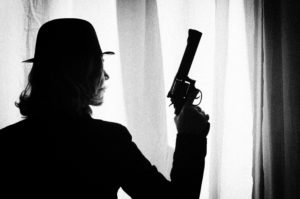 Grab your daily mission packet and venture out into Berlin as you please this morning. As always, your Tour Leader will be on hand to offer help and suggestions but you may want to secure your last German clues before you leave Deutschland.
Shortly after noon you'll board the train for Warsaw and hunker down for an extended journey. Be prepared for more espionage gaming on board and treat yourself to something from the dining car if you didn't eat before departure. You'll spend the afternoon and early evening watching the Polish countryside go by and get a glimpse of the world behind the Iron Curtain.
Once you arrive in Warsaw, you'll deposit your bags at the hotel and dine with your comrades at Banjaluka. This trendy back-alley restaurant offers Slavic fare from former Yugoslavia and often features live music.
Overnight Location: Warsaw
Day 9 - Warsaw (Wednesday, Nov. 13, 2024) / Military Technology and Dumplings
Once last brush pass with your handler this morning then it's out the door to explore Warsaw through the lens of the Eastern Bloc with your Tour Leader. The city features prominently in the pages of Cold War history and you'll develop a sense of what the city meant beyond giving its name to the Warsaw Pact.
It wouldn't be Poland without pierogis, so after the tour you'll head to Zapiecek to sample the traditional Polish staple (which can also be found in Russian cuisine). The hardest part will be deciding what to get them filled with!
After gorging on old-time Polish dumplings, you'll venture to the Museum of Polish Military Technology. Much of the equipment used by the Polish military during the Cold War was either directly or indirectly supplied by the USSR. That means most of what you'll see is as close as you can get to Soviet technology without crossing the border into Mother Russia. Your daily mission will definitely involve some Communist literature and revisionist architecture, so hopefully you've found a corner where the two exist in the same place.
In the evening we'll gather for our farewell dinner. Your Tour Leader will finally reveal which agents were working for which side and tally each group's overall scores. The winning side will go home with some great swag and the comfort of knowing they have successfully outsmarted their adversaries.
Overnight Location: Warsaw
Day 10 - Returning (Thursday, Nov. 14, 2024) / Departure Day but see you soon... But watch your back...
This is the day that we all disband and go our separate ways. With any luck, the friendships made with your fellow agents will warm an otherwise Cold War and you'll head home with some amazing memories and newfound comrades.
Tour Notes
Recommended Viewing: To get in the right frame of mind, consider familiarizing yourself with the following films and series – The Americans, Atomic Blonde, Bond films, Bridge of Spies, Deutschland 83, Dr. Strangelove, Goodbye Lenin, The Lives of Others, Spies Like Us, and Tinker Tailor Soldier Spy (hint: many of your mission clues will directly reference this list).
NOTE: Attendance of special guests and celebrities is subject to change due to scheduling conflicts and conflicting professional or personal obligations.
NOTE: COVID-19 has changed both our geek and our real worlds. Some things may never be the same and others may not be able to be offered on our tours or will have to be altered in a new post Covid world. With that said, please understand that GNT is moving forward as if the disease is already conquered, but all tours are now subject to change.
What's Included
All hotel stays, most meals throughout (including daily breakfast and Welcome & Farewell dinners), entry fees to museums included in the program, local transit costs where applicable, train tickets between major destinations, games & prizes, and loads of other stuff! 
What's Not Included
Airfare to and from tour locations, local airport transfers, entry fees to museums not included in the program, some lunches and dinners dining on your own.
Estimated TourStarter Price
Price - 10 Day Tour:
$3,499.00 USD + $385.00 Taxes & Fees
Single-Occupancy Upgrade: $900.00 USD
Note:
Don't have a comrade to get the double occupancy rate? Geek Nation Tours can help! Book as a double occupancy and we'll match you up with a roommate. This way you get the best of both worlds, someone to BS about the trip with…and more cash to spend! 
TourStarter Note:
Please Note that the above pricing is just an estimate and the final price will be determined upon settling our itinerary and coming to a collaborative decision on all details. It is our 2019 pricing however, and thus is a good estimate of the final price.