Destination(s):
Atlanta & Orlando
Departure Date:
October 24, 2024 (Thursday)
Return Date:
November 1, 2024 (Friday)
Price:
Training: $3,699.00 USD
Special Notice:
GNT's new Tourstarter tours not only allow you to help build the tour that you want to go on, but also puts money back in your pocket via profit sharing. As the tour grows – tour participants will enjoy a reduction in their fare. Of course, pricing is not fixed as we have yet to build the tour together, but based on past tours tour participants can expect a price reduction at 20 participants of $125.00 USD, at 25 participants that reduction increases to $200.00 USD and at a sell out of 30 tour participants expect a tour reduction of $250.00 USD.
Further, the tour pricing is based on past tour research. It may fluctuate while we build the tour but hopefully will remain close to the indicated rate.
Spread the word and help us put some money back into your pocket (or into your memorabilia collection)…
About this TourStarter Tour
WE HAVE YET TO BUILD THIS TOUR! We are itching to get to it however, and thus have it listed as a Tourstarter project (see the Special Notice notes above and the "I'm Interested" notes to the right)… The dates have not been settled on nor have tour details been arranged. With that said, this tour is focused on the Halloween Horror Nights at Universal Studios and thus will centre around Halloween 2024.
Here are some tourstarter questions to get you thinking of the tour you would like to go on…
A) How intense do you want your training?  It is GNT's goal on this tour to offer expertise gun and survivalist training. We want you to come out more knowledgeable in self-defense, gun safety & theory.
B) Are there any zombie or apocalyptical sites in the Florida area that you know and would like included?
YOU decide….
Every Geek knows that the Zombie Apocalypse is imminent. Are you ready? Do you have the skills to survive? Is your family counting on YOU? Worry not as Geek Nation Tours adds a new type of tour to its lineup. We will give you the training you need to survive and you will return home the hero and bring hope to all your loved ones. Oh, and you will be entertained.
Join us as we explore Walking Dead film sites, visit the Center for Disease Control and Prevention, and even a haunted house or two. This tour will begin in Atlanta but midway through our trip we will fly south as we journey to the spookiness in Orlando, Florida and the Halloween Horror Nights. We will put your bravery to the test and see how well you manage when the night creatures start to chase you!
Most days we will have a late start so we can experience the fun well into the evening. This is especially true when we are in Orlando experiencing the Haunted Houses or taking off for a great evening with Mickey and his crew. When we are in Atlanta we will couple our training and site inspections with evenings out and good old Southern cooking.
With that said, we cannot stress enough that the training you will receive while on the tour itself is of utmost importance. You will receive self-defense, first aid and live fire training to steel you for the inevitable Zombie Apocalypse to come.
Day 1 - Atlanta (Thursday, Oct. 24, 2024) / Arrival Day
Today we will arrive from all around the world to Atlanta. You will be given detailed instructions on how to meet up with the rest of the tour participants at our hotel (note that you'll always be in constant contact with our representative). From there you will have a free day to explore all that Atlanta has to offer. Whether you visit the Atlanta Botanical Garden or Georgia Aquarium or just sit down and enjoy some southern hospitality and food and drink - the day is yours.
The night belongs to Geek Nation Tours however, so make sure you make it back to the hotel for our traditional Welcome Dinner. It will be a great time to meet your fellow tour participants and discuss what we are doing in the following days.
After dinner we will head out to the Cinefest Film Theatre for a private film screening and a night of horror! We will jump right into the Zombie theme by going to the root of our shared love of horror and giving tour participants the choice of what we watch this night. A classic Zombie movie or perhaps everyone's favorite Zombie TV show. We will put it to a vote closer to our departure date…
Day 2 - Atlanta (Friday, Oct. 25, 2024)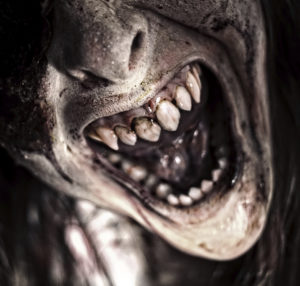 Geek Nation Tours will waste no time in offering up your ZA training. Today we will leave Atlanta (after a late breakfast) and head to our secret training area – the 4G Tactical Training facility. There you will be trained in self-defense, trauma related first aid and general survival skills. Following a quick break for lunch (included) you will have the chance to put your new skills to the test by shooting undead zombie targets. Yes! That is correct - we have even collected Zombies for your training. We will round up your day with a shotgun and semi-automatic AR-15 familiarization and live fire. You can even prolong your training by obtaining further rounds to extend your shooting session right at our training facility.
Yes! Geek Nation Tours gives you practical training for everyday use as well as ZA preparation.
We will leave the facility to make the journey back to Atlanta with a Jimmy John's sandwich in hand, these always fill a stomach emptied by vigorous training.
But your training is not complete today. You will be taken to the Chamber of Horror Haunted House to experience first-hand the terrors that lurk just below our fragile minds. Touted as the scariest experience in Atlanta - you will be rated on your ability to weather the truly frightening. Will you leave with a passing grade? For those that fail – it is very likely that you will be left behind.
Day 3 - Atlanta (Saturday, Oct. 26, 2024)
Today is your first site inspection of historical locations of the ZA – we will tour the Walking Dead film sites with Atlanta Movie Tours. Join us as we visit the hospital where it all started, see where the events of Terminus take place, go inside the Goat Farm and even take selfies from the Jackson Street Bridge. We will even see where many predict that the Zombie Apocalypse will begin. The CDC or Center for Disease Control and Prevention building and museum. We will have a private guided tour of the museum so no one will accidentally stumble into any containment areas. While it is hoped that no outbreak of Solanum will take place when we explore the museum – one never knows when you might put your training to the test.
After our tour you will be treated to a classic Southern Style dinner all on Geek Nation Tours.
But if you think that will end our evening - you are mistaken - as we will continue to evaluate your psychological strengths… We would be remiss if we did not explore the supernatural elements to any ZA as many speculate that any outbreak will be magical in origin. With this in mind, we will visit Roswell GA for a ghost tour of its historic district where bodies a buried beneath the streets and houses. From Grand Greek revival mansions to mill work apartments we will explore what many think are haunted sites. You will even be able to see the tools that paranormal investigators use to unravel ghostly events. Will the ZA start from here perhaps - with a more ghostly impetus? You decide.
Day 4 - Orlando (Sunday, Oct. 27, 2024)
Today we will continue our explorations of historic ZA sites with Atlanta Movie Tours as we head to Woodbury and area. We will sit and discuss the end of the world over lunch in this small town as well as see the Walking Dead sites of the old Feed Building, Morgan's apartment building, the Oaks Motor Inn and even the zombie arena where Daryl and Merle see each other in Woodbury. When you are done the tour you will be a Walking Dead aficionado!
We will dine again on Geek Nation Tours dime and then head south – by air - for some more training and to again test your mental fortitude. We are off to some of the very best Haunted Houses that Orlando can offer and what many call the best in the world at Universal's Halloween Horror Nights.
Day 5 - Orlando (Monday, Oct. 28, 2024)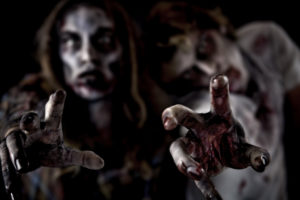 Now that we have escaped what will most likely be the epicenter of the ZA we will continue with our training. Whether scavenging for supplies or trying to find a safe haven from walkers, sooner or later you will have to enter a building, today you will be given the skills to do just that. We travel to Combat City a CQB (close quarters battle) training facility where professional instructors will guide us through how to clear rooms, engage at short distances and work as a team in a firefight. After a few hours of hands on training in groups we will break for lunch on site.
After the breakdown of modern society, no matter the cause, geeks know well that the most dangerous aspect to the new reality is other people. One way to deal with this is to have a crack team working together to insure your survival. After lunch we take what we have learned and put it to use working in teams to gain objectives, supplies and running through various scenarios in the facility. Those that are the most successful will increase their odds to survive the ZA as they will win an assortment of survival gear prizes. We will be using fully automatic airsoft replica rifles as we go head to head with the rest of the tour to see who has learned the best ways to deal with the close confines and intensity of the CQB.
After our training we will return to our hotel and you will be free to have dinner on your own. If however, you would like to join us - your Geek Nation Tours representative will a make reservations near the hotel for dinner tonight. Geek Nation Tours takes pride in getting people of like minds together to experience the finest in geeky events and our ZA Survival tour will be no exception. We will meet each night to regale each other with our adventures, and to share our favorite Zombie experiences. Past Geek Nation participants agree that our nightly gatherings are a wonderful part of the tour experience. They are a time where you can get to know other geeks and discuss all those geeky things that you love - all the while build long lasting friendships.
Day 6 - Orlando (Tuesday, Oct. 29, 2024)
Today we will journey into the "Happiest Place on Earth" – or is it? The ZA often starts where there are a large amount of people that are naive in their belief in their own security. Sure we will spend the day on the rides of the Magic Kingdom - but be vigilant - who is to say what type of magic lies beneath Disney.
We will depart for Disney together late in the day, but will definitely catch the "Boo-to-You" Halloween Parade, the Villains Castle Show, and the dead cowboys singing at Frontierland. Sure you might think it is cute, but we wonder if you can handle it… for the real tests comes tomorrow.
You will be free to experience all the fun that is Disney at this time of year and take in all the great rides on Geek Nation Tours! We will dine on our own at some of the more interesting places Disney has to offer, but again your tour representative will reserve a dinner spot for all those that may want to join in.
Day 7 - Orlando (Wednesday, Oct. 30, 2024)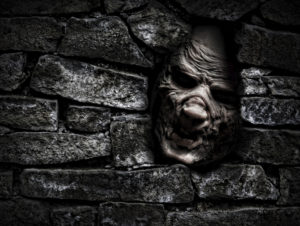 We will double up on your experience today giving you more training and the very best of site inspections. We will start the day's training with Hank Fannin of Green Earth Survival School and spend a few hours covering the fundamentals of basic survival skills. This hands on training course will cover survival psychology, planning, shelter building, fire starting, water management, and signaling and food requirements. Learn to create your own PSK (Personal Survival Kit) tailored to your needs since each of us requires different things. If you're dodging zombies in the post apocalypse or just trapped at home during a power outage - these skills can save your life. Lunch will be a special event as we will dine on MREs and beef jerky.
We will return home and head off for dinner at the Hard Rock Café prior to another horror filled night.
Tonight we will take a Private walking RIP tour of the Universal Haunted Horror Night event. The private tour means no lines or waiting as our private park guide navigates us to the front of all lines and wherever we would like to go in the park (we will also have priority seating at Bill & Ted's Excellent Halloween Adventure, RIP Lounge access and a complimentary Photo Connect Star Card package). You will see a Universal Theme park transformed into one of the world's premier Halloween experiences. Their haunted houses will shake you to your bones but even when walking the park you will have to be on guard for creatures lurking in the shadows. Fight, flight or freeze are the 3 basic responses to fear and situations that are new, find out how your react to every nightmare they can come up with. What does the fog or fire contain that will set your heart beat on adrenaline levels? We are not sure but you will now be prepared to respond (please do not hurt the night creatures – the next group needs them to help with their training). Join us then as we visit this Award Winning totally immersive horror-fest.
Day 8 - Orlando (Thursday, Oct. 31, 2024)
We have two huge events for you today… During the waking hours we will head back to Universal for a very special glimpse behind the curtain and their Behind the Screams tour that unmasks the Halloween Horror Nights. We will have a lights-on walk through of some of their haunted houses and learn from the designers themselves on how they put together Universal's experience. That's right! You get to see how they made you scream the night before and perhaps how to disguise yourself during the ZA.
But that is not all! We will break for dinner but we will meet-up again to experience the Halloween Horror Night with full knowledge of what happens behind the scenes. Will this knowledge help you deal with the coming shock? Well for one, you will not be with your regular tour participants this night. We will break up to take advantage of a very special Non-Private RIP tour. This tour will still allow you limited front of the line access and post tour express passes (along with reserved seating at Bill & Teds Excellent Halloween Adventure and RIP Lounge access). You will join others that are not on the tour as you again walk the event and experience the haunted houses and park attractions. How will you react this time with your training partners away from you? Here is your chance to see how other random ZA survivors react in a life or death situation.
You will be on your own to return to the hotel … We hope your training will allow you to get there….
Day 9 - Orlando (Friday, Nov. 1, 2024) / Farewell Day...
We will gather again one more time for a late Farewell breakfast, but all good things must end, of course. Today we return to the airport and depart for home. The expert training, photos, memories and friendships you made are yours to keep forever!
Tour Notes
Note on Movies:  We will be playing adult horror movies throughout this tour. Please note that they may be bloody and violent with mature content.
Note Holloween Horror Nights:  Booking all Universal RIP Tours, Event tickets and Unmasking tours have limited space.  Booking these events are sometimes problematic and some alterations in the above itineray may be necessary.  With that said our contact at Universal has assured us that tickets will be forthcoming.
NOTE: Attendance of special guests and celebrities is subject to change due to scheduling conflicts and professional obligations.
NOTE: COVID-19 has changed both our geek and our real worlds. Some things may never be the same and others may not be able to be offered on our tours or will have to be altered in a new post Covid world. With that said, please understand that GNT is moving forward as if the disease is already conquered, but all tours are now subject to change.
What's Included
All hotel nights and taxes plus free wifi (we will be staying at the Loews Atlanta Hotel and the Doubletree by Hilton at the Entrance to Universal), Zombie Survival Welcome Dinner, Cinefest Private Movie viewing, 4G Tactical Survival Training Day, Chamber of Horror VIP Passes, Atlanta Movie Tours Big Zombie Tours Part 1 & 2, CDC museum enterance with private group guide, Roswell Ghost Tour, Airfare to Orlando, Combat City Survival Training, Green Earth Survival Training, Disney one full day one park pass, Universal Halloween Horror Night Private RIP tour including event pass, Universal Halloween Horror Night Non-Private RIP tour including event passes, Universal Behind the Screams: Unmasking the Horror Tour, several dinners & lunches, GNT Zombie T-shirt, private guide and more fun than you can shake a rotten arm at….
What's Not Included
Please note that flights are not included. With this said Geek Nation Tours is able to get you to Atlanta and out of Orlando from all around the world. Send us an email and we would be happy to give you an air quote.
Some local transfers are not included as well as transfers to and from the airports. Geek Nation Tours will however give full details on how to make it safely to and from all our hotels and the airport.
Estimated TourStarter Price
Training:
$3,699.00 USD
Single-Occupancy Upgrade: $750.00 USD
Note:
Don't have a friend to get the double occupancy rate? That is what Geek Nation Tours does.  Book as a double occupancy and we will match you up a roommate… This way you get the best of both worlds – some one to BS about Zombies with – and more cash to spend!
Need Help Booking your whole Holiday???  No problem – Geek Nation Tours can take care of the whole package for you.  If you need a train from New York or air from Japan we do it all while you just sit back and focus on gaming…We even did a Contiki tour for one of our guests in past years.
TourStarter Note:
Please Note that the above pricing is just an estimate and the final price will be determined upon settling our itinerary and coming to a collaborative decision on all details. Pricing is based on previous estimates however, and thus is a good estimate of the final price.
Non-Geek Spouse Argument
"Come on! Everyone loves the Walking Dead!"